I'm continuing my series on this year's Easter dinner sides. This one, like the Roasted Red Potatoes, was a hit all around and super simple.
I roast asparagus all the time, usually with just a bit of oil and salt, but I wanted to have a little fun and add some flavor. So I decided to skip the oil and add two of my favorite things: cheese and bacon!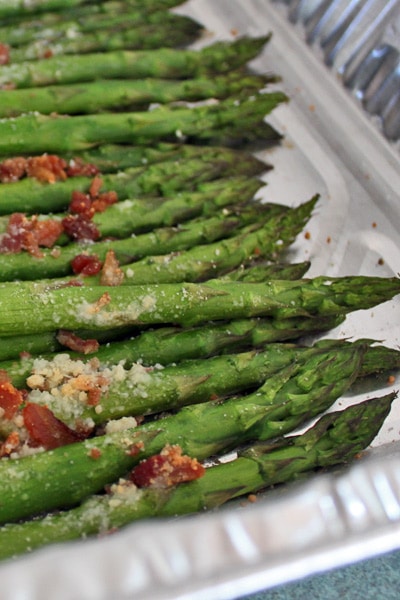 The result was tasty and super light, which I find funny because it's the side with the most "bad" things in it. Just goes to show a little can go a long way to add flavor and make something seem sinful when it's really not.
Here's what I did…
2.2 lbs (1kg) asparagus spears (mine were the larger ones)
¼ cup real bacon bits (28g)
2 tbsp grated Parmesan cheese (10g)
Preheat oven to 425 degrees.
Wash the asparagus and snap  off the tough ends. Lay then across a large cookie sheet or roasting pan.
Sprinkle with bacon bits and cheese.
Roast for 10-15 minutes depending on the thickness of the spears. Give one a taste at the 10-minute mark and decide from there.
The cheese melts in and the bacon bits crisps up adding lots of flavor. No additional oil was needed, as the little bit of fat rendered out of the bacon bits was perfect. I also didn't see the need to add salt but you may want to depending on your tastes.
I'm calculating 7 servings based on a typical serving of asparagus at 134 g.
Approx Nutritional Information per serving
Servings
Amt per Serving
7
About a cup
Calories
Fat
Fiber
WWPs
50
1g
3g
old: 1
new: 1
Sugar
Sat Fat
Carbs
Protein
3g
1g
6g
5g