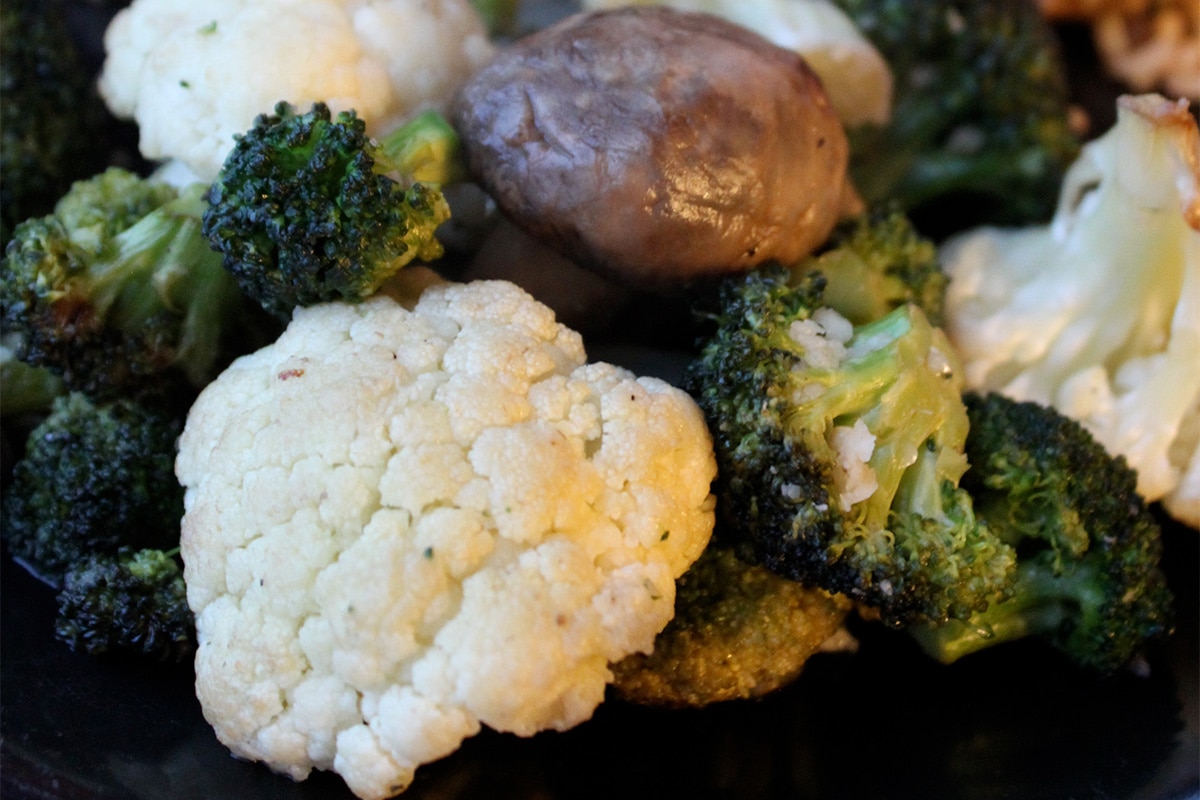 I've been bored in the vegetable department lately. We tend to gravitate towards the same frozen things over and over, especially in the winter. Frozen broccoli, frozen peas and the occasional bag of MIXED frozen veggies for a treat! Note the hint of sarcasm. I'm tired of the microwaved vegetable side dish.
So I fired up the old oven and roasted some fresh veggies to mix it up a bit.
I had a bag of pre-cut broccoli and cauliflower florets (I was feeling lazy), a package of white mushrooms, an onion, fresh garlic and of course olive oil. Recently, Olivari Mediterranean Olive Oil contacted me asking if I'd be willing to try their EVOO and they provided 4 free coupons for readers!
This is when I tell you to leave a comment for your chance to win. I'll pick 4 random winners next week. If you aren't sure if Olivari is available in your area check their store locator.
As for the veggies the husband and I devoured them! The 5 year old? Well he was as fickle as a 5 year gets. First he tried the broccoli and said he didn't like the "sauce on it" which meant the garlic was a bit overbearing. Then he tried the cauliflower and loved it. Go figure. Of course the mushrooms weren't touched but I didn't expect they would be. That's one vegetable he consistently hasn't liked. I don't blame him. It took me about 30 years to appreciate the mushroom.
Ingredients
12 oz package of fresh mixed broccoli and cauliflower florets (of course you can just buy a head of each)
8 oz package of white mushrooms washed
1 small onion cut into large chunks
3 cloves of garlic minced or run through a press
1 tablespoon olive oil
Kosher salt
Instructions
Pre-heat the oven to 425 degrees.
Mix all ingredients in a large bowl with a pinch of kosher salt.
Pour into a casserole dish and sprinkle with a but more salt. Roast for 30 minute tossing every 10 minutes. I added salt one more time during the cooking process after 1 of many taste tests. 🙂
Here's little before cooking...
and after cooking...
I served with a version of Fast Salisbury Steak (I make it different every time) and some brown rice (we were all out of noodles.)
Don't forget to leave a comment to be entered to win 1 of 4 free Olivari Mediterranean Olive Oil coupons!
Update: Winners were notified on 2/7/2011
📖 Recipe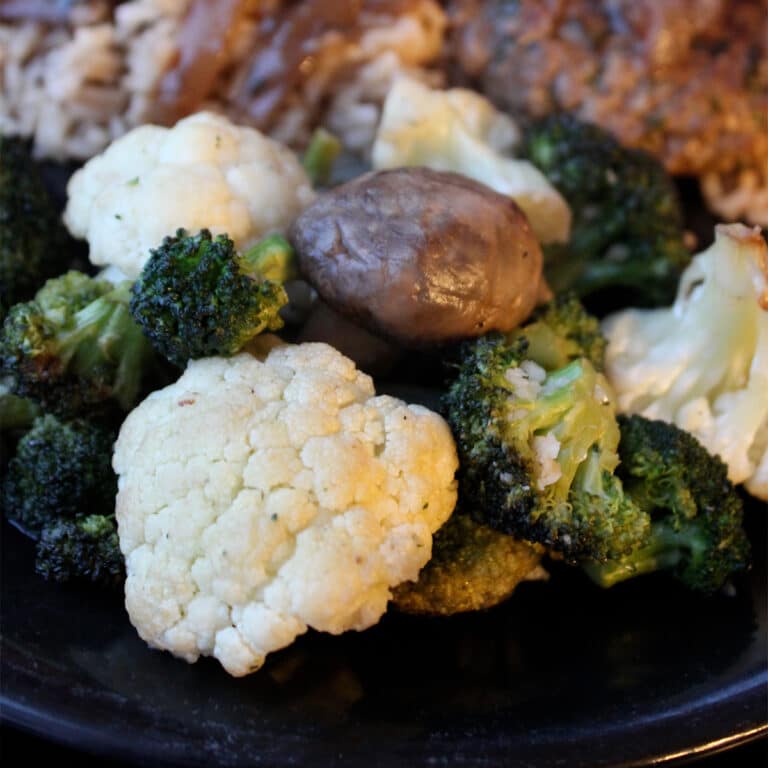 Roasted Broccoli & Cauliflower with Mushrooms and an Olive Oil Giveaway!
Get your daily dose of veggies with this delicious dish of roasted broccoli & cauliflower with mushrooms. A healthy and flavorful addition to any meal!
Ingredients
12

oz

package of fresh mixed broccoli and cauliflower florets

of course you can just buy a head of each

8

oz

package of white mushrooms washed

1

small onion cut into large chunks

3

cloves

of garlic minced or run through a press

1

tablespoon

olive oil
Instructions
Pre-heat the oven to 425 degrees.

Mix all ingredients in a large bowl with a pinch of kosher salt.

12 oz package of fresh mixed broccoli and cauliflower florets,

8 oz package of white mushrooms washed,

1 small onion cut into large chunks,

3 cloves of garlic minced or run through a press,

1 tablespoon olive oil,

Kosher salt

Pour into a casserole dish and sprinkle with a but more salt. Roast for 30 minute tossing every 10 minutes. I added salt one more time during the cooking process after 1 of many taste tests.

I served with a version of Fast Salisbury Steak (I make it different every time) and some brown rice (we were all out of noodles.)
Nutrition
Calories:
83
kcal
Carbohydrates:
10
g
Protein:
4
g
Fat:
4
g
Saturated Fat:
1
g
Polyunsaturated Fat:
1
g
Monounsaturated Fat:
3
g
Sodium:
42
mg
Potassium:
484
mg
Fiber:
3
g
Sugar:
3
g
Vitamin A:
530
IU
Vitamin C:
79
mg
Calcium:
50
mg
Iron:
1
mg