Update: Click here to heck out Homemade Almond Milk Take II with cookies!!!
Update 2: Homemade Almond Milk the Video!
We got cow's, we got soy and now we almond. Milk that is! Now I'm not going to get all preachy or tell you I'm going dairy free. Although I've been thinking about it. There has always been something the creeps me out about drinking milk that's made made for baby cows. And I never understood the stigma against breast-feeding when we freely drink the "breast milk" of another species. It just seems illogical to me.
Either way, The toddler and I have recently hoped on the chocolate soy bandwagon and we like it very much. The key to trying a milk substitute is not thinking of it as a milk. When I first took a sip I thought, "meh. it's not chocolate MILK." Then I thought, ummm yeah.. it's not, it's chocolate SOY MILK. Then I tried to taste is again without expecting milk and I was able to appreciate it's flavor for what it is. And it's YUMMY! We now buy a half gallon of Light Chocolate Soy about twice a month.
However, just like there are those that will tell you cow's milk is evil, soy milk has it's haters as well. But almond? I haven't been able to find any groups that hate almond milk. Well, except for maybe these guys. It will be always something, right?
So a few weeks ago I bought my first container or Almond milk. I poured a glass and took the same approach I did with the soy. Before drinking it I reminded myself it wasn't MILK it was "Almond beverage" and to my surprise it was delicious! It has a really smooth, sweet, almond taste (duh!). Nothing really like milk except for maybe consistency and color. Then I tried it with my morning cereal and I was blown away! It added a whole new dimension. Nothing beats a bowl of Grape-Nuts with almond milk and some sliced bananas! Make it chocolate almond milk and I'm in heaven!
The only problem. Almond milk is sometimes hard to find, it's expensive and there are some who say the store bought kind is not all it's chocked up to be. Man! It IS always something, isn't it??
So I set out to make my own. I found more then a few sites that showed you how and they all had the same basic recipe. 1 cup of raw almond blended with 3 cups of water plus any other flavors you may want to add (vanilla, dates, etc.) It didn't seem so hard and you know me, I'll try anything once. Plus I like the idea of making my own. That way I know exactly what's in it.
So let me tell you what a did and then what I will do different next time.
1 cup raw almonds
3 cups water
Measure out the almonds and place in a bowl of water overnight.
When you are ready to make the milk. Drain and rinse the almonds. Place the them in the blender with 3 cups of water.
Blend! I mean what could really be easier? I just cranked it on high for about a minute.
Now here's where I hit a snag. I searched high and low for cheesecloth ad came up empty handed. I may just have to buy it online. So instead I made my own little filter system with my sifter/strainer and a bowl placed in my sink.
I really had no idea if it would work. I just poured the almond milk in and to my surprise it started to filter and I saw "milk" in my bowl and almond grinds in my strainer!
I poured my almond milk in one of my decorative pitchers (translation: an old vase I use for water) and I took a sip. It was mildly sweet, tasty and... ummmmm... GRITTY! Apparently my filtration system had some flaws. I figured it would. So I strained it again and got a little more grinds out. I'm sure I could have done it a few more time but I accepted the grittiness and vowed to find cheesecloth!
The toddler? Well he just didn't seem to mind at all! I gave him and glass and he downed it like a frat boy at a kegger party. I was shocked! He drank it so fast I didn't even have time to snap an acceptable picture!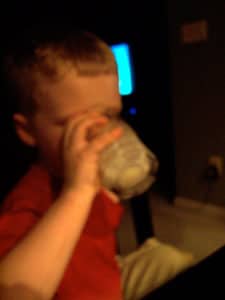 He said it was good and continued with his dinner. That's a win in my book!
This morning we had it with our grapenuts. I figured the grittiness wouldn't matter, I mean we are eating grapenuts! We added a few frozen berries and had a delicious breakfast! It's so satisfying to make something and then sit down with the toddler to enjoy it. It was nice.
So, I'm looking for all almond milk experts out there. Any advice? Tips? Techniques? What do you use the almond grinds for?
For the Almond milk newbies. I urge you to give it a try. You may not like almond milk straight up the way you enjoy a glass of cow's milk but almond milk in cereal and recipes can add a whole new dimension to your dishes!
(note: there is little info out there on nutritional information about homemade almond milk. Most commercially bought brands are 70 calories a cup with 2.5g of fat and 2g of protein.)
Update: Click here to heck out Homemade Almond Milk Take II with cookies!!!