It's been nearly four months since I posted a Date Night Menu idea. Gosh, that sounds like a long time but it's pretty on par for how often I've been cooking at home for guests. I hope to do it more frequently, but right now with the kids being the ages they are and winter being as brutal as it's been, I'll take it.
This past weekend I hosted my first ever Murder Mystery night, and it was fan-freakin'-tastic! I can't recommend The Murder Mystery Party games enough. This time we hosted Murder at Mardi Gras, last time we attended A Taste for Wine and Murder at a friends house and even though the games varied slightly, we had a blast both times.
The game gives you everything you need, right down the menu and recipes. I massaged mine a bit, so I figured I'd share how I modified the dishes I was given to make it my own, which, of course, is a little lighter than the original recipes.
Please forgive the photos as I took them on my phone. I was too stressed to bring out my "real" camera, and I lost my lighting since it still gets dark at like 5 o'clock.
First Course: Cheese Board Nibbles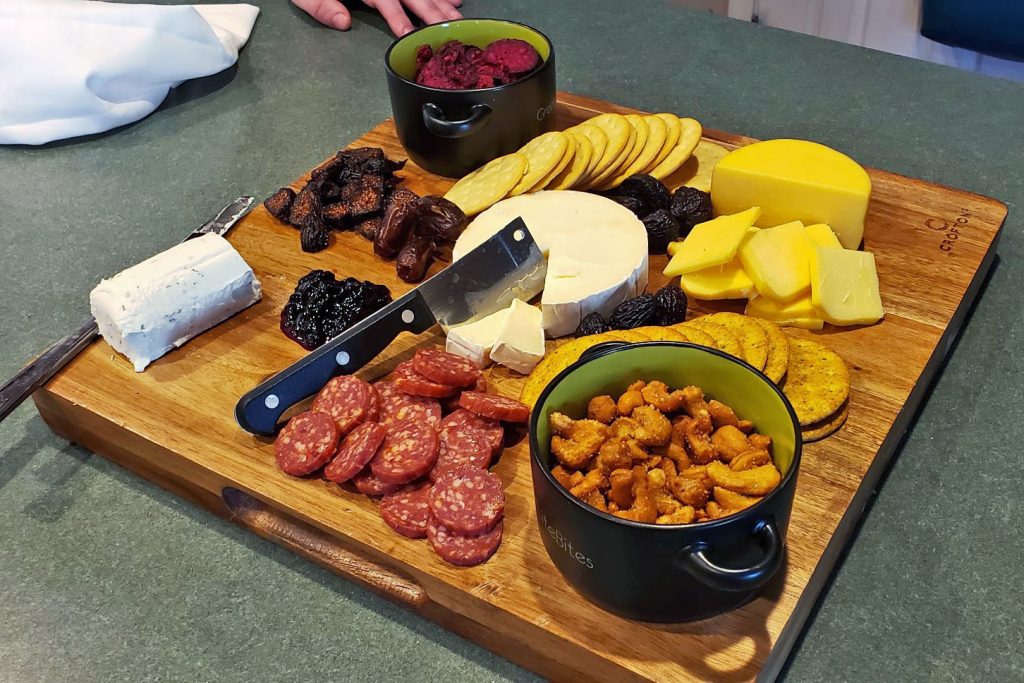 This was not part of the original menu given in the game. I just wanted something out when guests arrived so they can nibble and enjoy a glass of wine.
On my Board was:
Three kinds of cheese (All from Aldi BTW - no this is NOT a sponsored post. I'm just a fan!)
Dried Figs
Dates
Huckleberry Jam
Crackers
Beet Chips
Honey Roasted Cashews
Spicy Salami
We devoured it! The Gouda was "gone-a" first (get it? get it? OMG The Husband has infected me!) first. Everyone loved it. The beet chips were a close second. Side note: I love sharing new foods with people. Especially foods that they may typically turn their noses up to, like beet chips.
The Second Course: Crab Stuffed Avocados
The appetizer/salad as per the party book in the game was Crab Stuffed Avocado.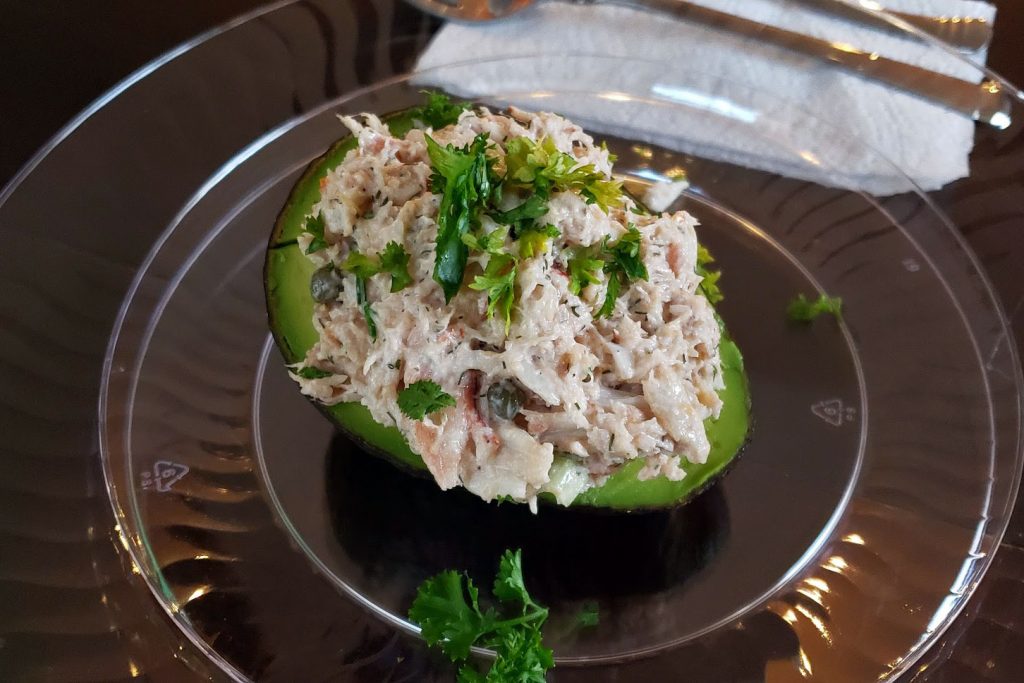 Now, I am NOT a mayo-based salad type of person, but I decided to go with this as I felt most of my guests would enjoy it. Well, I ended up LOVING it! Here's the recipe from the book with my modifications alongside.
1 ½ cup mayo - I used ¾ of a cup
2 tsp dried dill - I used heaping
1 tablespoon lemon juice - I used the juice of 1 lemon which was more like 2 tbsp
⅛ tsp black pepper - I used fresh ground from my pepper mill
2 tablespoon capers - first time I ever used capers!
⅛ tsp salt - I used kosher
1 tablespoon chopped parsley - I didn't even measure. I just used a bunch and chopped it
3 cups of crab meat - what in the world is 3 cups of crab meat? I used just under 2 pounds
2 tablespoon chopped green onion - I used two whole stalks
4 avocados - timing ripeness was freaking me out! SO I bought them 2 days before and let them sit out. They were perfect!
I combined all the ingredients except the avocado the night before so it could sit in the fridge. When ready to serve, I halved the avocados and piled on the crab salad — using some leftover parsley and scallions as garnish.
They came out amazing! I had enough for 8 servings plus extra for the next day which my Mom and I devoured on top of crackers.
My modifications made enough to serve 10 (if you add one more avocado) at 305 calories, 7c, 25f, 15p each.
Main Course: Shrimp and Sausage Jambalaya
I was so wrapped up in the game and hosting at this point, that I totally forgot to take a photo so this picture is actually what was left over after we ate. Hence the lack of shrimp and sausage. We all devoured it!
I've never made Jambalaya, so I took the recipe pretty much at face value with a few teeny tiny adjustments. It came out great, a little too mild for my taste but I prefer to err on the side of mild and then supply hot sauces on the side for those who like heat to bump it up if they want.
Here's the recipe with my modifications/thoughts...
2 Cups of Uncle Ben's Converted Rice (uncooked) - I'm not sure if Uncle Ben's sponsored this game, but they did list that brand.
2 ½ pounds of raw shrimp peeled - I used 3 because SHRIMP!
1 can of French Onion soup - they didn't give a size, so I went with the classic 10 ¾ oz red and white can
1 can of beef broth - again, no size, so I went with the 10 ¾ one
1 lb sausage links, sliced 1' thick - again, no specific type listed, so I went with Andouille
1 small can of tomato sauce - I used an 8oz one
1 stick of butter - Wha?? No need, I used about 2 tbsp. Nobody even noticed and honestly, I probably could have omitted altogether.
1 bunch of green onion chopped
½ cup fresh parsley chopped - I just used a big bunch
2 bay leaves - I minced mine so I wouldn't have to fish them out later
1 medium green pepper chopped - I used two because VEGGIES!
1 teaspoon dried thyme - I used a BIG heaping tsp
1 teaspoon black pepper - I used fresh ground from my mill
Mix all ingredients in a 9x13 inch casserole dish, cover and bake for 1 hour and 20 minutes, giving it a good stir 2 or 3 times while cooking.
Again, this came out fantastic, and it was the perfect dish to make for a dinner party as it was pretty much hands off once it went into the oven. Plus, it made the house smell fantastic! I served with a side of garlic bread as the party book recommended.
My modifications made enough to serve at least 10 (a few people had seconds and we had an additional serving leftover!) at 305 calories, 16c, 11f, 48p (without bread)
Dessert: Bananas Foster Upside-Down Cake
For dessert, the party book had a recipe for "Mardi Gras Pudding" which was a standard bread budding, but I'm not a huge fan. So I decided to go off script and make this Banna Foster Upside-Down Cake I saw in an Eating Well Magazine.
It fit the theme perfectly, and it was a dessert made in a cast iron skillet — something I've wanted to try for some time now. However, as usual for me, dessert was almost a disaster. I didn't realize my cast iron was 12 inches and the recipe used a 9-inch pan. I had to double the batter recipe at the last minute, but it worked out.
I don't think I was ever more proud of a dessert in my life!
I didn't modify the recipe listed here except making two batches of the batter after realizing the first one was not going to fill my skillet, but it worked out. We served with a scoop of vanilla, and everyone devoured it.
I could not have been happier at how the meal turned out, overall. Besides Thanksgiving, I've never hosted a dinner party with this many people who aren't family! It was so fun, and I look forward to hosting another night soon. The addition of the murder mystery game made it a bit more stressful for me, but I enjoyed having some guidance on the food choices and a theme to cook.
If you are on the fence about hosting a party, a game like this can help you take the leap. A Taste for Wine and Murder held your hand a bit more with a shopping list and such, but Murder at Mardi Gras was just as easy to follow. I'm thinking of ordering Murder on Misty Island next!
Has anyone else used a different Murder Mystery Game series? I'm open to suggestions!