Hey Guys! Sorry for my short hiatus. I've been helping my Mom move to the area and this week was our last hurrah. I'm happy to say she and my niece are getting settled in their new condo a mere half mile away. The boys and I couldn't be any happier. I haven't lived this close to my mom since the 90s!
Anyway, today I'm trying something different on the blog. This past Saturday I hosted a dinner party, and I thought it would be a fun feature to share the menu I built. The Husband and I started doing these "Date Night-Ins" last year as a way to save money and experiment with fun recipes. Well, we roped in another couple, and now every couple of months we swap houses and cook for each other. This past Saturday was our turn to host.
I've wanted to write about the meals we pull together for these nights for some time, but to be honest, I usually get too overwhelmed with all the cooking/hosting and forget to take photos. That kind of happened this time but I tried to snap a few with my phone. I figured why the hell not -- remembering... my goal isn't perfection.
Building the Menu
Since Thanksgiving is right around the corner, my goal with the menu was something fall-ish but not Thanksgiving-like. I decided beef was the way to go and settled on a recipe for Asian Short Ribs from my Cooking Light Magazine.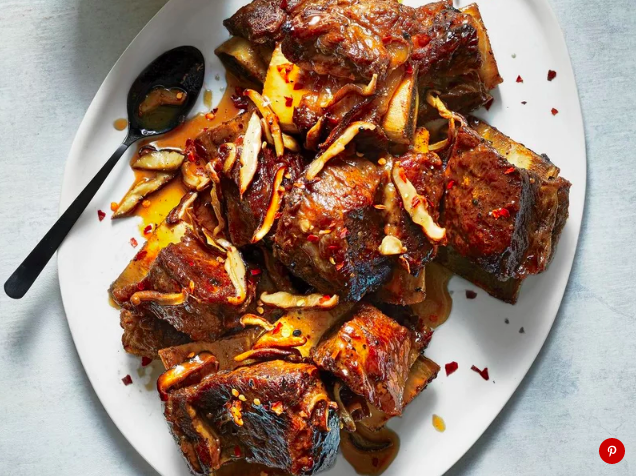 They were perfect! And to up the "fall-ness," I decided to serve them over pureed roasted butternut squash.
When I shared this idea with The Husband, he wasn't too thrilled. Butternut is not something he enjoys at all, but I told him to trust me. I just knew it would be the perfect addition to the short ribs.
On the side, I planned on green beans sauteed with bacon. Then I found a small package of diced pancetta at the grocery store and thought it would be less overbearing than bacon for this dish. (I ended up to be right. It was perfect.)
To start, I wanted something fun and light. Turning to Cooking Light again, I found these Maple Sesame Cauliflower Bites.
For Dessert, again, I wanted something seasonal but not over the top. When I saw this recipe for Irish Cream Pound Cake, I was immediately sold.
I thought it would be the perfect ending to this meal with a scoop of vanilla and a drizzle of Chocolate.
The Prep
Finding Short Ribs proved to be a challenge. The first grocery store I visited said they usually carry them, but they were out. The second store's butcher had to grab them from the back for me. Short Ribs are either super popular or not popular enough. Considering, this was the first time I've ever made them, I really don't know!
The only other ingredients I needed that I couldn't find were Tamari and Chickpea flour.
Tamari is Japanese soy sauce, but it's wheat free and less salty. I could have used soy sauce, but I thought it would be fun to try it, so I ordered it from Amazon along with the chickpea flour.
Everything else I needed (cauliflower, green beans, butternut, etc.) I just picked up at Aldi.
The Big Day
Unfortunately, the evening we had this planned ended up to be the day we moved my Mom into the condo. So it was a little crazy. However, I have amazing friends who helped lug boxes, and I figured, how else to better celebrate the move than unwinding with a glass of wine and a great meal?
In the morning I browned the short ribs and put them in the slow cooker with the sauce and mushrooms.
Then I left for the day to move furniture.
I got back with about three hours before our guests were coming over. First thing I did was roast the butternut.
While it was cooking, I cleaned and prepped all the veggies.
My kitchen looked like a bomb went off.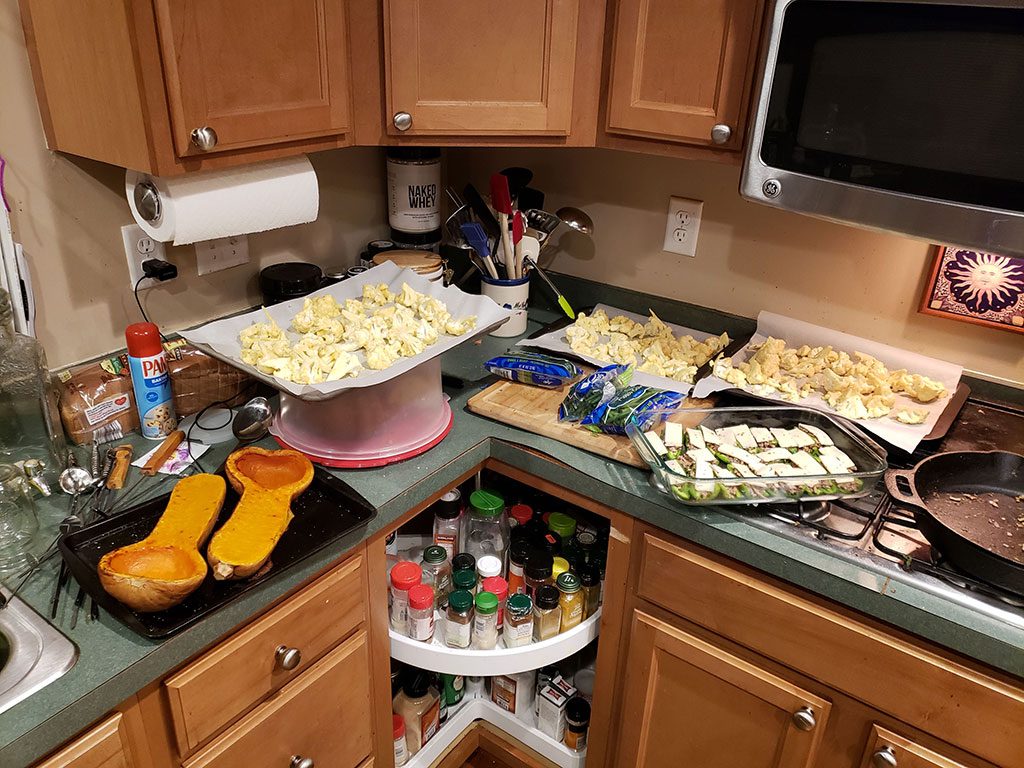 I'm not the cleanest cook, but I have fun!
With everything prepped, I hopped in the shower. The cauliflower went in about 30 minutes before our guests arrived so they would be ready when they got to the house. At this time I also pureed the butternut with a pinch of salt. I kept it in a casserole dish in the oven so it wouldn't get cold.
I also took the short ribs out of the slow cooker, removed the braising liquid and then put them back in stay warm. Then I reduced the braising liquid on the stove in a saucepan so it would be a little thicker when I served it over the short ribs.
I par-cooked the green beans and then tossed them with the pancetta in my cast iron right before serving so they would be nice and fresh.
My vision for plating came to fruition, and I couldn't have been happier with the meal as a whole.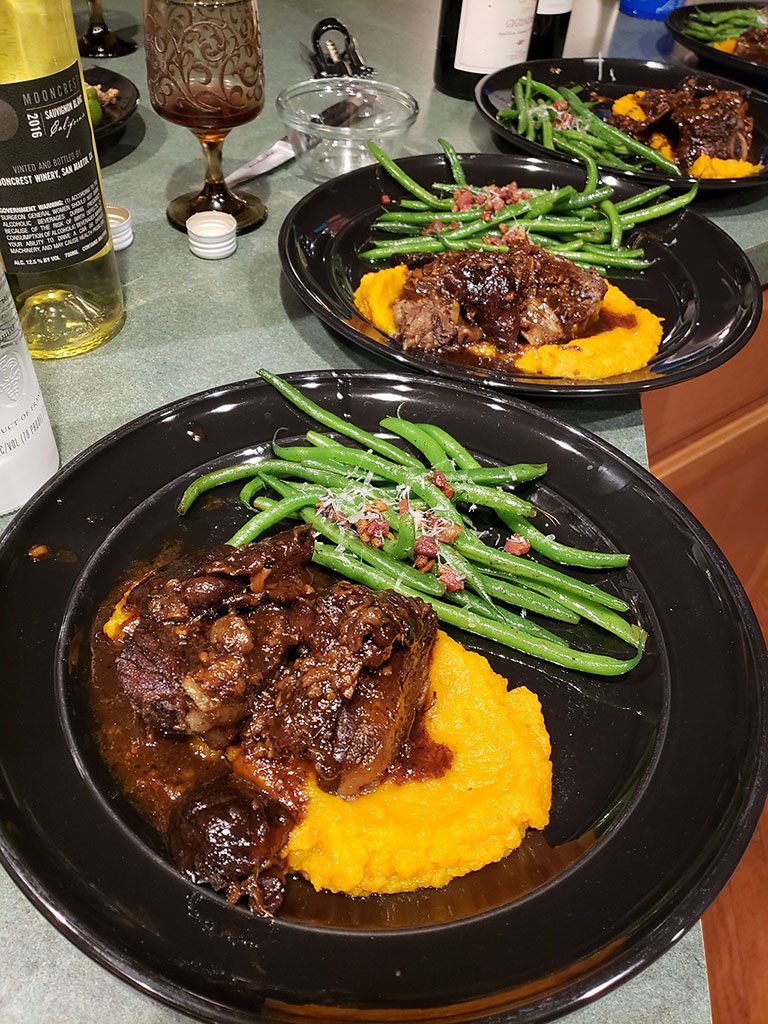 Sorry for the lousy photo quality. The photo doesn't do it justice. This may be the best meal I've ever put together!
The Verdict
Everyone loved it! It was awesome! Even The Husband said I hit the nail on the head with the butternut squash and that it did go perfectly with the short ribs.
Our friends decided on the wine pairings, and I would share them if I remembered! They were perfect. Next time we do one of these nights, I'll share the wine pairings as well. I just didn't have the brain capacity this time around.
Oh! The Cake! I totally forgot. I baked the Irish Cream Pound Cake the night before as all the comments on the recipe said it was better the second day. It was also delicious. I'm thinking of making it again for our Annual Ugly Sweater Party in December. It's a perfect holiday cake, pretty and super easy to make. I totally regret not taking a photo.
The Recipes
I linked all the recipe above, but here they are for easy access:
Maple Sesame Cauliflower Bites
Asian Short Ribs
As for the green beans, I just blanched them in boiling water and then let them sit in an ice bath. About 10 minutes before I served them I rendered the pancetta in a skillet and then sauteed them in the fat. I served them straight up with some freshly grated parmesan cheese.
You may also notice another dish in my messy kitchen photo. Last minute I decided to make a stuffed jalapeno recipe I've been working on so I could get some feedback. Everyone loved it as well so I'll probably share that recipe on the blog soon. I've been toying with this idea for some time now.
Thanks for letting me share my Date Night-In. I enjoy pulling together menus, and it's great to have an outlet to share them. Plus, friends who are willing to be my guinea pigs! Things don't always turn out as good as they did this past weekend. Just asked them about my failed Pecan pie a few months back. It was a disaster! But we had fun. We always have fun, as you can tell by this candid "husband shot."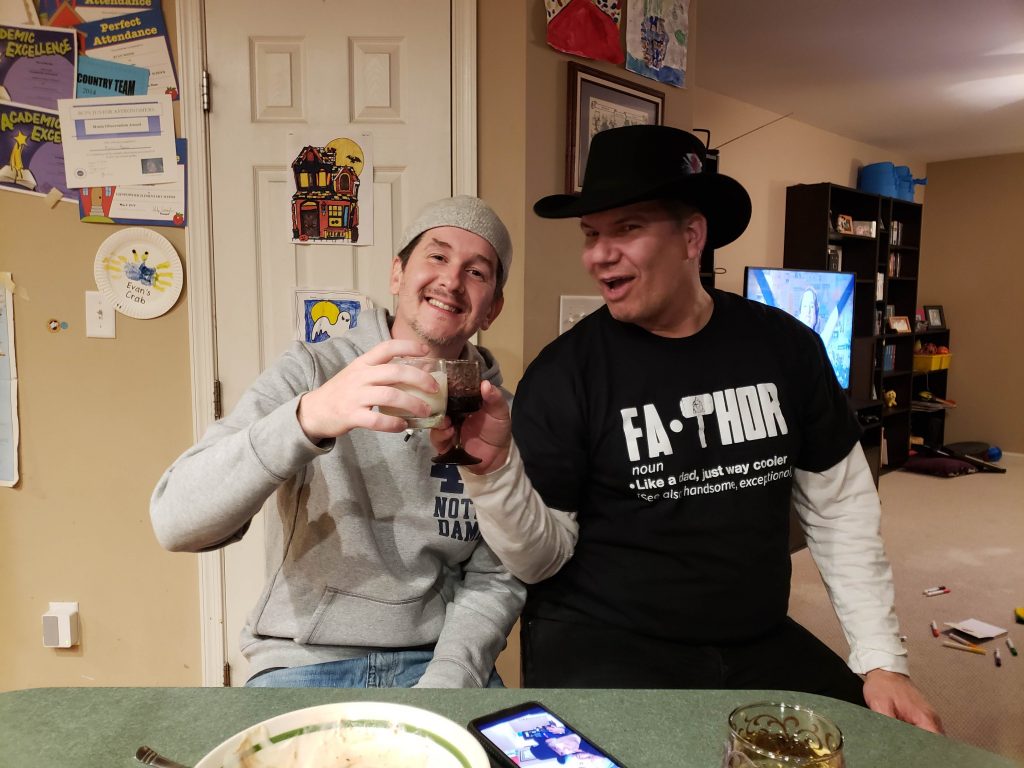 If I don't get a chance to blog before Thanksgiving, have a good one! I've got a 22-pound bird and house full of family to cook for. This is my favorite holiday by far.
Oh! I forgot, the 13-Year-Old liked the green beans with pancetta so much he requested them for Thanksgiving. How can I say no to a kid making a vegetable request? 🙂