A Summer Seafood Dinner Party Menu with simple ideas for a great night in including crabby deviled eggs, crostini, grilled fish, and a cobbler!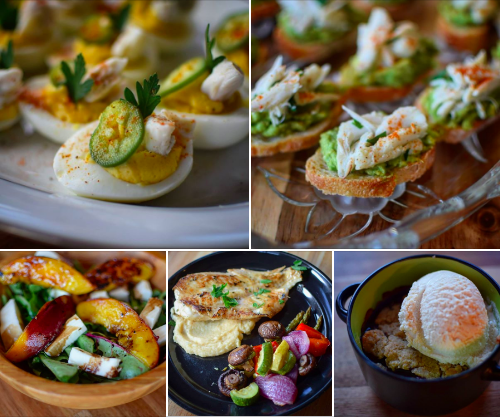 Guys! I am so proud of this menu I pulled together for a dinner party I hosted last night. Everything came out exactly how I wanted, and it so much fun preparing and hosting.
Here's an overview of the menu:
Small Plate: Crabby Deviled Eggs with Pickled Jalapeno
Appetizer: Crab and Avocado Crostini
Salad: Grilled Peach and Buffalo Mozzarella Salad
Main: Orange Roughy over Parsnip Puree and a side of Summer Veggies
Dessert: Blueberry Cobbler with Homemade Coconut Rum Ice Cream
Here's each course. I actually got good photos for a change!
Crabby Deviled Eggs with Pickled Jalapeno
Before I get into these, I need to confess that I'm not the biggest deviled egg fan, but The Husband is, so I decided to make these for him. I'm glad I did. Everyone loved them, even The 15-Year-Old.
They are pretty standard deviled eggs just elevated a bit with crab.
Here's how I made them:
12 large hard-boiled eggs
¼ cup mayo (55g)
1 tbsp soft butter
2 tsp yellow mustard (10g)
2 tsp dijon mustard (10g)
1 tbsp sweet pickle juice
½ tsp old bay
salt and pepper to taste
Halve the eggs and remove the yolks. Blend with the other ingredients until smooth. Pipe the mixture back into the egg whites.
Top each egg with a piece of crab meat, a thin slice of pickled jalapeno, a parsley leaf, and a dash of Old Bay.
I did pickle the jalapeno myself with a simple mixture of equal parts water and white vinegar, a tbsp of salt, a tbsp of sugar, and three smashed garlic cloves.
Crab and Avocado Crostini
Since I don't really like deviled eggs, I decided to make these Avocado and Crab Crostini. They ended up being the surprise hit of the evening.
I cut a french baguette into quarter-inch slices, brushed them olive oil, and sprinkled a touch of kosher salt on them. Then I baked them in a 375-degree oven until toasted and crunchy.
The other half of the lump crab meat not used on the deviled eggs was tossed with some lime juice and chopped parsley.
When it was time to serve, I mashed two avocados with a squirt of lime juice and a pinch of salt. Then I topped each crostini with a dollop of the avocado mixture, the crab mixture, and a dash of Old Bay.
Grilled Peach and Buffalo Mozzarella Salad
I got this idea from FineCooking, and it was a fantastic addition. Instead of arugula, I used a hearty greens mix. Other than that, I pretty much used their recipe. You can see it here.
Oh! I did put more herbs in the balsamic reduction, including sage, oregano, and basil.
Orange Roughy over Parsnip Puree and a side of Summer Veggies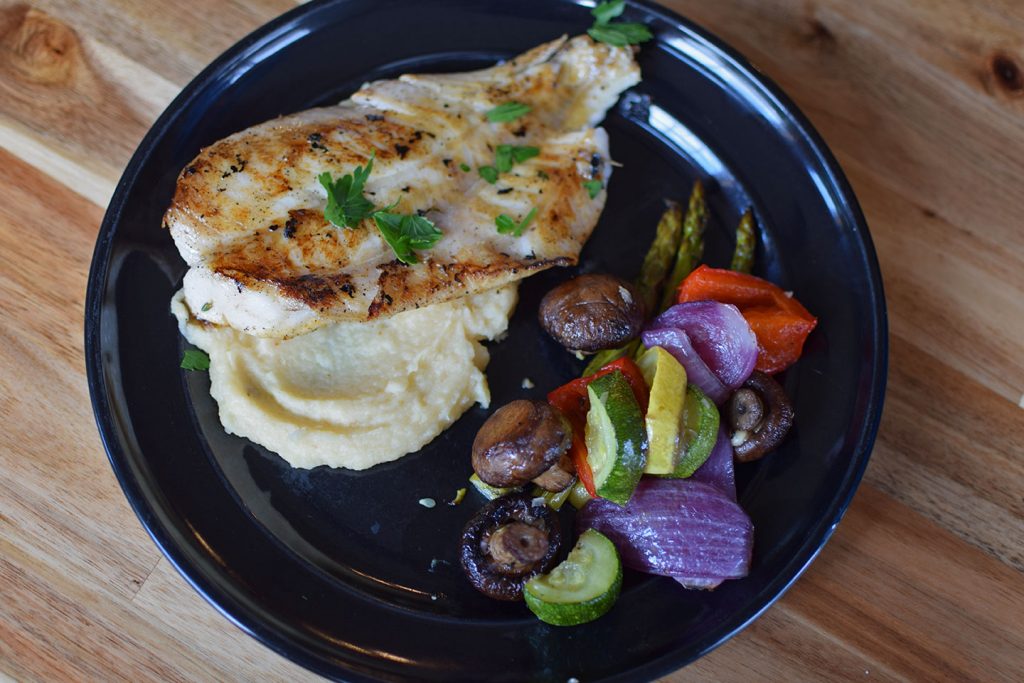 I am SO proud of this dish. A few months back, I made grouper with a parsnip puree for a date night in, and The Husband and I loved the combination. I wanted to recreate the dish for our friends, but grouper wasn't available in any of our local stores.
Well, I'm happy to say Orange Roughy is just as amazing!
As for the puree, I simply sliced the parsnips and steamed them. Then I added a pat of puter, juice of one lemon, and some salt before pureeing them with an immersion blender.
The veggies were simply roasted with some oil, garlic, and fresh thyme.
The three made an amazing dish together.
Blueberry Cobbler with Homemade Coconut Rum Ice Cream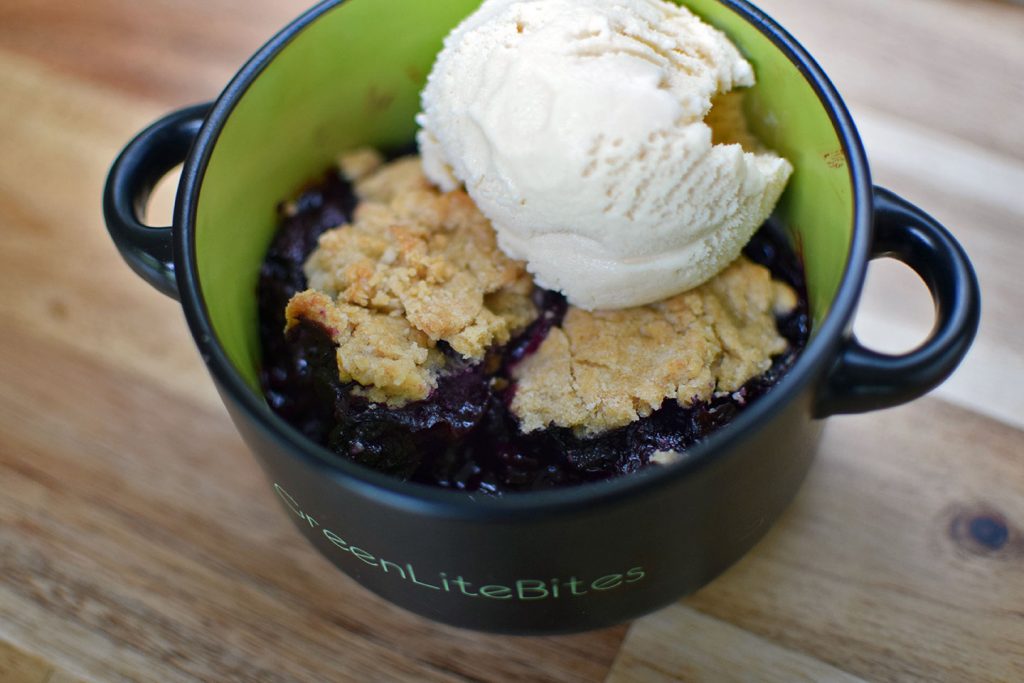 So finally, dessert. I cannot believe I pulled this one off as dessert is NOT my forte.
This ice cream came out AMAZING! And I totally made it up. Using my Mom's old ice cream maker, I made a mixture out of:
1 can full-fat coconut milk
1 can sweeten condensed milk
1 cup heavy cream
¼ cup coconut rum
1 tbsp coconut extract
It was the creamiest, tastiest ice cream ever and went perfectly with the blueberries.
As for the cobbler. I decided on this New York Times recipe adding just some zest of one lemon to the blueberries. Oh, and I used single-serving containers instead of the casserole dish. Regardless, it came out awesome and was the perfect ending to this meal.
A Note on Hosting Dinner Parties
Since we haven't been going out, these "fancy" dinner nights have become a thing for us.  I get really into the menu and preparation of them, and it brings me so much joy cooking. I'm so glad I have friends into it as much as I am.
I wish more people would give a small dinner party a try. It doesn't have to be anything this extravagant. When we first started hosting, we'd make tacos or grill a steak. That said, the process of planning something fancier can be a great way to beat the pandemic blues.
Frankly, I'm starting to like this more than going out.
Oh! and as for cocktails and wine. I get a bit overwhelmed, sharing all details, but we had some great wine pairings. I also made a batch of grapefruit crushes and my new obsession, The Jasmine.