I'm on a mission to create a few go-to crock-pot meals my family will actually eat. Overall they are such good eaters UNTIL you mix everything together. Then they poke and prod at their plates, making faces and picking out the one or 2 things they will eat out of the stew.
I, on the hand, am a comfort food junkie! Chilies, stews, soups and casseroles are all more than OK in my book. I don't need 3 things in separate corners of my plate.
After a few attempts, I finally have most of the family on board with my Simple Chicken and Oat Stew With Northern Beans. I'm hoping the 2-year-old comes around when he realizes he's outnumbered.
Yesterday I finally decided to cook the pot roast that came in the farm share a few weeks ago. I figured having sliced meat with potatoes and carrots all separate on the plate even though they were cooked together would be a good baby step for the boys.
There was only one problem: I froze the roast and forgot to defrost it the night before.
Little did I know, my mistake may have helped me make the most perfect roast ever! I'm talking crowd pleaser all around. Husband, 8-year-old AND 2-year-old happily ate and complimented me on dinner.
Yes, this is going down in history!
I shall share what I did in hopes that you can re-create this miracle in your house…
Ingredients
1 Eye round roast, about 5 pounds, frozen solid
4 baking potatoes, halved
Handful of baby-cut carrots or a few carrots, chopped in large pieces
1 large red onion
4-5 garlic cloves
1 12 oz bottle of beer (I used Sam Adams Chocolate Cherry Bock)
2 tablespoon Worcestershire sauce
2 tablespoon soy sauce
2 tablespoon apple cider vinegar
¼ cup (33g) whole wheat flour
Instructions
Since my roast was frozen I made a bath for it in my sink and let it sit in the water while preparing all the additional ingredients.
For sides to the roast I pulled out what I had on hand: A handful of baby carrots, 4 baking potatoes (1 per person), 1 large red onion, and garlic.
This is where I tell you to use what you have on hand. There is no wrong answer. If you have red potatoes, even better as I had to only halve the baking ones so they didn't turn to complete mush. Red potatoes would hold up better. Only have a sweet onion? Perfect. No carrots? Skip 'em. Want to add in a bag of frozen peas? AWESOME! Sweet potato fan? They could work. Just cut really large pieces.
Don't be scared of making recipes your own. Cooking should be a fun adventure not a stressful event.
OK, now that I got that out of my system, I halved the potatoes (with skin on) and loosely chopped the garlic.
Still needing my roast to thaw a bit more, I moved on to my gravy base. A friend gave me a few of these Sam Adams beers because he said, "I figured you could cook with them or something."
HA! He was right.
I whisked the beer with the Worcestershire sauce, soy sauce, apple cider vinegar and flour.
It was time to sear the meat. The roast was defrosted enough to be released from the plastic. That would have to do.
I heated a heavy skillet over medium-high heat and sprinkled all sides of the roast with salt and pepper. Then I seared it on all sides.
Believe me, that sucker was still frozen solid in the middle.
Once it was seared I put it in the crock pot with all the other ingredients and poured the beer mixture on top.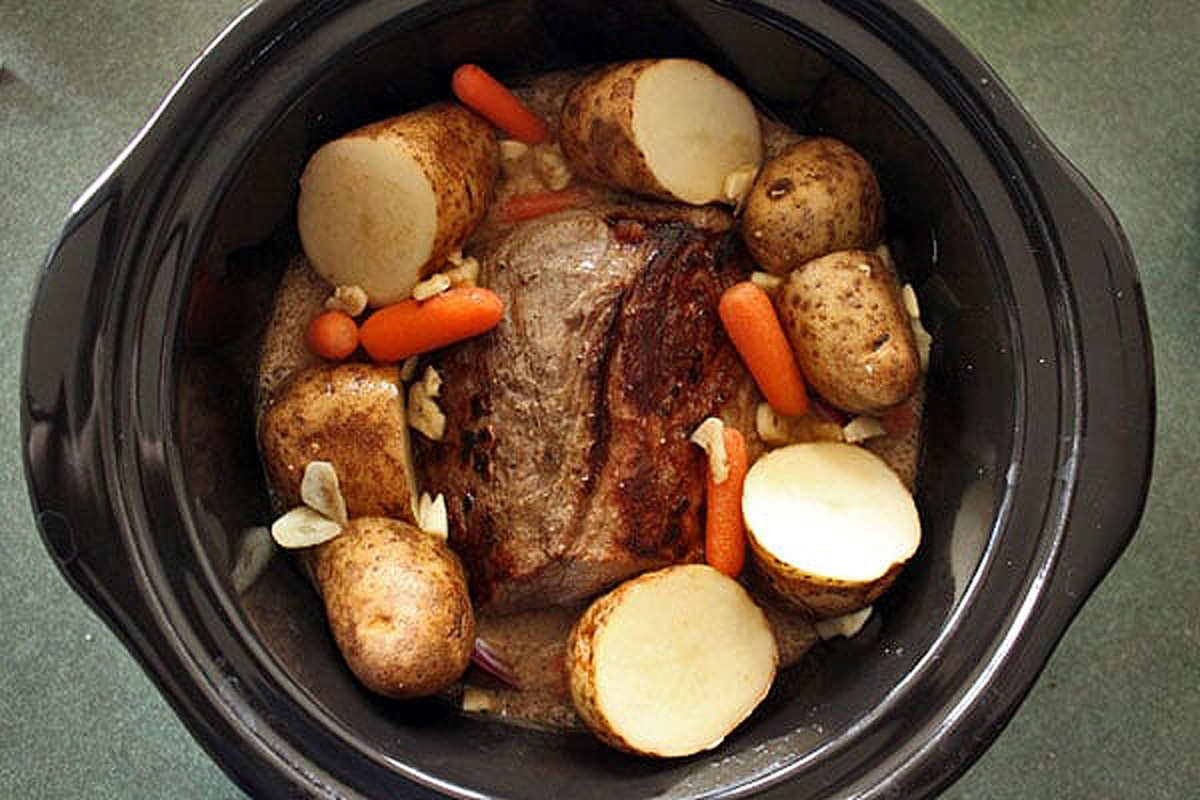 I pushed some of the potatoes down, covered and cooked it on low for 8 hours.
After 8 hours of the house smelling awesome, I uncovered this.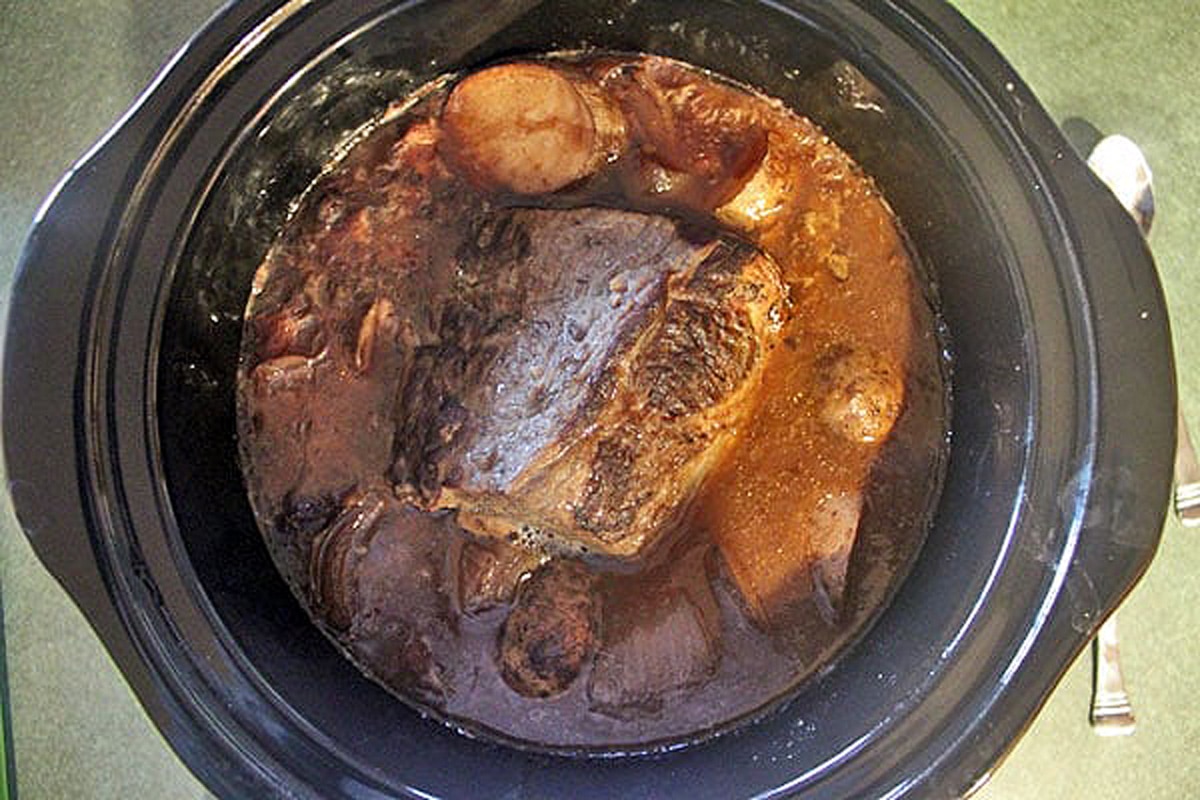 I removed the roast to let it rest and left the crock pot uncovered to help the gravy thicken a bit more.
I was shocked to see how amazing the roast sliced.
Any other time I've made a pot roast it always did that shredding thing, which is yummy but slices are an easier sell to the kids.
The meat was tender, slightly moist and delicious.
I served the meat with 2 potato halves and a scoop of carrots and onion with the juice drizzled on top.
I loved EVERY bite! The potatoes were creamy and delicious. The carrots soft but not overcooked. The onion was sweet, and the meat was amazing.
My best pot roast to date!
Here's a peek at my dinner table last night. Notice no tears.
Makes me smile. 🙂
These meals are always hard for me to calculate nutritional information. If you are counting just use a general point per ounce estimate and count how many potatoes you eat. Sometimes you just have to go with the flow.
📖 Recipe
My Perfectly Perfect Pot Roast Adventure!
Bring some warmth to your dinner table with this easy-to-make eye round roast with potatoes and carrots pot roast.
Ingredients
1

Eye round roast

about 5 pounds, frozen solid

4

baking potatoes

halved

Handful of baby-cut carrots or a few carrots

chopped in large pieces

1

large red onion

4-5

garlic cloves

1 12

oz

bottle of beer

I used Sam Adams Chocolate Cherry Bock

2

tablespoon

Worcestershire sauce

2

tablespoon

soy sauce

2

tablespoon

apple cider vinegar

¼

cup

33g whole wheat flour
Instructions
Since my roast was frozen I made a bath for it in my sink and let it sit in the water while preparing all the additional ingredients.

For sides to the roast I pulled out what I had on hand: A handful of baby carrots, 4 baking potatoes (1 per person), 1 large red onion, and garlic. This is where I tell you to use what you have on hand.

OK, now that I got that out of my system, I halved the potatoes (with skin on) and loosely chopped the garlic.

4 baking potatoes,

4-5 garlic cloves

I whisked the beer with the Worcestershire sauce, soy sauce, apple cider vinegar and flour.

1 Eye round roast,

2 tablespoon Worcestershire sauce,

2 tablespoon soy sauce,

2 tablespoon apple cider vinegar,

¼ cup 33g whole wheat flour,

1 12 oz bottle of beer

It was time to sear the meat. The roast was defrosted enough to be released from the plastic. That would have to do.

I heated a heavy skillet over medium-high heat and sprinkled all sides of the roast with salt and pepper. Then I seared it on all sides.

Once it was seared I put it in the crock pot with all the other ingredients and poured the beer mixture on top.

I pushed some of the potatoes down, covered and cooked it on low for 8 hours.

After 8 hours of the house smelling awesome, I uncovered this.

I removed the roast to let it rest and left the crock pot uncovered to help the gravy thicken a bit more.

I served the meat with 2 potato halves and a scoop of carrots and onion with the juice drizzled on top.

1 large red onion,

Handful of baby-cut carrots or a few carrots
Nutrition
Calories:
821
kcal
Carbohydrates:
53
g
Protein:
119
g
Fat:
12
g
Saturated Fat:
5
g
Polyunsaturated Fat:
1
g
Monounsaturated Fat:
5
g
Trans Fat:
0.2
g
Sodium:
874
mg
Potassium:
3147
mg
Fiber:
4
g
Sugar:
4
g
Vitamin A:
10
IU
Vitamin C:
16
mg
Calcium:
78
mg
Iron:
16
mg