I've been wanting to make homemade lettuce wraps forever and I finally got inspired while putting away my groceries and seeing leftover pineapple from breakfast. Yup, that did it for me. I know, I'm an odd duck.
I found myself chopping and cooking while sifting through my sea of groceries. I decided to make it light mostly pasta and veggies with just 4oz of turkey. I was pleasantly surprised and found myself wanting to eat the filling as a salad. It's even good cold with a nice light flavor.
I do have to say I wish I had some scallions and fresh ginger but hey, you use whatchya got, right? ;~)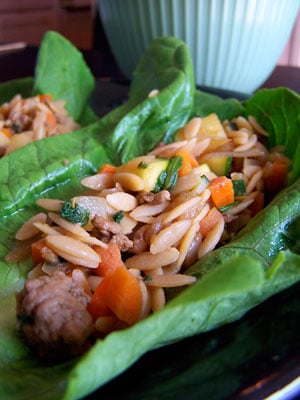 4oz whole wheat orzo pasta uncooked
1 small onion
4oz lean ground turkey uncooked
8-10 baby carrots (3oz) diced
1 small zucchini diced
2 cups baby spinach chopped
½ cup pineapple diced (90g)
2 tbsp lite soy sauce
1 tsp ground ginger
1 romaine heart (about 16 leaves)
Prepare the pasta according to the package.
Heat a large non-stick skillet over medium heat and spray with non-stick cooking spray. Add the onion. Don't touch for a few minutes. You want to get that little bit of brown. Stir a few times and add in the ground turkey and carrots. Continue to cook and stir to brown the turkey.
Add the zucchini, spinach and pineapple to the skillet. Continue to cook and stir. Once the Spinach starts to reduce, add the soy sauce, ginger and cooked orzo pasta. Stir to combine flavors. Shut off the heat.
Serve on large lettuce leaves. Wrap, roll and eat!
Approx Nutritional Information per serving
Servings
Amt per Serving
4
About one cup of filling and four lettuce leaves
Calories
Fat
Fiber
WWPs
182
1g
5g
old: 3
new: 4
Sugar
Sat Fat
Carbs
Protein
6g
0g
31g
11g