I know there is a difference between stock and broth. I know there is probably a "correct" way of making it. I've seen boatloads of recipes and ideas online and I figured I'd share my own.
I have to start by saying I did not cook thanksgiving dinner this year. I went to the in-laws. However, the in-laws aren't big on cooking so they graciously donated the turkey bones to me! YAY! (ok, I seriously crossed the line into food geek-ness, I'm excited about a turkey carcass)
To get started I put the whole carcass, meat and all, in the biggest pot I have. Then I fill it with water and add spices. To be honest, I don't really measure anything. I sprinkle in some whole peppercorns, garlic powder, onion powder, sage (or poultry seasoning) and salt. The salt I do measure out just about a tablespoon of course sea salt for my biggest pot.
I then cover and bring this whole concoction to a rolling boil and continue to boil it for about 20 minutes. If the pot overflows a bit I just take the cover off and it normally solves the problem.
After the boil, I turn it down to a simmer, cover and cook it for at a few hours. It's just one of those things I do while I'm running errands or cleaning the house. After a few hours, I turn the heat back up to high and bring to a boil one more time. I find this double boil method works great! I get a nice deep flavored broth and the color is amazing.
After the second boil, I turn off the heat and let it cool to room temperature. Once it's cooled, I dump the whole thing through a strainer. The broth goes in a large bowl in the refrigerator while I clean off any good meat from the bones to use in the soup.
It's a messy job but if you take your tome you can get a a good amount of meat you didn't even realize was even there! Just look at that bowl of turkey!
Back to the broth in the fridge, after a few hours if there is any fat in the broth it will create a layer on the top allowing you to skim it off. If you want to speed up the process put the bowl in the freezer for a bit. I find that if you remove all the skin before boiling this step is not necessary.
After all that (it really isn't that much, is it?) I do two things.
I make soup.
I put the broth back into the pot adding the turkey pickings, carrots, celery, onion, uncooked brown rice and anything else I feel like. Bring that whole concoction to a boil, lower to a simmer and serve once veggies are tender.
I use rice because, unlike noodles, I don't mind if it get's "mushy". If you rather noodles in your soup then make the noodles separately and add to the soup when servings. It will prevent them from becoming overcooked.
I also keep the veggies cut large. It prevents them from coming to mushy as well.
I freeze the leftover stock.
Using a method similar to my frozen meat trick, I put stock in 8, 16 and even 32oz servings so I can pull out just what I needs when I'm cooking.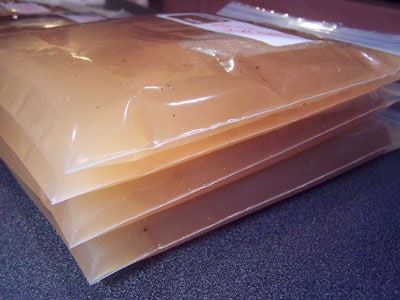 That's it, the story of the leftover turkey bones. I actually had fun doing this all day today. I love cooking on Sundays!