Last night was burger night at my house. You'd think total crowd pleaser, right?
Well, The 3-Year-Old thinks the burger on the bun "ruins" it. So he removes the patty, devours the bun, and then needs to be coaxed to take a bite or two of the meat.
The 9-Year-Old is the complete opposite. He eats all the meat leaving more than half the bun.
The Husband? He's just happy I didn't try to serve him some kind of squash or kale experiment.
Dinner's always an adventure!
Anyway, I decided to have a little fun with my burger and totally turned it into one of the most amazing salads ever!
Here's what I did...
4 oz lean beef formed into a patty (or your meat of choice -- I used 90% lean)
2 tsp sriracha sauce (10g)
1 tbsp apple cider vinegar
½ tbsp honey (10g)
Pinch of kosher salt
About 3 cups of your favorite greens (I used a combo of baby kale and baby spinach from Aldi)
Half a red bell pepper (I would have used a tomato if I had one!)
¼ of an avocado, cut into chunks (The 3-Year-Old who wouldn't eat the burger ate the rest cubed up. Crazy right?)
1 tbsp real bacon bits (7g)
3 bread and butter pickle slices, chopped
1 oz fancy shredded Mexican cheese blend (28g)
Heat a nonstick skillet over medium heat and spray with nonstick cooking spray.  Cook the burger patty to your liking. I'm a rare/medium-rare girl myself.
While the patty is cooking, in a small bowl whisk the Sriracha, vinegar, honey and salt. Set aside.
Pile the greens on a plate, top with the bell pepper (or tomato). Once the patty is done, remove from heat, let it rest a few minutes and then cut into cubes. Pile it in the middle of the greens. Top with the avocado, bacon bits, pickles and cheese.  Drizzle the sriracha dressing on top.
Voila!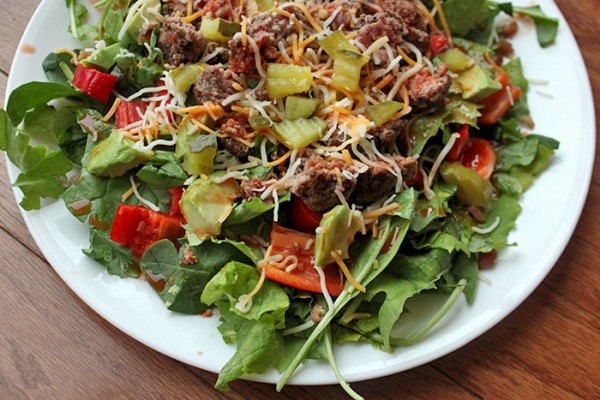 Once you have this you may never want a bun again! It's a super filling, satisfying meal!
Approx Nutritional Information per serving
Servings
Amt per Serving
1
Entire Recipe
Calories
Fat
Fiber
WWPs
485
24g
8g
old: 11
new: 12
Sugar
Sat Fat
Carbs
Protein
16g
11g
29g
38g