Absolutely nothing beats a delicious chocolate strawberry smoothie recipe for a perfect start to your day! I've made smoothies for years and they are an excellent blend of fruit with other additions to drink on the go or savor as an easy snack. This recipe combines banana, strawberry, and chocolate for a rich and creamy drink that is just sweet enough to satisfy any craving!
Chocolate Strawberry Smoothie Recipe
When I think of smoothies, I don't put specific measurements in mind usually, but for the sake of making it easy for beginners, I am sharing a personal favorite. Since kids almost always love chocolate, this recipe is sure to be a hit with everyone. While it is primarily fruit, there is a bit of protein from the yogurt making it a great choice for a pre-workout drink or a way to add protein to a little ones meal.
If you like this recipe, you'll probably also enjoy the sweet cherry almond protein smoothie, peanut butter cup protein smoothie, banana bread smoothie, and my personal favorite the strawberry shortcake smoothie. All are great delicious drinks that double as breakfast on the go!
Do I Need to Add Milk or Water?
This particular recipe doesn't include an additional liquid. The plain yogurt adds plenty of moisture to create a nice thick smoothie. However, if you want a thinner drink, more like a milk and less like a milkshake, you can add in some vanilla or chocolate almond milk for more protein and to keep the calories low. If calories aren't of concern, you can definitely add in traditional milk to this drink instead.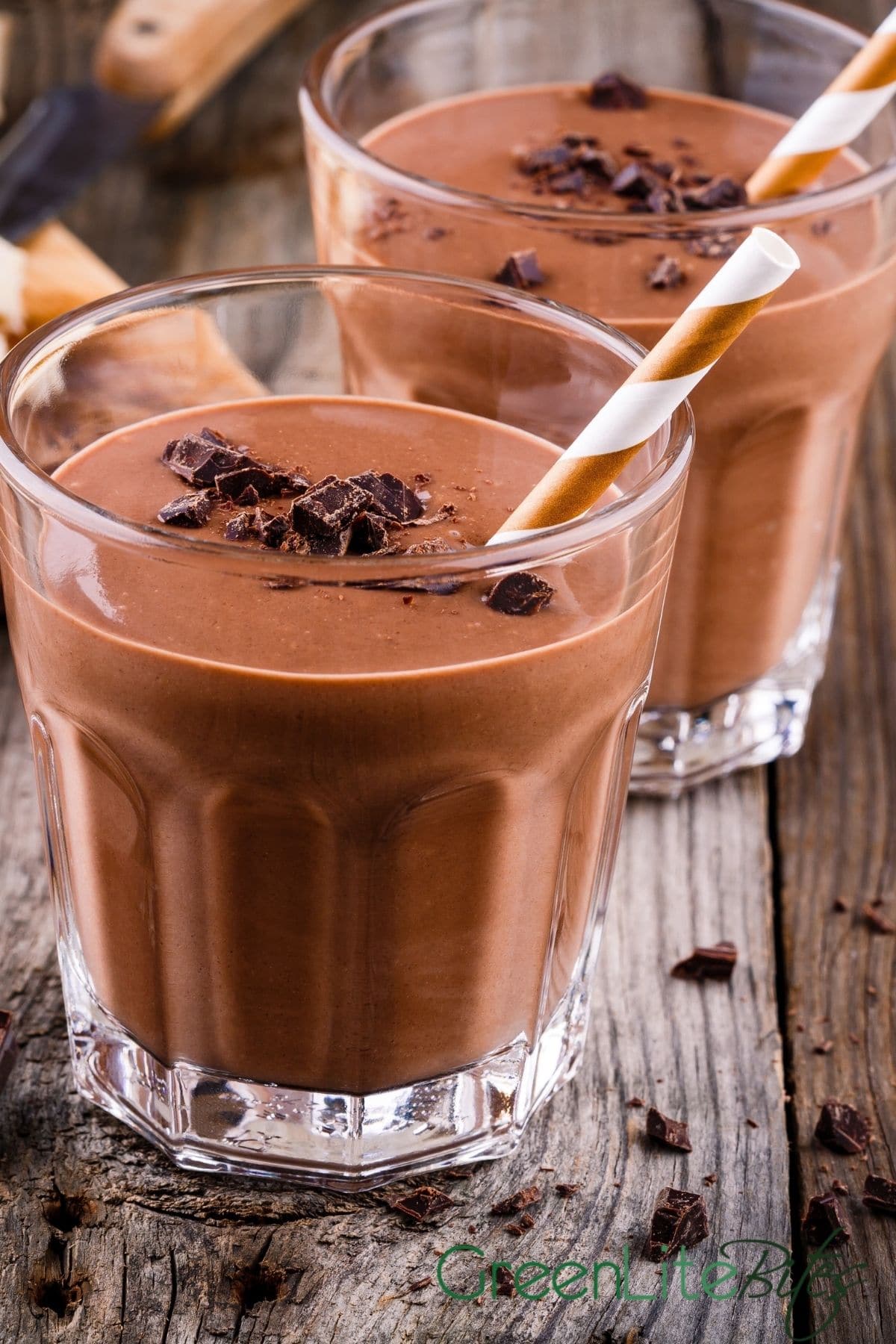 What Mix-In's Can I Add to This Smoothie?
One of the biggest reasons that smoothies are so popular is that they can so easily be adjusted with simple additions to pump up the fiber, greens, and protein. If you want to add something different to your smoothie, below are some ideas that fit into this flavor profile easily and can add health benefits, texture, and flavor.
Dark chocolate chips or cookie crumbles
Vanilla, strawberry, or chocolate protein powder
Strawberry "greens" powder
Vanilla or chocolate almond milk, soy milk, oat milk, or coconut milk
Does the Fruit Need to Be Frozen?
Smoothies have a partially frozen texture similar to a milkshake. In this recipe at least part of the fruit needs to be frozen. The frozen strawberries add that cold frozen texture you are looking for in a smoothie. If you don't have frozen fruit on hand, you can definitely substitute a few ice cubes instead. These add the texture and cold without changing the flavor or health of the smoothie.
Are Smoothies Good for Weight Loss?
Smoothies can be good for weight loss, but not all are created equal. Typically, if drinking smoothies for weight loss, you are using them as a meal replacement. Since they are easy to grab and go in the mornings, they are frequently used for breakfast, but can also be used for a snack or dessert.
What you put into the smoothie will determine the health benefits. This chocolate strawberry smoothie is definitely healthier than most, but with the addition of greens and protein powder, could be even better for you.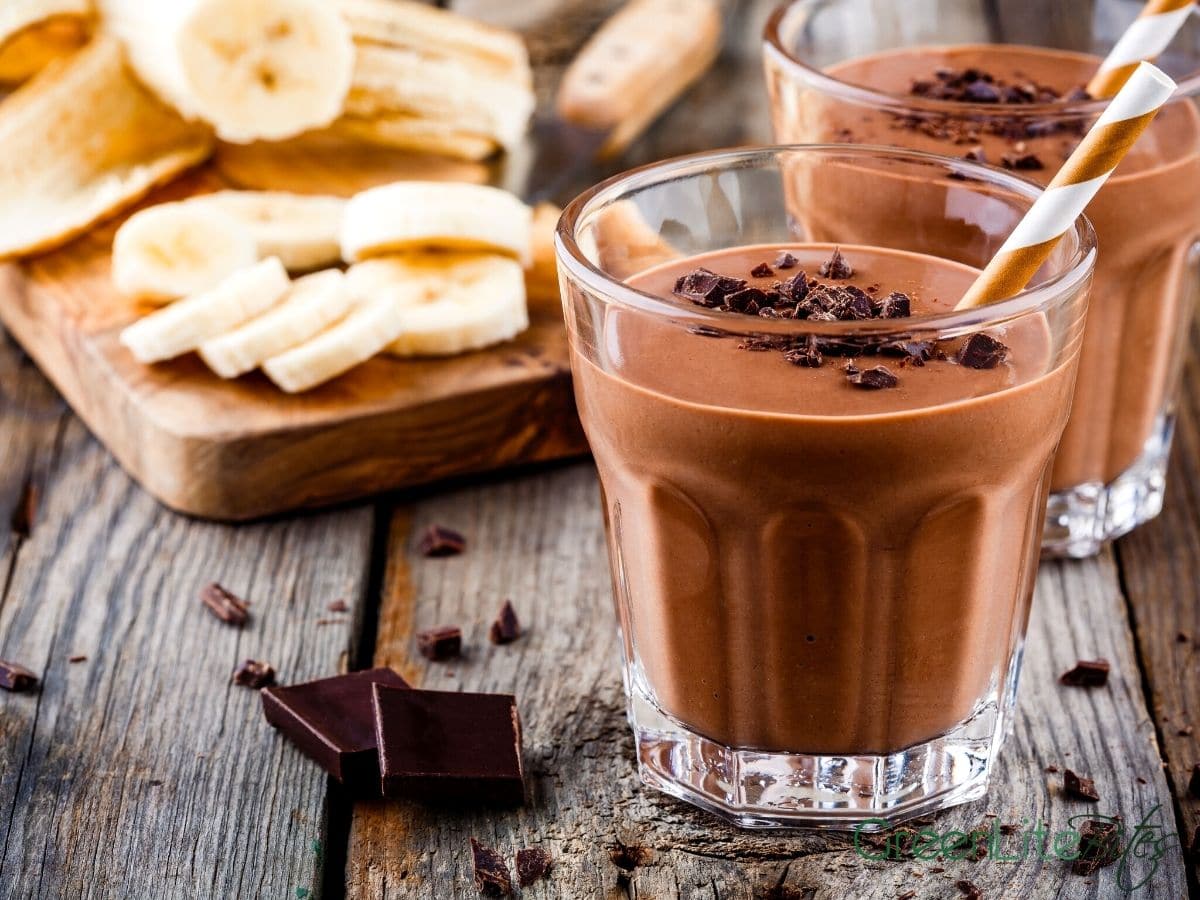 How Many myWW Points are in This Smoothie?
The myWW program considers beverages with fruit blended an item you should count as points from your daily allowance. While eating the fruit whole as a snack doesn't count as points, when blended they recommend you do count. This is because drinks tend to be easier to go overboard with and drink more calories than a simple fruit snack would typically be. Choose to count these as you prefer.
myWW Blue: 8
myWW Green: 8
myWW Purple: 8
Points Plus: 6
Ingredients
1 banana
5 frozen strawberries
½ cup nonfat plain Greek yogurt
1 tbsp unsweetened cocoa
1 packet of Stevia
How to Make a Chocolate Strawberry Smoothie
Add all ingredients into a blender and pulse until smooth.
Serve with a straw!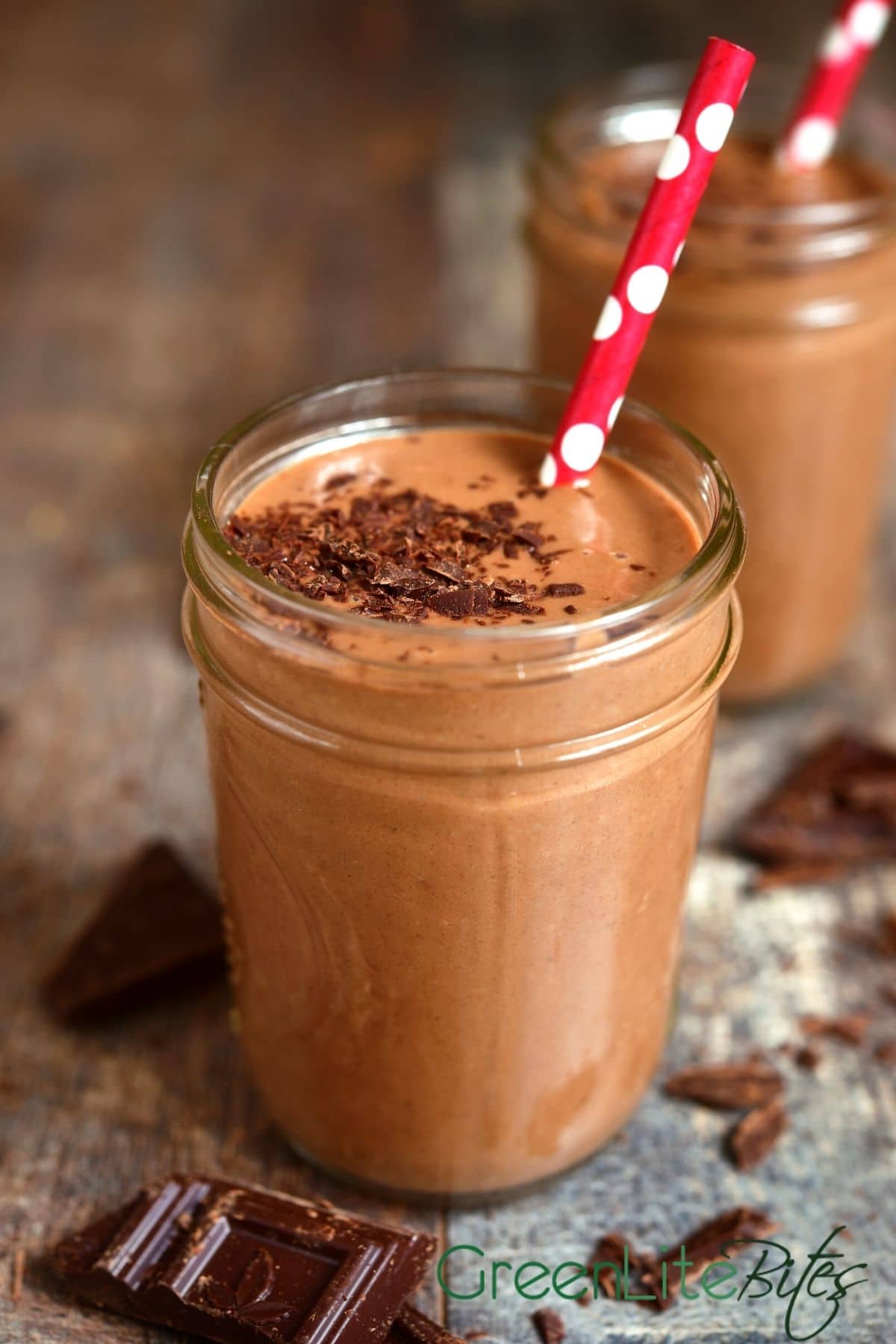 Yield: 1
The Best Chocolate Strawberry Smoothie Recipe
This chocolate strawberrty smoothie recipe is a flavor and protein-packed easy on-the go breakfast you will love! Kid tested and mother approved, this is a perfect addition to your breakfast menu.

Prep Time 5 minutes

Total Time 5 minutes
Ingredients
1 banana
½ cup strawberries, frozen
½ cup nonfat plain Greek yogurt
1 tbsp unsweetened cocoa
1 tsp Stevia
Instructions
Add all ingredients into a blender and pulse until smooth.
Notes
myWW Blue: 8
myWW Green: 8
myWW Purple: 8
Points Plus: 6
Recommended Products
As an Amazon Associate and member of other affiliate programs, I earn from qualifying purchases.
Nutrition Information:
Yield:
1
Serving Size:
1
Amount Per Serving: Calories: 225Total Fat: 1gSaturated Fat: 0gTrans Fat: 0gUnsaturated Fat: 0gCholesterol: 6mgSodium: 44mgCarbohydrates: 47gFiber: 6gSugar: 22gProtein: 14g