I'm not sure if I'm making a mountain out of a mole hill but it seems harder and harder to come up with ideas all four of us will for eat for dinner anymore. Of course, if I stuck with burgers, hot dogs, chicken nuggets, fish sticks and pizza the kids would be ecstatic but I'm really trying to create some healthier family go-tos everyone enjoys.
Last night I may have nailed one and, really, it couldn't have been any simpler.
I'm really trying not to fear cuts of meat with bones in them. I think it's easy to stick with things like boneless, skinless, chicken breasts or ground turkey, but if you look at options in the grocery store, bone-in cuts of chicken are routinely cheaper, whether they are legs, thighs or breasts. I've been sticking with the darker cuts because they are harder to dry out but it was time to take the leap to white meat.
Last night I proudly served what I thought wasan amazingly looking dinner.
No one said a word.
NOT A WORD!
Then I realized something… they were all eating!
No complaints. No funny faces. No grumbles. No bargains -- well, a few to get everyone to try the farro but that's another story.
The chicken was eaten by all so I decided I'd share. Hopefully you'll be able to recreate the fabulousness at home!
Here's what I did…
½ cup lemon juice
2 tbsp honey (42g)
½ tsp kosher salt
½ tsp fresh ground pepper (I used a black/green/red mix)
2 split chicken breasts (4 pieces)
In the morning I whisked the lemon juice, honey, salt and pepper together to make the marinade.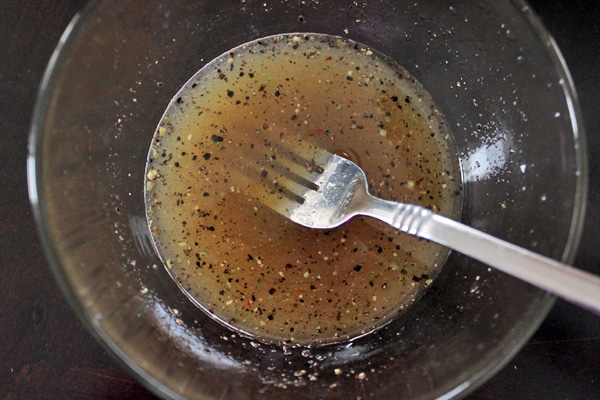 I put the chicken and the marinade in a bag and placed it in the fridge to marinate all day.
When it came time to cook dinner, I preheated the oven to 350 degrees and placed the chicken breasts on a roasting rack.
Note: My roasting pan is an old rack on top of a cookie sheet lined with aluminum foil. Hey, it works. 😉
Roast for 50 to 60 minutes based on the size of the chicken breasts.
Let them sit for 10 minutes.
Serve with your favorite sides.
I chose broccoli and, following my strategy of serving one new thing with two known things, went with farro on the side. I loved it! The boys were on the fence but they all ate some after pulling the, "Can you just eat a few bites for Mom?" card. Works almost every time. 😉
Approx Nutritional Information per serving
Servings
Amt per Serving
4
1 Chicken Breast
Calories
Fat
Fiber
WWPs
200
8g
0g
old: 5
new: 5
Sugar
Sat Fat
Carbs
Protein
2g
2g
2g
29g