Both the toddler and I ate avocado and liked it! Can you believe it?! Here's a little secret I learned today. If you replace or add a healthy ingredient into a food item your toddler already likes, he'll eat it no questions asked. That's what I did with the avocado. I simple put it in the quesadilla as I would chicken or beans (2 things he's used to in quesadillas) and he happily ate it. GOSH! I love getting good stuff in the boy! 🙂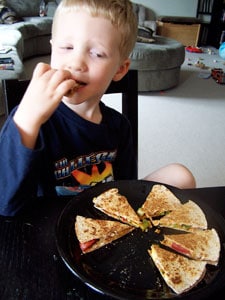 ½ avocado chunked
4-5 cherry tomatoes quartered
about ¼ cup bell pepper chopped
1 tsp lime juice
1 tsp dried cilantro
¼ -½ tsp chili powder
¼ tsp dried cumin
1 oz fancy shredded Mexican cheese blend
2 low carb/whole grain tortillas
Salsa for dippin'!
Toss the avocado, tomatoes, peppers, lime juice, cilantro, chili powder, and cumin.
Heat a non stick skillet over medium high heat. Place one of the tortillas, top with half the cheese. Add the avocado mixture, the rest of the cheese and top with other tortilla. Press down with a pot of water or tea kettle. Cook for 1-2 minutes until bottom tortilla browns. Flip, press again and cooke for 1-2 minutes.
Click here to see a (a very old) video of this technique.
The nutritional info in a bit sketchy as it really depends on the tortillas you use. Look for whole grain/low carb varieties and you'll be fine. If they are large or burrito size simply use once and fold over on itself.
Approx Nutritional Information per serving
Servings
Amt per Serving
1
1 Quesadilla
Calories
Fat
Fiber
WWPs
375
23g
15g
old: 9
new: 11
Sugar
Sat Fat
Carbs
Protein
4g
5g
37g
20g