There was a time I'd buy produce only to have it rot in my fridge. Now I find it a source of inspiration. So when I have an abundance of something you'll see it sprinkled on the blog a lot as I find different ways to use it.
Anyway, this salad was AMAZING. So simple yet so satisfying. The combination of pecans, dried cherries and Gouda is somehow indulgent yet simple.
Normally I'd massage a salad like this but I'm finding I don't need to now that I'm used to the heartiness of kale. Plus, I chop it pretty fine, which creates an awesome texture. Especially when you add a bit of grated cheese.
Here's what I did…
2 ½ cups raw kale, chopped
½ oz pecan halves
1 oz Gouda cheese, grated
2 tablespoons dried cherries (20g)
1 tsp olive oil
½ tbsp honey (10g)
1 tbsp red wine vinegar
Salt and pepper
I don't think it's necessary to weigh out greens, but I like to when I know I'm going to share an idea on the blog. That way my photos represent the true serving size and my nutritional information is as accurate as possible. This is what 2 ½ cups (85g) of kale looks like chopped.
 You can see I also weighed out the other ingredients.
Whisk together the oil, vinegar, honey, salt and pepper. Pile everything else on the plate. Drizzle with dressing and voila!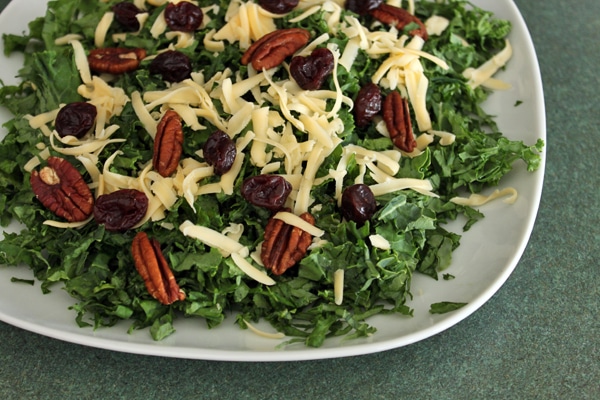 A "gourmet" salad at home in minutes with super simple, fun ingredients!
Approx Nutritional Information per serving
Servings
Amt per Serving
1
Entire Recipe
Calories
Fat
Fiber
WWPs
390
24g
4g
old: 9
new: 11
Sugar
Sat Fat
Carbs
Protein
27g
7g
39g
12g