I made this salad for the second time today and I'm in LOVE!
First I have to tell you how I got the idea because, well, that's what I do.
I had a bunch of kale from the farm last week and despite my best efforts in getting it into the family, I normally end up eating most of it so it doesn't go bad. It either finds its way into my eggs for breakfast or in salad during lunch -- click here to see other kale salad ideas.
I also had a bulb of  butternut squash in my fridge after making some fries a few days ago.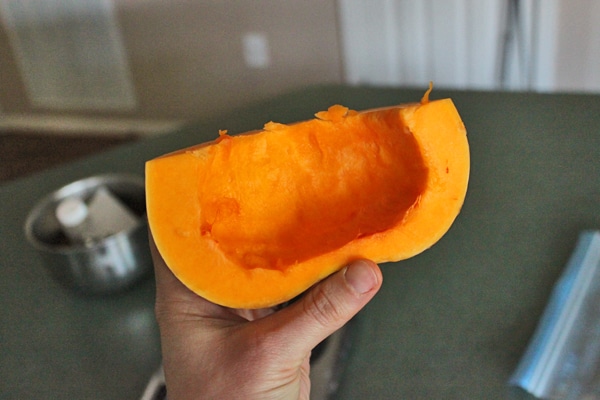 Honestly, I didn't know what to do with it. I was too lazy to cook it but I didn't want to see it go to waste. So I decided to try something new: I grated it and added it to a salad.
The result was AMAZING!!
Thanks to Gail, who gave me the idea to make the salad in a bag, there was no mess either!
So the idea here is simple: Cut kale into thin ribbons, add other tasty ingredients and a vinegar-based dressing to help break down the leaves. Then massage for a bit, which is super easy to do in a bag.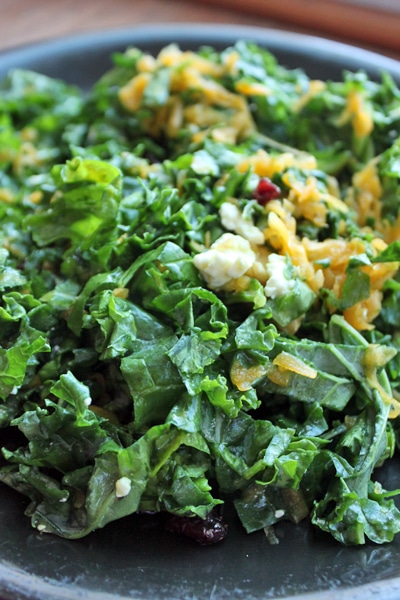 The result is a tasty kale-based salad which, by the way, is very portable. Such a great way to bring lunch to work!
I paired it with my Breakfast Sausage & Sweet Potato Soup With Peas and the combo was super satisfying for lunch.
Here's how I made it…
100g of kale (2-3 large leaves with stems removed)
50g chunk of raw butternut squash (about half the bulb of a large one, around 4 inches in diameter)
1 tbsp apple cider vinegar
1 tbsp red wine vinegar
1 tbsp honey
Pinch of salt and pepper
¼ cup feta cheese (28g)
1 tbsp dried cranberries (10g)
½ oz walnut halves (14g)
Bunch up the kale and chop into thin ribbons.
Grate the butternut squash.
Whisk the vinegars and honey together with a healthy pinch of salt and pepper.
Put everything into a large plastic bag and seal it shut.
Beat it up!
Seriously, give everything a good mix up and massage. It will soften the leaves and combine all the flavors.
Dump onto a plate and enjoy!
Approx Nutritional Information per serving
Servings
Amt per Serving
1
Entire Recipe
Calories
Fat
Fiber
WWPs
335
16g
5g
old: 7
new: 10
Sugar
Sat Fat
Carbs
Protein
26g
5g
44g
11g