I might as well apologize now. Avocados may take over my blog. I've fallen in love.
I really didn't think it was possible. I tried to like guacamole years ago but I never saw the appeal. I knew the health benefits of avocado and tried them with The-9-Year-Old when he was a toddler. We were both unimpressed.
Little Bean, however, embraced them from the get-go and still enjoys eating them plain by the chunk-ful. Because of him, I started keeping them in stock and slowly I've been incorporating them into meals more and more.
Now I'm obsessed with finding fun ways to use them, like in this burger idea.
And these burgers came out great! And again, like the Avocado Mango Salsa, much lighter than I anticipated. I mean they are pretty small, but if even if you eat 2, it's a great meal with a really balanced nutritional profile.
Here's what I did...
½ lb (8oz) ground lean turkey
½ avocado, finely chopped
½ plum tomato, finely chopped
½ sweet onion, diced
½ tsp cumin
½ tsp chili powder
⅛ tsp kosher salt
Put all the ingredients in a bowl, and heat a grill pan over medium-high heat.
Use your hands and combine gently, incorporating all the avocado chunks.
Form the mixture into 4 patties and cook them in the preheated grill pan.
Cook for about 4 minutes then carefully flip.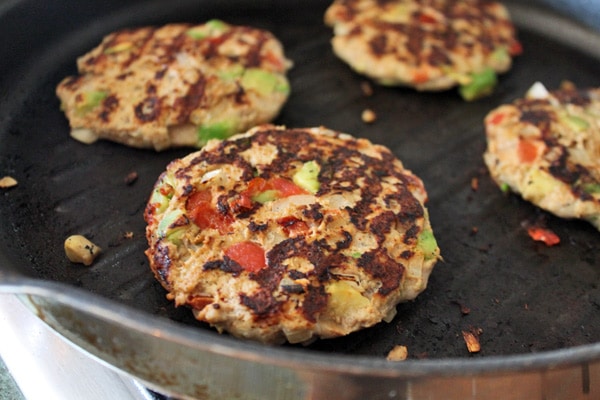 Continue to cook for about 4 more minutes until the burgers are firm to the touch.
I ate mine on a sandwich thin with lettuce, tomato, and a drizzle of sriracha, my OTHER latest obsession.
Stay tuned for that cole slaw recipe you see in the background, too. I'm making one more tweak before I share!
Oh! and I have some really BIG news on my weight loss blog. Someone got a book deal!! 🙂
Approx Nutritional Information per serving
Servings
Amt per Serving
4
1 Guac-Turkey Burger Patty
Calories
Fat
Fiber
WWPs
150
12g
2g
old: 4
new: 4
Sugar
Sat Fat
Carbs
Protein
1g
3g
3g
9g