Back home in my kitchen and it's wonderful! I was having fun cooking at the hotel, though. I enjoy the challenge of using what I have available. It adds a new element to preparing food.
... much like coming home, finding an empty fridge and wanting to make breakfast for the kids since I was pretty sure they lived off cereal while I was gone.
I looked at the kids and asked, "How about pancakes?" to which they replied, "Waffles!"
OK, same thing to me, I just need to warm up the waffle iron instead of the skillet.
I opened the fridge to grab my ingredients only to discover I have no eggs.
Ugh.
I also have no bananas and I always make my pancakes like this, with bananas.
What's a mom to do except improvise? So I looked at what I did have and hoped for the best.
Well ...
They came out perfect! And I had two happy kids (one no longer likes to be photographed) on my hands eating waffles!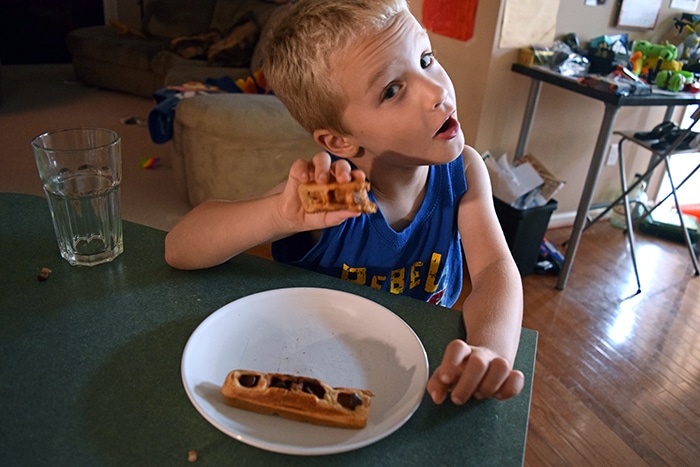 That photo was taken Saturday morning. Today I decided to make them again to see if the same batter would work for pancakes. This time instead of cow's milk (all we had on Saturday) I used almond milk, and instead of peanut butter I used sunflower butter to see if I could make them to send to Evan's peanut-free school. It worked! I love having another go-to pancake/waffle batter to make for the kids.
Oh! And today I added a few chocolate chips to the batter for the pancakes and they loved them.
Here's what I did...
1 cup whole wheat flour (120g)
1 tsp baking powder
2 tbsp ground flax (I used golden) (14g)
1 cup unsweetened almond milk (I've also used 2% with success)
2 tbsp honey (42g)
2 tbsp peanut or sunflower butter (32g)
1 tsp vanilla
2 tbsp chocolate chips (30g), optional
Mix the flour, baking powder and flax in a small bowl and set aside.
Whisk the milk, honey, peanut butter and vanilla until everything is incorporated.
Pour the dry ingredients into the wet ingredients and mix until just incorporated.
Gently fold in chocolate chips if you like.
To make pancakes use about ¼ cup for each cake and cook on a preheated skillet 1-2 minutes a side until golden brown. Makes 10-11 pancakes.
For waffles follow the instructions for your particular iron. Mine makes "sticks" and we got 16 out of the batch.
I'm going to give the nutritional info per pancake so you can decide what a serving is.
Approx Nutritional Information per serving
Servings
Amt per Serving
11
¼ cup of the batter
Calories
Fat
Fiber
WWPs
90
3g
2g
old: 2
new: 2
Sugar
Sat Fat
Carbs
Protein
5g
1g
15g
3g