Yesterday after work the little guy and I turned on the camera and made a super quick dinner that he actually liked! I was shocked!
The husband wasn't home but I can tell you this wouldn't be his favorite meal. He's not an all in one pot type of guy, no matter what it is.
So I'm happy I now have a new one pot partner.
I'm running out of time to write this up but here are the ingredients...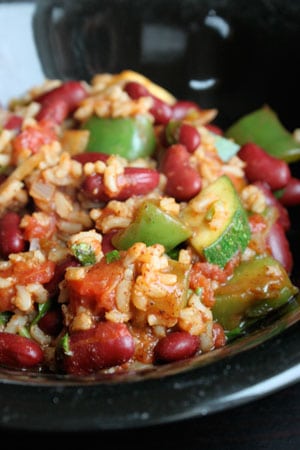 1-2 thick slices of sweet onion chopped
1 green bell pepper chopped
1 medium zucchini chopped
1 15oz can of diced tomatoes
2 tsp chili powder
1 tsp cumin
1 tsp garlic powder
About 2 cups of cooked brown rice
1 15oz can of kidney beans drained and rinsed
You can see all the details in the video but I basically:
sauté the veggies
add the tomatoes, spices, rice, beans
then eat!
Here's the little guy going to town...
I still can't believe it...
Shhhh don't tell the husband but he eats better when it's just the two of us.
Approx Nutritional Information per serving
Servings
Amt per Serving
4
About a Cup
Calories
Fat
Fiber
WWPs
210
1g
8g
old: 4
new: 5
Sugar
Sat Fat
Carbs
Protein
7g
0g
44g
8g