This fabulous meal came via Krista S. She was nice enough to share the idea with me and as soon as I saw it I knew I HAD to make it. I'm a HUGE taco fan and I love the idea of ditching the shell and replacing them with crisp lettuce leaves. These are light, super tasty and FULL of fresh veggies. What's not to love? 🙂
I made them just for myself with some leftover ground turkey meat I had after making Grilled Honey Mustard Turkey Oat Burgers this weekend. You can of course double or triple the recipe for more servings. You know I'm all about the 'idea', so take it and run with your favorite taco toppings. I'm thinking pinto beans or even using my Spicy Black Beans and Zucchini instead of the turkey next time.
Here's what I did tonight...
6 oz lean ground turkey raw (around 4 oz cooked)
about 1 tsp of my taco seasoning
4 large inner leaves of romaine lettuce
4-5 strips of green bell pepper chopped
¼ of a tomato chopped
1 oz Fancy Mexican shredded cheese
about 2 tbsp salsa
Brown the turkey with the seasoning until gray. While "browning" clean the leaves and chop the veggies.
Evenly distribute the cooked turkey to the leaves, top with diced peppers, tomatoes, cheese and salsa.
Wrap and eat! All the flavor of tacos with a fresh twist!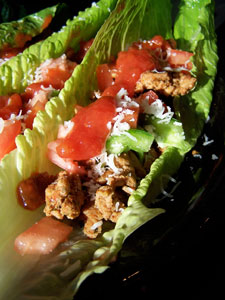 Approx Nutritional Information per serving
Servings
Amt per Serving
1
Entire Recipe - 4 "Tacos"
Calories
Fat
Fiber
WWPs
320
11g
2g
old: 7
new: 8
Sugar
Sat Fat
Carbs
Protein
4g
6g
8g
50g