This started as a quick vegetarian lunch idea and then I had a conversation with a friend who said he thought I needed more protein and suggested tuna. As soon as he did I looked down and said "Perfect! That would be awesome in this!" I added a small can and it was delish. It was without it too, but the tuna added that, ummm, well, tuna texture. 🙂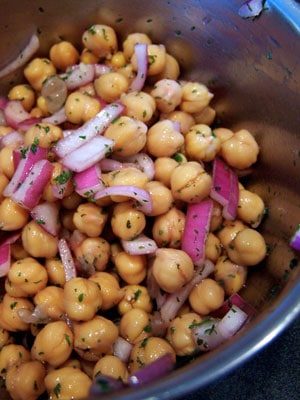 Either way, I hope it gives you some ideas.
1 can (15oz) Chickpeas (garbanzo beans) rinsed and drained
2-3 slices of red onion chopped
1 tbsp honey (21g)
1oz (2 tbsp) pomegranate juice
½ tbsp dried parsley
1 small can of tuna drained (optional)
Toss all ingredients together and let chill for at least 10 minutes allowing the flavors to merge.
What to do with it? I topped salad greens and wrapped it. Both ways were great!
I'm going to give you the estimate on the recipe minus the tuna. You can can always add from what's listed on the can. Without tuna I'm getting 2 servings with, you can sneak in another one I think. It all depends on how you decide to use it.
Approx Nutritional Information per serving
Servings
Amt per Serving
2
½ of the recipe (about ¾ cup)
Calories
Fat
Fiber
WWPs
200
3g
6g
old: 4
new: 5
Sugar
Sat Fat
Carbs
Protein
12g
0g
41g
7g