A few days ago I posted about Lavash Bread on my weight loss blog. When I read the comments I laughed out loud as people suggested I use it to make pizza and said "I know you will love it."
First of all my, readers REALLY know me and second, it was the first thing I thought of when I saw it in the store!
So coming home from the gym I remembered I defrosted a turkey sausage and I was all prepared to make an Overstuffed Sausage and Pepper Wrap when I remembered the Lavash bread! Then I thought PIZZA! (Much like that old Beggin Strips commercial, just replace the dog with me and the bacon with pizza - that should leave you with a nice mental picture)
My initial thought was a meat-lovers but upon seeing all the meats in the skillet I decided there needed to be some color! Which one looks healthier to you?
So I ditched meat-lovers and went supreme! Now I'm going to tell you how I made it but remember, take it and run! Use what ya got! My goal was as light as I could make a huge supreme pizza with all the meats!
Ingredients
1 large piece of Lavash bread or flat bread (like Joeseph's)
1 turkey sausage link
1 tablespoon real bacon bits (7g)
1 thin slice of deli ham chopped
4 small turkey pepperoni slices chopped
2 florets of broccoli cut up
¼ of an orange pepper chopped
handful of baby spinach chopped
2 tablespoon tomato paste
sprinkle each of, Kosher salt, pepper, garlic powder, onion powder, dried basil, and dried parsley
1 ½ oz of shredded mozzarella (preferably fancy shredded but I didn't have any)
Instructions
Preheat the oven to 450 degrees.
Lay the Lavash bread on a sheet of aluminum foil. Cook in the oven for about 5 minutes until crisp. The edges will just start to brown.
Remove the skin on the sausage and cook up in a small no-stick frying pan. Break apart the meat it will want to stick together. Brown for about 2-3 minutes. Add the bacon bits, ham and pepperoni. Stir to combine flavors. Add the broccoli, peppers and spinach. Cook for about 1 minute and remove from heat.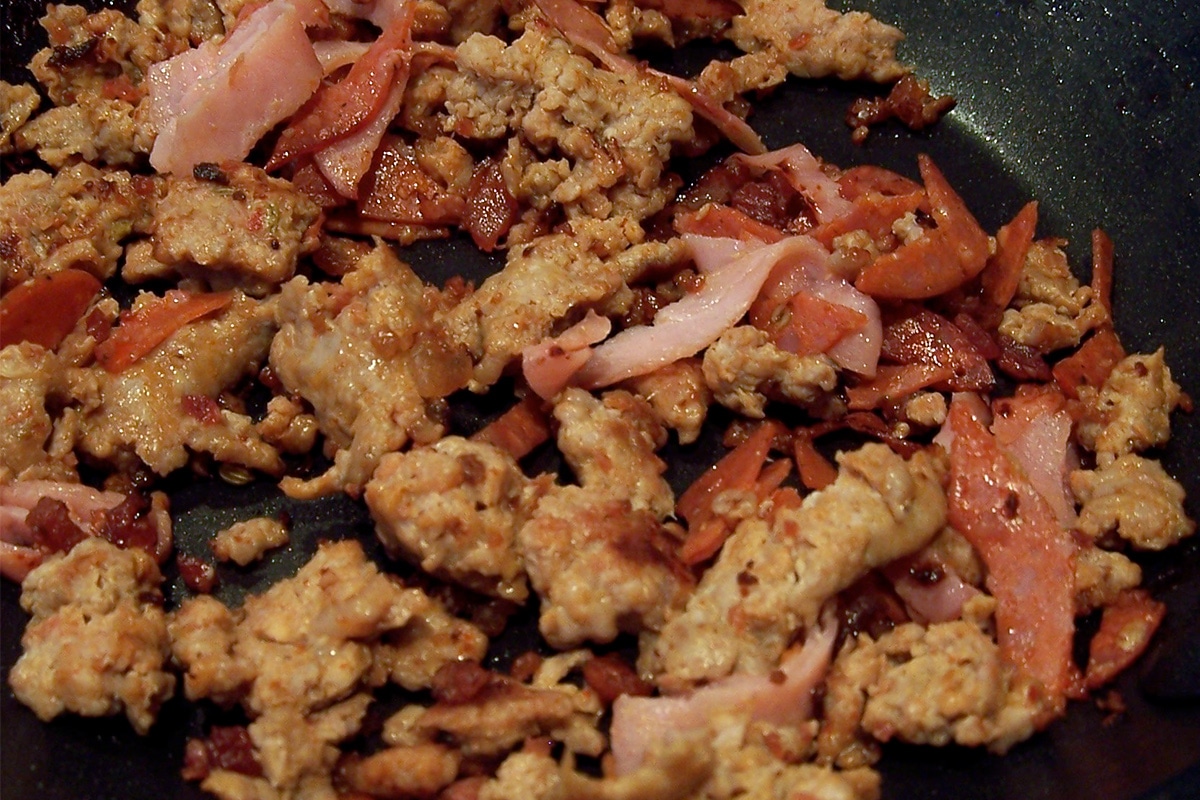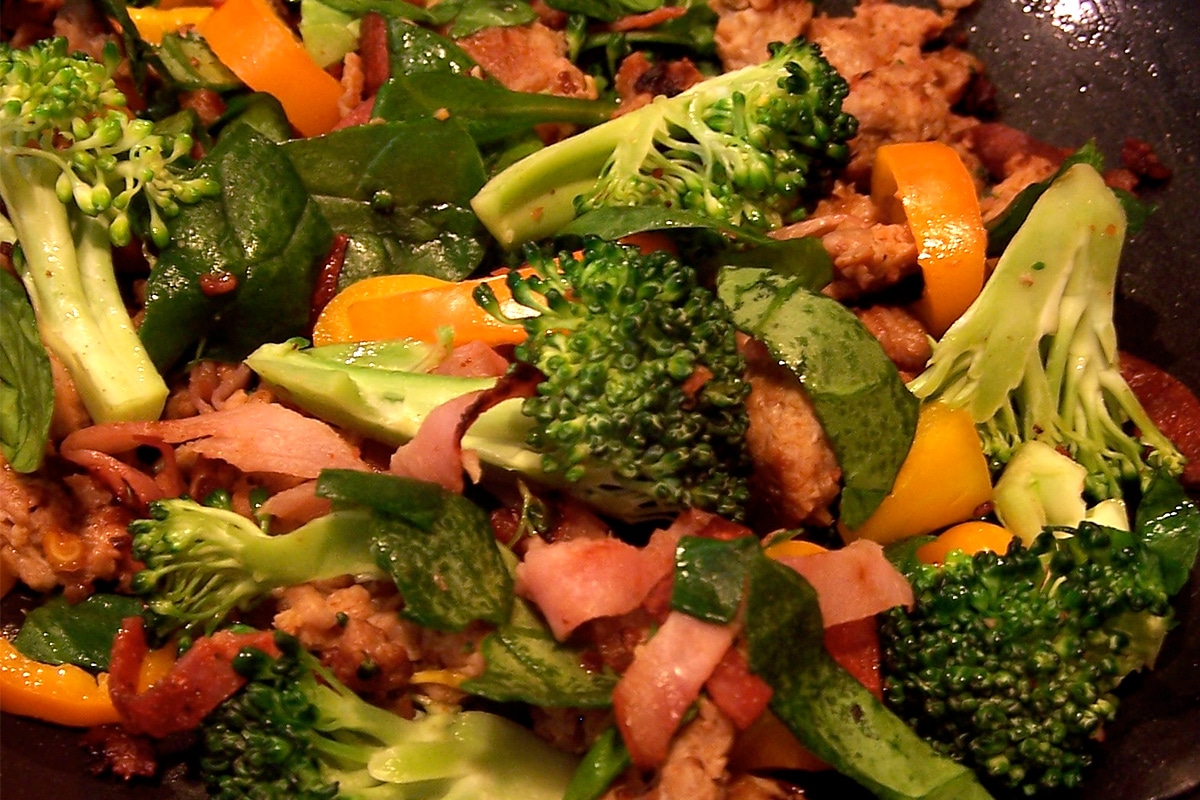 Smear the tomato paste on the crispy Lavash bread. Sprinkle with all the spices. Spread with meat-veggie mixture. Top with the cheese. Sprinkle a bit of parsley and return to the oven for 5 minutes. Serve!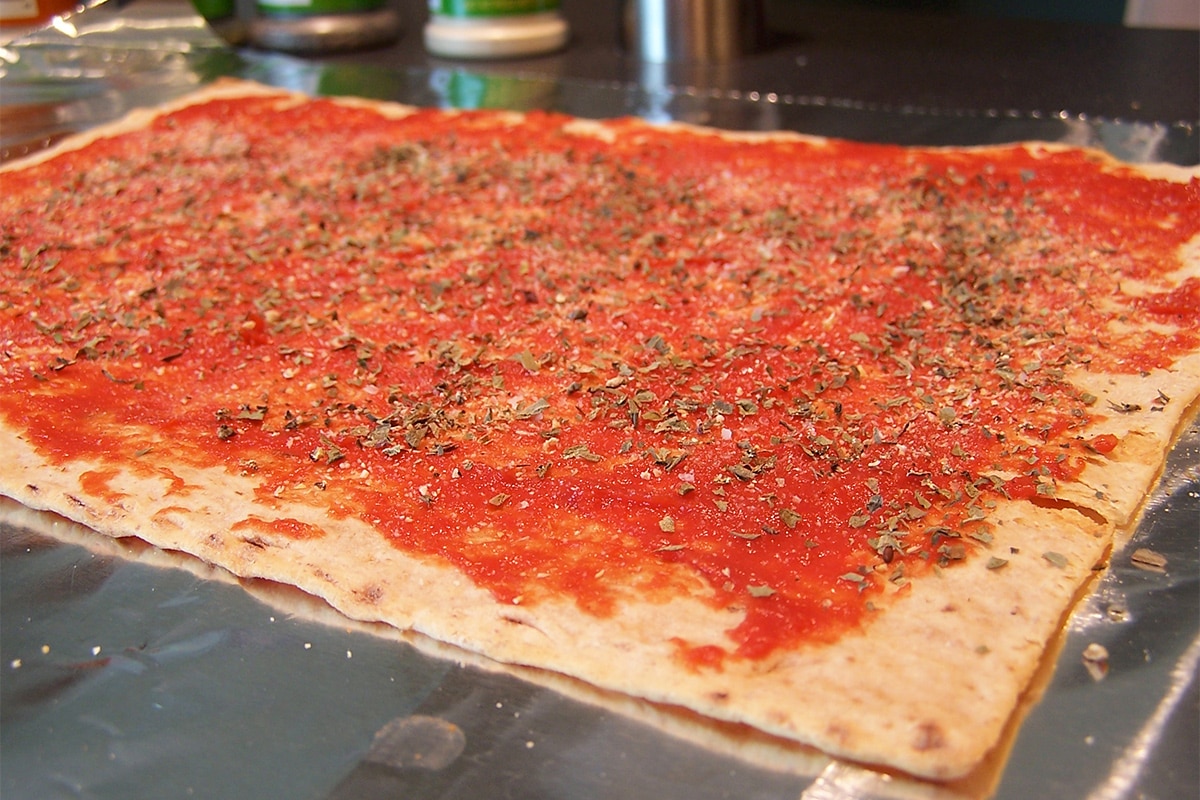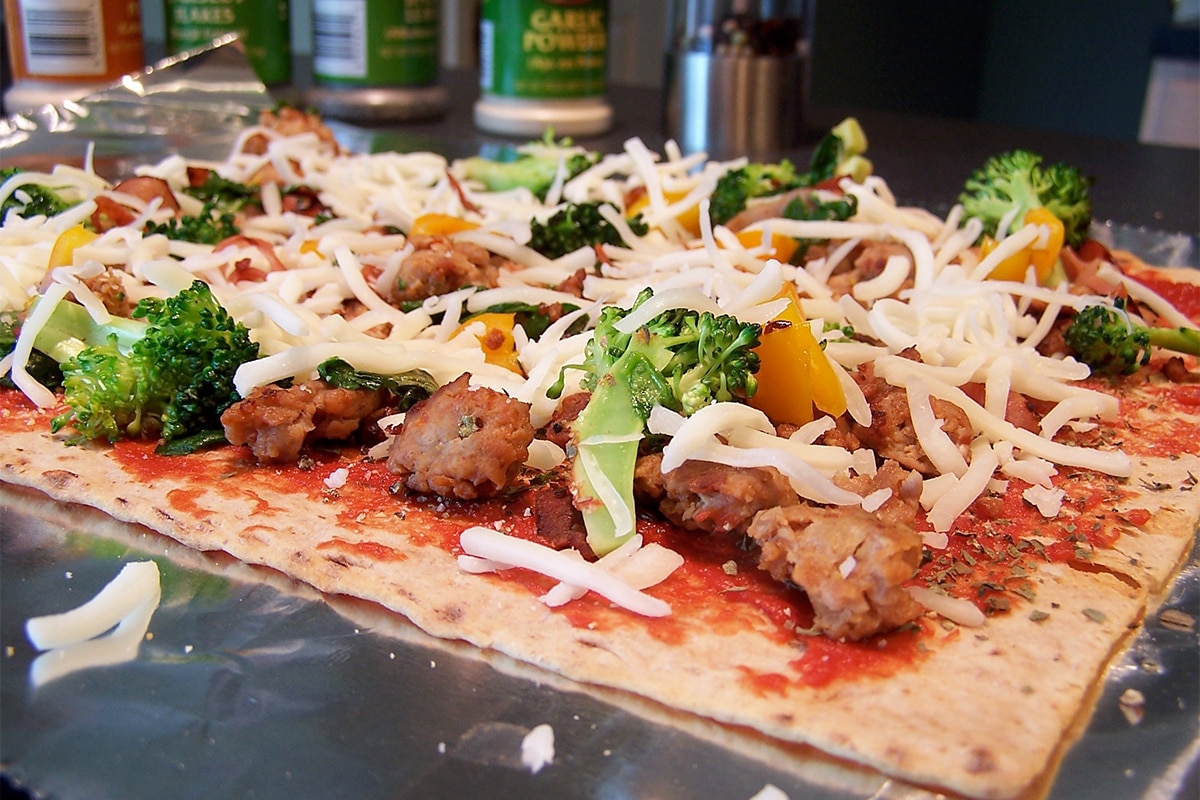 Now the serving is HUGE! What you see in the main picture (by the ingredients) is ¼ of the pizza. I'm going to count the whole "pie" as 1 serving because I ate the whole thing but if you wanted to go lighter you could split it with someone and add a salad on the side. It would be very satisfying!
📖 Recipe
Supreme Pizza on Lavash Bread
Pizza night just got quicker and healthier with this recipe for a supreme pizza on lavash bread. Try it out for a delicious and easy meal!
Ingredients
1

large piece of Lavash bread or flat bread

like Joeseph's

1

turkey sausage link

1

tablespoon

real bacon bits

7g

1

thin slice of deli ham chopped

4

small turkey pepperoni slices chopped

2

florets of broccoli cut up

¼

of an orange pepper chopped

handful of baby spinach chopped

2

tablespoon

tomato paste

sprinkle each of

Kosher salt, pepper, garlic powder, onion powder, dried basil, and dried parsley

1 ½

oz

of shredded mozzarella

preferably fancy shredded but I didn't have any
Instructions
Preheat the oven to 450 degrees.

Lay the Lavash bread on a sheet of aluminum foil. Cook in the oven for about 5 minutes until crisp. The edges will just start to brown.

1 large piece of Lavash bread or flat bread

Remove the skin on the sausage and cook up in a small no-stick frying pan. Break apart the meat it will want to stick together. Brown for about 2-3 minutes. Add the bacon bits, ham and pepperoni. Stir to combine flavors. Add the broccoli, peppers and spinach. Cook for about 1 minute and remove from heat.

1 turkey sausage link,

1 tablespoon real bacon bits,

1 thin slice of deli ham chopped,

4 small turkey pepperoni slices chopped,

2 florets of broccoli cut up,

¼ of an orange pepper chopped,

handful of baby spinach chopped

Smear the tomato paste on the crispy Lavash bread. Sprinkle with all the spices. Spread with meat-veggie mixture. Top with the cheese. Sprinkle a bit of parsley and return to the oven for 5 minutes. Serve!

2 tablespoon tomato paste,

sprinkle each of,

1 ½ oz of shredded mozzarella
Nutrition
Calories:
691
kcal
Carbohydrates:
49
g
Protein:
36
g
Fat:
39
g
Saturated Fat:
16
g
Polyunsaturated Fat:
4
g
Monounsaturated Fat:
15
g
Trans Fat:
0.3
g
Cholesterol:
113
mg
Sodium:
2120
mg
Potassium:
805
mg
Fiber:
4
g
Sugar:
6
g
Vitamin A:
4244
IU
Vitamin C:
41
mg
Calcium:
268
mg
Iron:
6
mg