I try a lot of different things in the kitchen, it's just in my nature to make stuff up. Normally I know if an idea will work or not but sometimes I just take a shot. This was one of those times. I didn't even bother to grab my camera during prep because I really didn't think this this would work out. Boy was I wrong!
Who knew you could scrape out the guts of a zucchini, mix it up with a few simple ingredients and BAM! having a filling and tasty dish!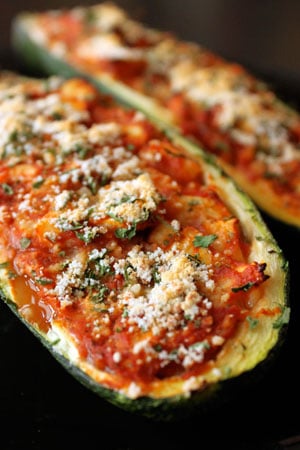 The feta mixed with the tomato paste making a creamy pizza type of sauce and the Zucchini was cooked just soften enough to hold the filling. It was really tasty!
1 medium to large Zucchini
¼ cup (34g) ATHENOS Tomato Basil Feta
4 tbsp (66g) Tomato Paste
½ tsp garlic powder
½ tsp dried oregano
2 tsp (5g) Grated Parmesan Cheese
Sprinkle of Parsley
Preheat the oven to 425 degrees
Cut the Zucchini in half longwise. Scoop out the inside using a melon baller or tablespoon.
Chop any large zucchini pieces that you scooped out and place in a mixing bowl with the feta, tomato paste, garlic powder and oregano. Mix well to coat everything. The tomato paste and feta will start to combine.
Put the zucchini mixture back into the zucchini boats. Top with the parmesan and parsley. Bake for 25 minutes. Longer if you like a softer zucchini.
Here's a close up!
Approx Nutritional Information per serving
Servings
Amt per Serving
1
Entire Recipe
Calories
Fat
Fiber
WWPs
255
11g
4g
old: 5
new: 7
Sugar
Sat Fat
Carbs
Protein
12g
6g
25g
18g
FULL DISCLOSURE: I have partnered with ATHENOS Feta to serve as one of ATHENOS Change for the Feta Bloggers. I am compensated for my time commitment to the program, which includes blogging about my cooking experiences with ATHENOS Feta. I have also been compensated for the food purchased for my Change for the Feta creations. However, my opinions are entirely my own and I have not been paid to publish positive comments. Click here to see all my Feta Ideas!!