Last year I shared my technique for making turkey (or chicken) stock with the Thanksgiving turkey bones. Well this year I perfected it! So I was ecstatic when the in-laws gave me the Christmas turkey carcass this year! (yes, yes... still a food geek.)
I pretty much follow the technique I outlined in the old post but I now add kosher salt, fresh thyme, fresh sage and a handful of whole cloves during the boiling process. I also boil it forever until about ¼ of it cooks down and then fill it with more water and boil it down again. Like I sad in the original post, the double boil technique really gives a flavorful broth and the fresh herbs and cloves really add an amazing dimension to the stock.
I made the broth last night and this morning I took a few cups and made a simple soup with what I had lying around. I love couscous in the soup (I bought a case of whole grain online
-It's the only place I can find it anymore.) It creates this fun texture and like the brown rice or bulgur, I don't car if it gets overly "mushy".
This time I actually measured out the ingredients for my soup so I can post more then just a loose idea. Normally I take the broth add stuff and eat. 🙂 Seriously.. it's that easy.
6 cups turkey/chicken stock (already seasoned with salt and spices)
½ medium onion chopped
2 cups carrots chunk sliced
3-4 stalks of celery chopped
6 oz of cooked chicken/ turkey meat pulled from the bone
½ cups whole wheat couscous (110g)
Bring the stock with the onion, carrots, celery and turkey meat to a boil. Cook for about 15 minutes.
Add the couscous, cover a lower to a simmer. Simmer about 10 minutes.
Makes just over 8 cups. You could add more stock to make more servings but I purposely make it "thick" as the couscous doesn't add as much "meat" as say rice or egg noodles.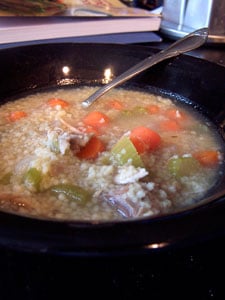 Approx Nutritional Information per serving
Servings
Amt per Serving
8
1 Cup
Calories
Fat
Fiber
WWPs
170
4g
3g
old: 3
new: 4
Sugar
Sat Fat
Carbs
Protein
6g
1g
21g
12g