Confession time... I've been so busy with work and the conference that last week I barely had time to cook. We ate out a record breaking 3 nights in a row. I know, I know *hanging head in shame* but hey, I do my best. These things will happen.
Well Saturday I was determined NOT to eat out again. So in the afternoon I pulled out the trusty crock pot and made up this quick meal. To my surprise the husband LOVED it. I was shocked as he normally hates slow cooker meals AND I tried a completely different spice combo, for us anyways.
Here's what I did...
1 small sweet onion chopped
1 cup brown rice (180g)
1 15oz can diced tomatoes
1 15 oz can of chicken broth
1 tsp dried thyme
1 tsp cumin
½ tsp all spice
Pork Loin (We used 2 about a pound each)
Put all ingredients in the crock pot.
Turn on high.
Wait 3 hours.
Eat.
Seriously, that was it. the rice was perfect. If it cooked any longer I think it would have been glue but the 3 hour mark was ideal.
If you want to make this on a day you will be away longer then 3 hours, I'd use a timer. I'm not sure of the time on low or how the rice would turn out. You Crock-pot veterans out there will have to chime in.
Here's a little before and after cooking shot.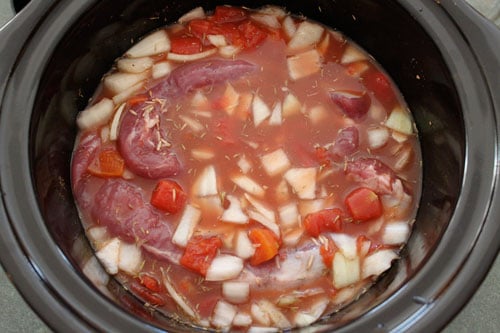 No nutritional info on this one. It will depend on your pork loin size. I got around 6 servings from it and enjoyed the leftovers at lunch today. 🙂
Oh and I have to add that the next day I made homeamde sauce and meatballs and today I have lean burgers cooking on the George Foreman
. I'm on a roll! 😉