No, really. Who knew?
I've never, ever eaten a rutabaga. I honestly had no idea what they were and really, their large, ugly, bulbous appearance didn't entice me in the least.
I mean, look at it. It's not very appetizing!
Note: That's a half. I totally forgot to snap it before I started cutting.
According to the Farmers Almanac a rutabaga is a cross between a turnip and a cabbage and they are very popular in Sweden, Finland and Norway. It's mostly eaten mashed and common in soups.
I cut mine in half, sliced and then peeled.
Apparently they are coated in wax to help prevent spoiling, which is a shame, because it forces you to peel (I'm an avid non-peeler.)
The 7-year-old and I were immediately intrigued as the flesh smelled somewhat sweet. He asked for a slice raw and proceed to munch while doing his homework.
I was shocked. It WAS pretty yummy raw and I could totally see dipping it in hummus.
I had my heart set on trying it roasted though. So I cubed half of it and tossed with 2 tsp of olive oil in an aluminum grill pan.
Then I sprinkled on some kosher salt and placed them on a hot grill over medium-low heat.
In about 20 minutes I was looking at a pretty appetizing side dish.
They started to caramelize and soften. I tried one and they were quite pleasant. Kind of like a cross between a sweet and white potato but not really. Hard to explain! I served them with a London broil, and roasted asparagus.
It was a great meal and a nice change from our traditional baked potatoes on the grill. Speaking of, let's compare potatoes to rutabaga since they are both root vegetables and pretty comparable sides for dinner. Based on 100g…
Russet Potato has 79 calories, no fat, 18g of carbs, 1g of fiber, 1g of sugar and 2g of protein
Rutabaga was 36 calories, no fat, 8g of carbs, 3g of fiber, 6g of sugar and 1g of protein.
I'm not saying rutabagas will be replacing all potatoes at my house, but they are definitely going into rotation!
Everyone liked them roasted -- yes, even The Husband. The 7-year-old did say he liked them better raw and The 2-year-old seemed to prefer the crunch, too.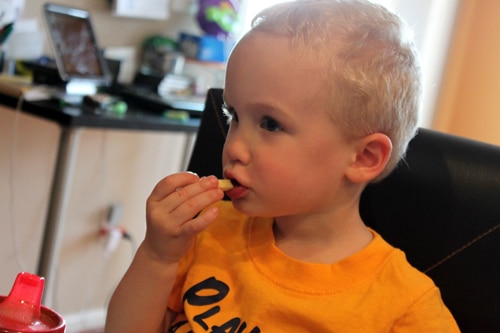 He didn't eat much but I'm all about the exposure. I just want my kids willing to try new things. That's my ultimate goal.
Sometimes it's a frustrating battle but they are worth the work. 🙂
Where are my rutabaga fans? Please enlighten me. How do you prepare them? I totally plan on buying them again!
Oh! Just a heads up, this may be my last post before changing over to the new design. It's penciled in for Wednesday! Bear with me this week as I'm predicting a few growing pains!