I have a confession. It may be a culinary no no to admit but I don't care! :~)
One of my favorite school lunches growing up was beef-a-roni. You remember it, right? Overcooked elbow pasta, grade F meat in some kind of tomato base. I don't know when the concept of "comfort" food begins but at age 9 this really hit the nail on the head for me. Maybe it was the massive amount of fat and carbs that made me feel all warm and fuzzy inside. Who knows. But whatever it was, that was one lunch I always asked for seconds of.
Well tonight, armed with 8oz of defrosted ground turkey and remnants of weekly produce I gave my old favorite a nutrition lift. I'm calling it "rainbow" as I used a red, orange, yellow and green vegetable. It made the dish really pretty and you know what they say about eating from the rainbow.
As for reviews, well this was the first dish in WEEKS that I got a "Mmmmmm this is a good" from the toddler. However, he did have to be coaxed to eat the veggies that were left in his bowl. I did my best to dice them small, which may have been a mistake. Here he is chowing down and looking awfully cute if I don't say myself. :~)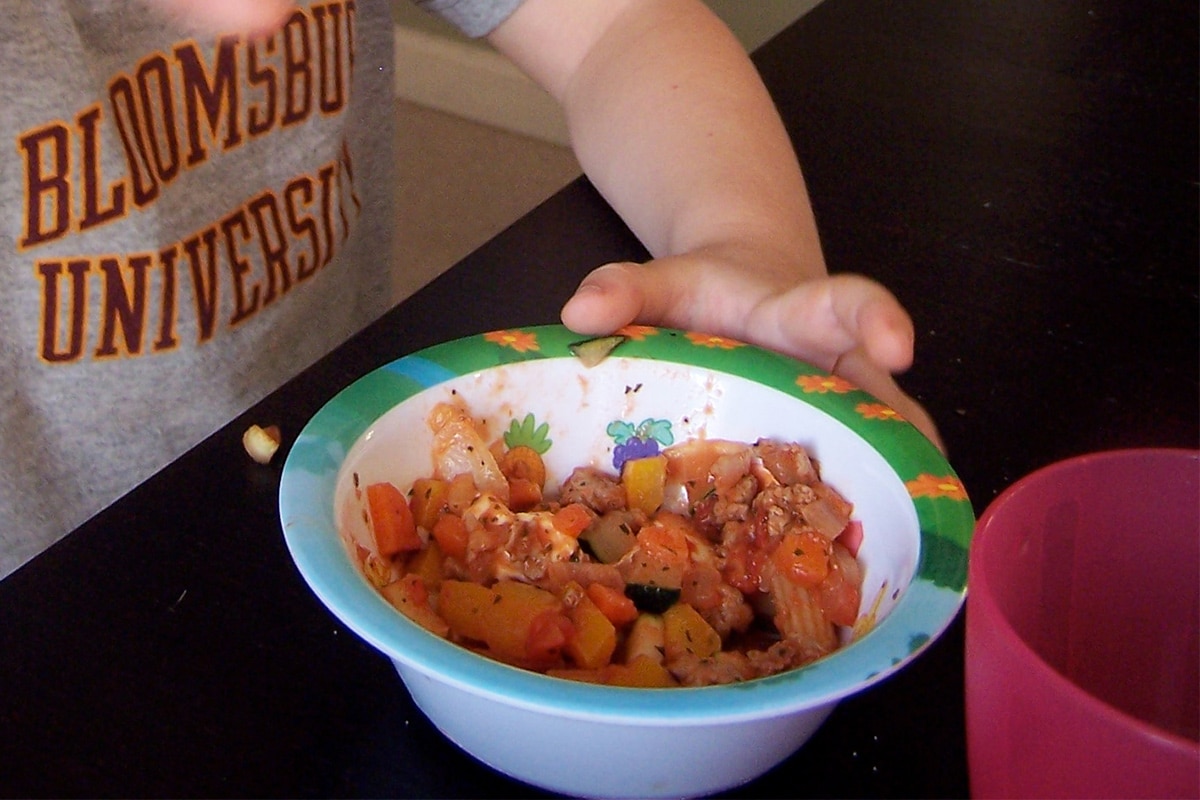 Remember this is one of those 'take it and run' recipes! Use what ya got!
Ingredients
6oz of your favorite whole wheat pasta
½ sweet onion diced small
about 10 baby carrots diced small
8oz lean ground turkey
1 yellow bell pepper diced small
1 medium zucchini diced small
1 medium tomato diced small
1 8oz can of tomato sauce (like del monte)
1 teaspoon garlic powder
1 teaspoon dried basil
Kosher Salt & Pepper
Instructions
Put the pot of water on high for the pasta and cook according to package.
Heat a large skillet over medium-high heat and add the oil. Dice and add the onion. Sprinkle with a bit of salt and pepper and leave alone for 2 minutes while you dice the carrots. Add the carrots to the pot, stir and leave alone while you dice the pepper. Add the ground turkey to the carrots and onion skillet and break apart a bit. Once it starts to brown (grey) add the diced peppers. Leave alone while you dice the tomato. Add the tomato and stir over medium-high heat until the turkey is cooked all through.
At this point the pasta should be almost done. Drain the pasta when it's ready and set aside.
Add the tomato sauce and spices to the skillet, sprinkle a bit more salt and pepper to taste. Add the cooked pasta, continue stirring until everything is coated. Shut off heat and serve or cover until ready to serve.
Honestly it was a keeper, I'll make it again when it's just me and the little guy, he really liked it! Just look how pretty it is!
📖 Recipe
Rainbow Turk-a-Roni
Looking for a new recipe to mix up your weeknight dinners? Rainbow turk-a-roni is a colorful and tasty option that's easy to make and sure to impress.
Ingredients
6

oz

of your favorite whole wheat pasta

½

sweet onion diced small

about 10 baby carrots diced small

8

oz

lean ground turkey

1

yellow bell pepper diced small

1

medium zucchini diced small

1

medium tomato diced small

1 8

oz

can of tomato sauce

like del monte

1

teaspoon

garlic powder

1

teaspoon

dried basil

Kosher Salt & Pepper
Instructions
Put the pot of water on high for the pasta and cook according to package.

6 oz of your favorite whole wheat pasta

Heat a large skillet over medium-high heat and add the oil. Dice and add the onion. Sprinkle with a bit of salt and pepper and leave alone for 2 minutes while you dice the carrots.

½ sweet onion diced small,

about 10 baby carrots diced small

Add the carrots to the pot, stir and leave alone while you dice the pepper. Add the ground turkey to the carrots and onion skillet and break apart a bit. Once it starts to brown (grey) add the diced peppers. Leave alone while you dice the tomato. Add the tomato and stir over medium-high heat until the turkey is cooked all through.

8 oz lean ground turkey,

1 yellow bell pepper diced small,

1 medium zucchini diced small,

1 medium tomato diced small

At this point the pasta should be almost done. Drain the pasta when it's ready and set aside.

Add the tomato sauce and spices to the skillet, sprinkle a bit more salt and pepper to taste. Add the cooked pasta, continue stirring until everything is coated. Shut off heat and serve or cover until ready to serve.

1 8 oz can of tomato sauce,

1 teaspoon garlic powder,

1 teaspoon dried basil,

Kosher Salt & Pepper
Nutrition
Calories:
175
kcal
Carbohydrates:
29
g
Protein:
15
g
Fat:
1
g
Saturated Fat:
0.3
g
Polyunsaturated Fat:
1
g
Monounsaturated Fat:
0.3
g
Trans Fat:
0.01
g
Cholesterol:
21
mg
Sodium:
236
mg
Potassium:
502
mg
Fiber:
2
g
Sugar:
5
g
Vitamin A:
817
IU
Vitamin C:
29
mg
Calcium:
36
mg
Iron:
2
mg