I always forget about quinoa and then when I whip up a quick dish I remember how awesome it is. The texture, the way it soaks up the flavor of anything you add to it, the health benefits -- it makes a great quick meal or side dish.
The other day I turned a serving into a great lunch. Using the leftover Basil-Mint Dressing I made for my shrimp salad as a flavor base I added a bit of feta and some blueberries to make an awesome bowl of taste and texture.
Here's what I did...
¼ cup uncooked quinoa
½ cup water
Pinch of salt
1 oz feta cheese
½ cup blueberries
A few basil and mint leaves (optional)
Bring the quinoa and water to a boil in a small pot. Once boiling cover and lower to a simmer. Cook until all the water is absorbed, approximately 15 minutes.
Remove from heat, uncover and toss the cooked quinoa with the Basil-Mint Dressing. Mix in the feta and blueberries and top with more fresh herbs if you like.
Enjoy your bowl of awesome!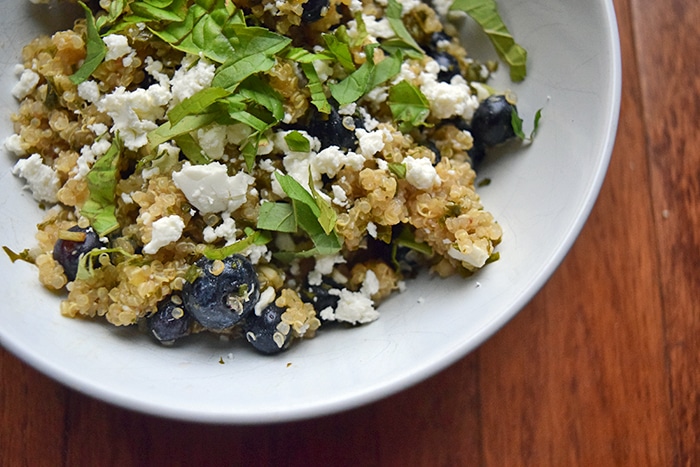 Approx Nutritional Information per serving
Servings
Amt per Serving
1
entire recipe (½ of the dressing)
Calories
Fat
Fiber
WWPs
415
17g
5g
old: 9
new: 10
Sugar
Sat Fat
Carbs
Protein
17g
6g
46g
10g