The toddler and I came home HUNGRY today.  I had no plan, nothing defrosted, and all I wanted to do was EAT.  I still wanted something good, healthy and fast, NOT takeout or fast food.
So I perused the pantry and found this…
Yup! That's all you need to make a quick homemade meal. A meal, the toddler LOVED, beans and all.  Now I did add a little spice and you can take the idea and run with it. The pasta, sauce and beans will give you a good quick base. I served it with some sautéed bell peppers.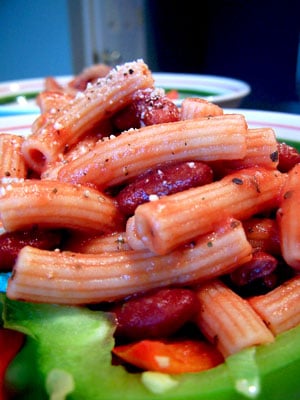 4 oz uncooked whole wheat pasta
Small can (8 oz) tomato sauce
1 can (15 oz) kidney beans rinsed and drained (you could use any beans)
½ tsp dried basil
½ tsp garlic powder
Salt & Pepper
Sprinkle of Parmesan cheese.
Cook the pasta according to package.
Drain, rinse and return to the post. Add the all the remaining ingredients except cheese. Simmer on medium low heat stirring to coat the pasta in the sauce.
Serve with a sprinkle of Parmesan cheese!
The toddler ate so well we decided to make a fabulous dessert afterwards. So for no dinner plans, we ended up eating like kings! It was a great night. :~)
Now, I'm counting this as 2 large servings. I actually got 2 and half (the toddlers) but three would be stretching it a bit.
Approx Nutritional Information per serving
Servings
Amt per Serving
2
Half of the recipe
Calories
Fat
Fiber
WWPs
319
3g
20g
old: 6
new: 8
Sugar
Sat Fat
Carbs
Protein
11g
0g
65g
21g