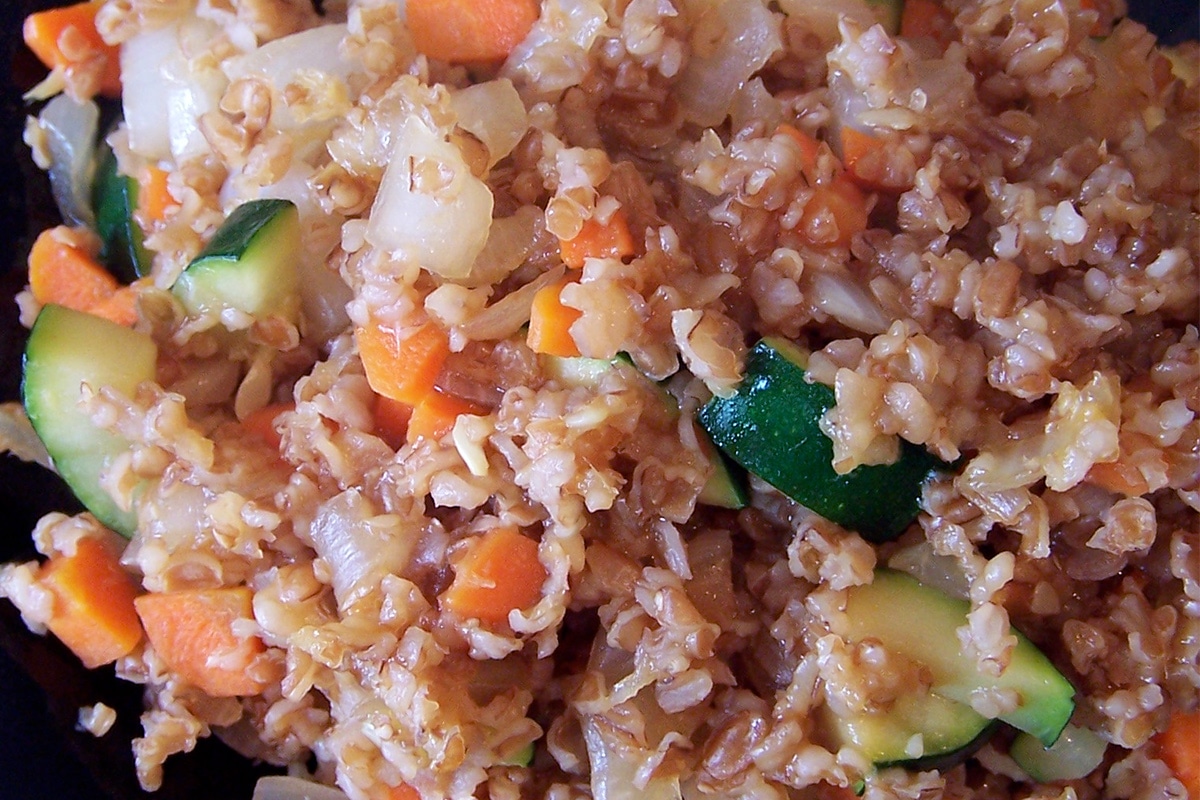 This recipe was sort of a fluke. I made bulgar thinking I was going to use it for something else. Forgot I made it. Saw it in the fridge...Yada yada yada... Quick Fried Bulgar was born. Sorry, not sure where the Seinfeld reference came from. ;~)
Anyway, this is good. I've made it twice this week as a quick meal for myself. It's super tasty and a cinch to prepare. You can't go wrong.
Ingredients
¼ cup dry bulgur (40g)
1 teaspoon olive oil (5g)
1 thick slice of sweet onion chopped
1 carrot diced
½ of a small-medium zucchini chopped
1 inch fresh ginger
1 tablespoon low sodium soy sauce
Instructions
Prepare the bulgur according to the package. It's a 1:2 bulgur to water ratio. So for our 1 serving of bulgur, ¼ of a cup, you need ½ cup of water. Bring the water to a boil, add the bulgur, cover and remove from heat. Should take about 15 minutes. The longer you soak the softer it will get.
Once the bulgur is to your liking, heat the teaspoon of olive oil in a non-stick skillet. Add the onion, carrot and zucchini. Grate in the ginger. (My ginger secret... I buy a root, cut it into 1 inch chunks and then freeze. Makes it super easy to grate. )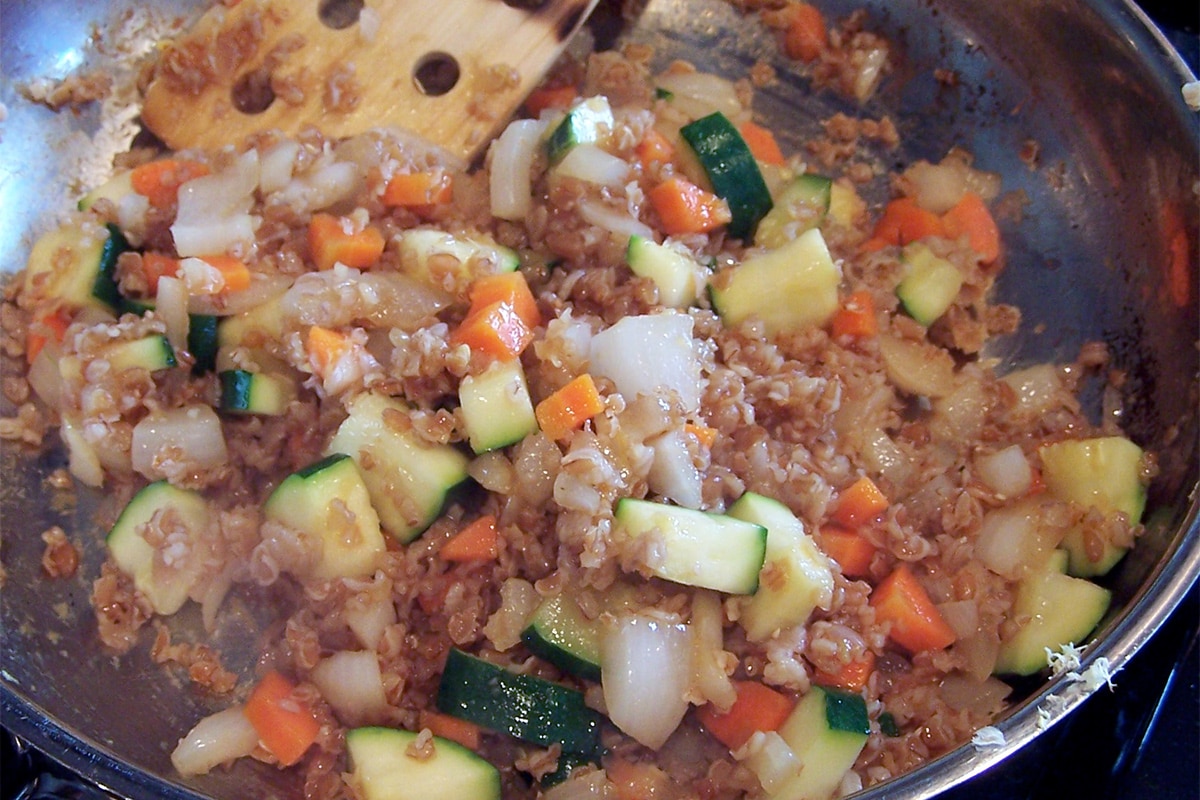 If there is any water left in the bulgur drain it. Add it to the skillet. Stir in the tablespoon of soy sauce and cook for a few minutes allowing the flavors to merge.
Enjoy!
Quick Fried Bulgar
Crunchy, healthy, and ready in no time, this quick fried bulgar recipe is the perfect solution for busy weeknights.
Ingredients
¼

cup

dry bulgur

40g

1

teaspoon

olive oil

5g

1

thick slice of sweet onion chopped

1

carrot diced

½

of a small-medium zucchini chopped

1

inch

fresh ginger

1

tablespoon

low sodium soy sauce
Instructions
Prepare the bulgur according to the package. It's a 1:2 bulgur to water ratio. So for our 1 serving of bulgur, ¼ of a cup, you need ½ cup of water. Bring the water to a boil, add the bulgur, cover and remove from heat. Should take about 15 minutes. The longer you soak the softer it will get.

Once the bulgur is to your liking, heat the teaspoon of olive oil in a non-stick skillet.

Add the onion, carrot and zucchini. Grate in the ginger. (My ginger secret... I buy a root, cut it into 1 inch chunks and then freeze. Makes it super easy to grate. )

1 thick slice of sweet onion chopped,

1 carrot diced,

½ of a small-medium zucchini chopped,

1 inch fresh ginger

If there is any water left in the bulgur drain it. Add it to the skillet. Stir in the tablespoon of soy sauce and cook for a few minutes allowing the flavors to merge.

1 tablespoon low sodium soy sauce
Nutrition
Calories:
205
kcal
Carbohydrates:
36
g
Protein:
7
g
Fat:
5
g
Saturated Fat:
1
g
Polyunsaturated Fat:
1
g
Monounsaturated Fat:
3
g
Sodium:
623
mg
Potassium:
560
mg
Fiber:
9
g
Sugar:
5
g
Vitamin A:
8474
IU
Vitamin C:
15
mg
Calcium:
47
mg
Iron:
2
mg