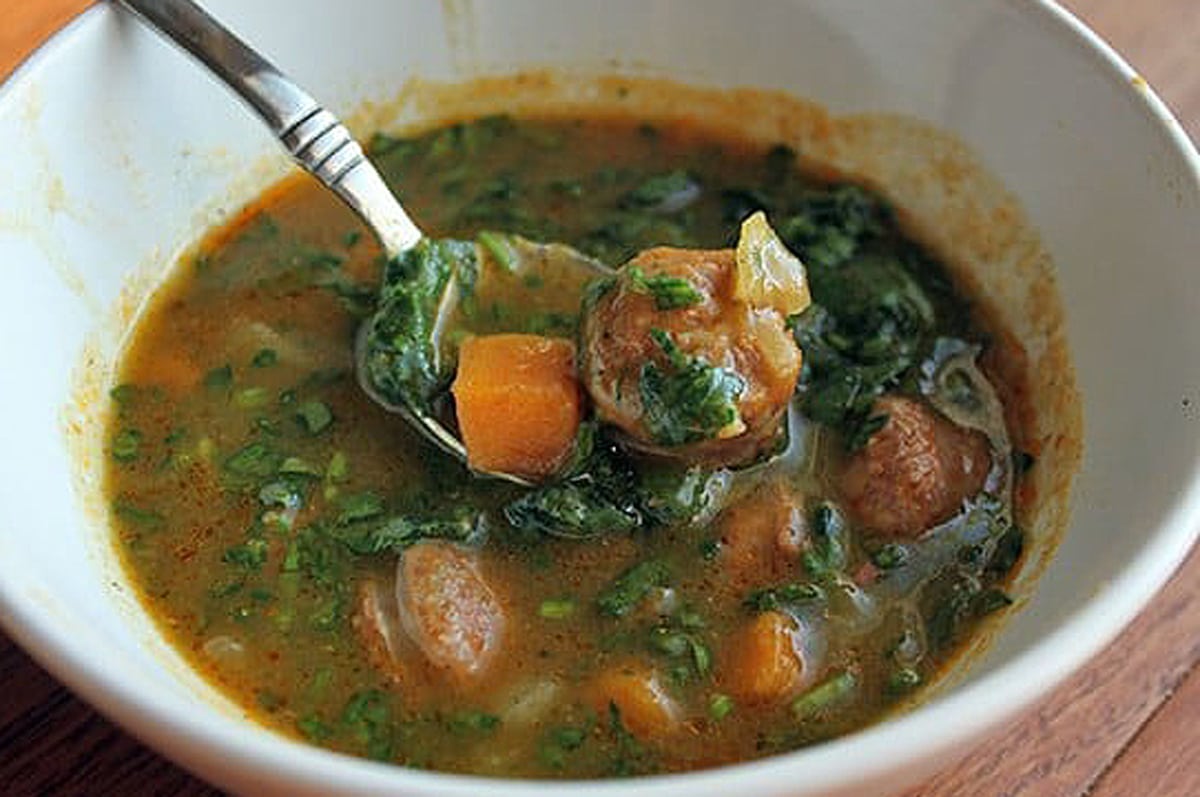 I think I used this metaphor before but I don't care, I'm going to use it again -- this soup is autumn in a bowl!
I was craving soup something fierce yesterday and decided to use the only protein I could quickly pull from my freezer -- sausage.
Then the pumpkin idea hit me. I made a pasta dish with these flavors a few years ago and the combo of sausage and pumpkin has really stayed with me. They complement each other so well. Why not put those same flavors in a soup?
Well, I did and it was AWESOME! The spiciness of the hot sausage permeated the simple pumpkin broth. The sweet potato added some texture and mixing in some spinach at the end just ups the health factor for me. I love finding fun was to eat greens.
Here's what I did...
Ingredients
1 Package of Italian sausage (I used Premio Hot)
1 large sweet onion, chopped
A carton of chicken broth (4 cups)
1 15oz can of pumpkin puree
1 teaspoon ground sage
½ teaspoon ground nutmeg
1 large sweet potato, cubed
Chopped baby spinach to garnish
Instructions
Cut the sausage into bite-sized slices. This is easier done when at least partially frozen.
Brown the sausage and onion together until the onion becomes soft and transparent.
Add the chicken broth, pumpkin, sage and nutmeg. Stir and bring to a boil.
Add the sweet potato, lower to a simmer and cover. Cook for at least 30 minutes until the sweet potato is tender.
When ready to serve, mix a handful of baby spinach in each bowl. The hot soup will wilt it perfectly!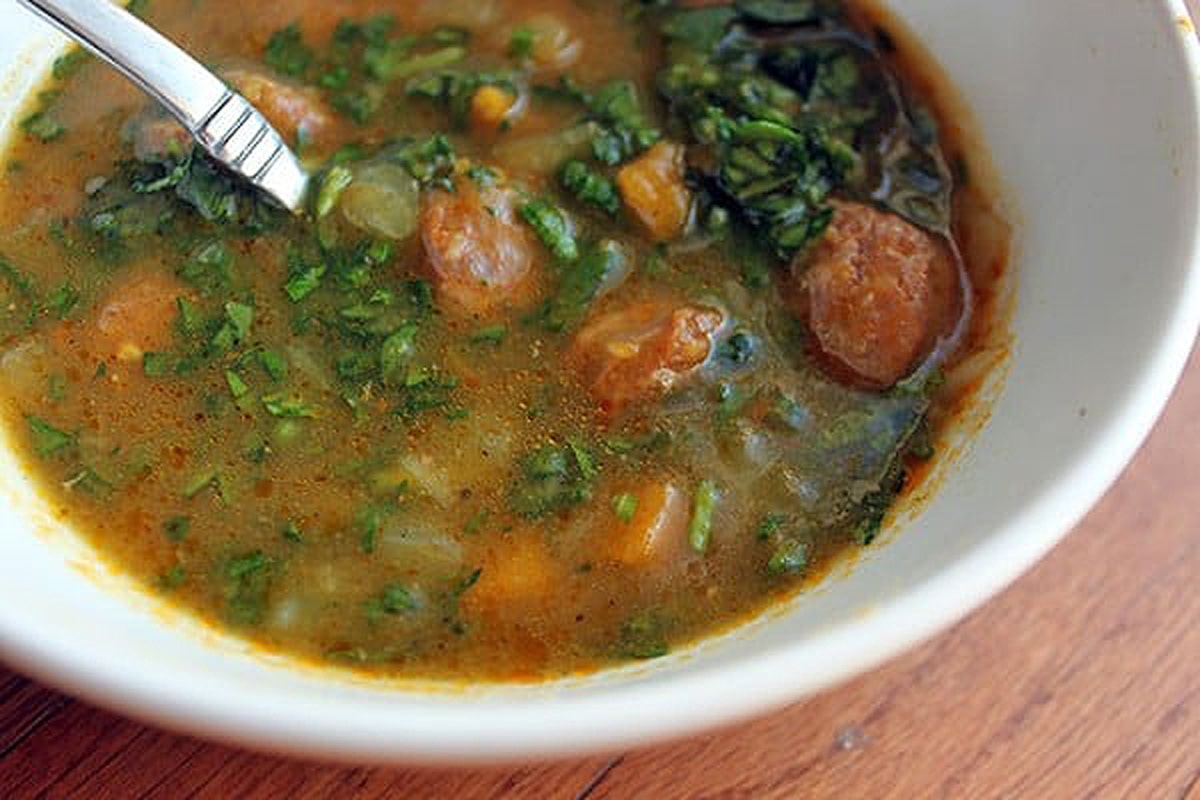 The perfect bite was getting sausage and potato together.
I could just eat a bowl of the broth! Of course, no one in the house would try it. The kids weren't game and I didn't feel like pushing it. It was quite spicy for them anyway.
It's all good. I now have lunch for the week!
I ended with almost 10 cups exactly. I've been eating about 2 cups for a serving but I'll give it by the cup in case you want to pair it with something like a big chunk of crusty bread. Man, how I wish I had some big, crusty bread. I don't generally keep it in the house because I can't be trusted.
Pumpkin and Sausage Soup With Sweet Potatoes and Spinach
A hearty and flavorful soup recipe for the fall season? Look no further than this pumpkin and sausage soup with sweet potatoes and spinach. 
Ingredients
1

Package of Italian sausage

I used Premio Hot

1

large sweet onion

chopped

A carton of chicken broth

4 cups

1 15

oz

can of pumpkin puree

1

teaspoon

ground sage

½

teaspoon

ground nutmeg

1

large sweet potato

cubed

Chopped baby spinach to garnish
Instructions
Cut the sausage into bite-sized slices. This is easier done when at least partially frozen.

1 Package of Italian sausage

Brown the sausage and onion together until the onion becomes soft and transparent.

Add the chicken broth, pumpkin, sage and nutmeg. Stir and bring to a boil.

A carton of chicken broth,

1 15 oz can of pumpkin puree,

1 teaspoon ground sage,

½ teaspoon ground nutmeg

Add the sweet potato, lower to a simmer and cover. Cook for at least 30 minutes until the sweet potato is tender.

When ready to serve, mix a handful of baby spinach in each bowl. The hot soup will wilt it perfectly! The perfect bite was getting sausage and potato together.

Chopped baby spinach to garnish
Nutrition
Calories:
95
kcal
Carbohydrates:
13
g
Protein:
3
g
Fat:
4
g
Saturated Fat:
1
g
Polyunsaturated Fat:
0.5
g
Monounsaturated Fat:
2
g
Cholesterol:
9
mg
Sodium:
108
mg
Potassium:
293
mg
Fiber:
3
g
Sugar:
5
g
Vitamin A:
12165
IU
Vitamin C:
5
mg
Calcium:
34
mg
Iron:
1
mg