OK, let me warn you right off that bat. This "Food Idea" is truly an idea. I just don't have it in me to post a traditional recipe and look up nutritional information today. I'm just being lazy. :~P
Yesterday I made a comfort food meal, not a traditional stew or pasta based comfort but a fried food comfort meal. For me, there is just something about a big 'ole plate of fried foods and a puddle of ketchup. It reminds me of those appetizer samplers at Denny's or the local Diner. Anyway, this my homemade, healthy recreation and let me tell you. It was pure comfort!
I started of my "fried" food fest with the quintessential fried food, french fries! I took one white and one sweet potato, cut them in fry like pieces and placed then on a cookie sheet with a bit of olive oil spray and kosher salt. They went into my preheated 425 degree oven while I worked on my breaded treats.
Normally I "bread" things in high fiber cereal, like in Baked Zucchini Fries and Crispy Baked Parmesan Crusted Tilapia. I really like it but the husband is always a bit curious. Even though it tastes good he's not a fan of cereal on his fish.
Anyway, the other day I saw a post from Jack about Chicken Toes which reminded me some good old fashion whole wheat bread would work too! So I took the two ends of my whole wheat potato bread and an old whole grain bun and threw them in the food processor. Well, not really, I used my magic bullet knock off, but it worked all the same! I had actual bread crumbs!
I mixed in some spices -a bit of garlic, onion, parsley, basil, oregano, chili pepper, cumin, paprika, salt and pepper- and started breading. My foods of choice, a medium zucchini and some boneless chicken breast cut into nugget pieces.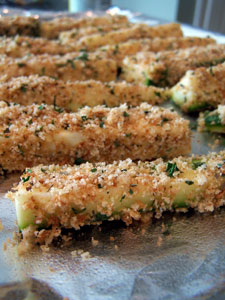 I popped the chicken in the oven (turning the fries) and started to clean up. After about 10 minutes I turned the broiler on and popped the zucchini in. Flipped once and viola! My Fried food fest was complete. Everyone was happy! The husband even ate the zucchini! I couldn't believe it!
As we were were cleaning up the mess, he says to me. "That was really good, especially the chicken. What did you bread it in, I'm sure it was something horrible." My response was simply, bread. Yup, that's right, bread, WHO KNEW!?
I'll make the chicken again and do an "official" recipe post. I already have a post for the Sweet Potato Fries (just skip the curry) and Baked Zucchini Fries.