I was planning on posting a salad I made for lunch yesterday, but last night's dinner was such an adventure it totally trumped it.
I'm a little obsessed with maple syrup at the moment, so I decided to make a simple sweet pork chop for dinner with some sweet potato fries mixed with regular potato fries and roasted Brussels sprouts.
All yummy stuff that no one should have an issue eating.
At least you'd think!
The Husband was totally on board. He had a meat, a potato and a vegetable all separate on his plate. For as picky as he is, he never complains about meals like that. (Actually, he doesn't complain much anymore as he's sick of the unless-you-want-cook-dinner-you-eat-what-I-make-without-complaint-because-I'm-the-most-awesome-wife-in-the-world-for-even-cooking-for-you speech. Yes. We've had that discussion many times.)
Anywho.
The 7-year-old made a face but only because it wasn't fish sticks. Unless dinner is fish sticks he's not happy. Although he pretty much eats whatever I put it from of him becuase he's tired of the you-respect-the-person-who-cooked-for-you-by-eating speech. Also a conversation I had more times than I'd like to admit.
The 2-year-old? He's a whole other story.
Yup, that be his reaction upon seeing his dinner plate.
Makes cooking and dirtying up the kitchen so worth it, right?
Ugh.
My favorite is the 7-year-old's reaction to the 2-year-old's reaction.
This is when I get to explain to him how we had to deal with the same thing when he was 2.
(Why do we have kids again?)
Anyway, I really liked dinner. The pork chops were sweet but not too sweet and a good combo with the sweet potato and Brussels sprouts.
Here's how I made the pork chops. You can click here for my fry baking technique and here for how I roast Brussels sprouts.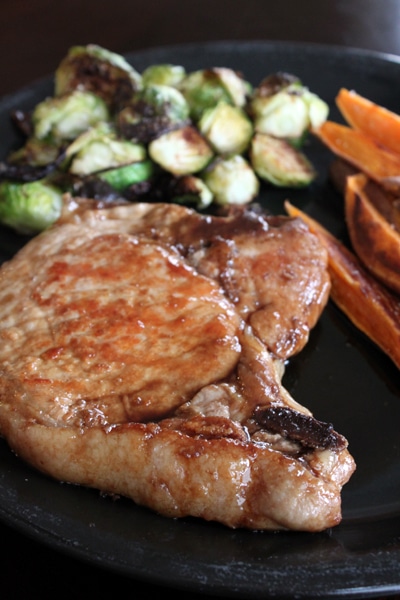 3-4 pork loin chops (I used bone-in but boneless would work, too)
¼ cup real maple syrup
2 tbsp soy sauce
2 tbsp Worcestershire sauce
kosher salt
Heat a skillet over medium-high heat. Spray with cooking spray.
Salt the pork chops and place them in the hot pan. Don't move them for at least 3 minutes. You should see them cooking up the side a bit. You know, the color will change.
Flip and brown on the other side just as long.
While the pork chops are cooking, whisk the maple syrup, soy sauce and Worcestershire sauce.
Remove the chops from the skillet and pour in the syrup mixture. It will immediately bubble. That's OK, take a wooden spoon and deglaze the pan, scraping up any stuck pork bits.
Add the pork chops back in and coat them in the sauce. Just flip them a few times. Cook for 2-3 more minutes based on thickness. There should be no pink when you cut into one.
Oh! So you really want to know what happened with the 2-year-old, don't you?

Well, he had 1 bite of everything after much crying and negotiating. My bargaining chip? Avocado. He ended up eating half of an avocado but I wouldn't give him any until he tried a bite of pork chop. Then when he asked for more avocado he didn't get it until he tried a Brussels sprout. Hey, whatever works, right?
We ended the meal with watermelon.
It's one of the few fruits I can get the 2-year-old to eat even though he hates being dirty.
KIDS! Gotta love them. 🙂