A few weeks ago LaaLoosh interviewed me for their site and shared one of my favorite recipes, Zucchini and Spaghetti Squash Lasagna -- Click here to read the interview.
While skimming their site, this recipe for Thai Shrimp Salad caught my attention. I'm fairly new to Thai flavors and LOVE them but rarely get a chance to indulge. It's slightly out of The Husband's ethnic food comfort zone so we don't often.
Then again so was sushi until a few years ago, so I have hope!
I do try to sneak Thai in with friends whenever I get a chance, but in the meantime I think should start to experiment with their flavors more at home. I used the Thai Shrimp Salad recipe on LaaLoosh as inspiration to make my own spicy Thai dressing with what I had on hand.  It came out fantastic and really turned a boring salad into something super flavorful and satisfying.
Here's what I did...
½ tbsp peanut butter (8g)
½ tbsp honey (10g)
1 tsp rice vinegar
1 tsp olive oil (I was out of sesame oil or I would have used it)
½ tsp red pepper flakes (or less to taste; mine was SUPER spicy)
2 tsp soy sauce
1 tsp lime juice
Whisk all the ingredients together and let it sit while you pull together a salad.
For my salad I used:
A pile of mixed greens
A handful of raw sugar snap peas
Red pepper strips
1 frozen breaded chicken breast, defrosted in the microwave
I just piled everything on a plate and drizzled the dressing on top.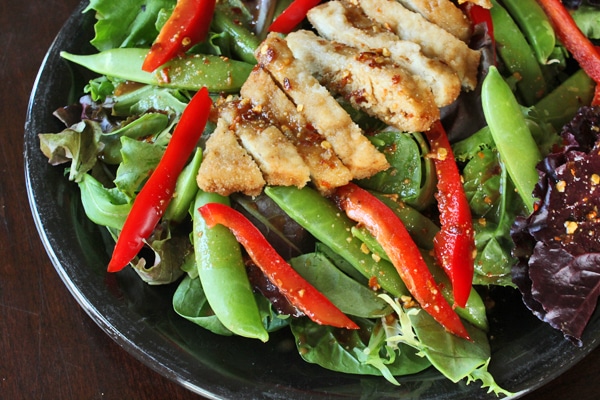 So pretty and SO tasty. I just love whipping up my own dressings. It's an easy way to get more creative in the kitchen.
Approx Nutritional Information per serving
Servings
Amt per Serving
1
Entire Recipe - Just the dressing
Calories
Fat
Fiber
WWPs
140
9g
1g
old: 3
new:4
Sugar
Sat Fat
Carbs
Protein
12g
2g
15g
3g