Kale, Turkey and Black Bean Taco Filling is the most requested taco filling recipe I've posted. In celebration of Taco Tuesday tomorrow, I am resharing. Taco Tuesday is sacred in my house, especially since the 8-Year-old is obsessed. It's the only thing he gets excited about besides mac&cheese!
The following was originally posted in October 2012. 
I love… love, love, LOVE... taco night. Always have, even as a kid. I have fond memories of mom browning ground chuck on the stove while we piled up the toppings in the middle of the table.
Back then, we used taco sauce, cheese, lettuce, and tomato, and Mom would drain the fat that cooked out the beef. I remember wanting her to buy those taco dinner night boxes that came with the seasoning and shells so badly, but she never would. Let's say I get my home cooking desire from her. She was a stickler on not cooking out of a box, and she'd season the beef herself.
Now I'm responsible for my family's meals, and I'm influenced by mom's approach but have entirely made taco night my own. It's one meal I can easily get my boys to eat super healthy without them really even noticing.
And when you get all this great stuff from the farm…
You have to come up with ways to get your family to eat it.
Last week all three boys happily devoured my Kale, Turkey, and Black Bean Taco Filling without one complaint. NOT ONE. Let me share what I did and how we used it. Hopefully, it will give you some ideas of your own.
Print
Kale, Turkey and Black Bean Taco Filling
Yield 5 cups
Kale, Turkey, and Black Bean Taco Filling is an easy way to veg-out Taco Night. Use this filling straight up, in your fav tortilla, on top of a salad or sauteed with cabbage. The possibilities are endless!
Ingredients
Let me share what I did and how we used it. Hopefully, it will give you some ideas of your own.
1 lb Lean Ground Turkey
½ of a Sweet Onion chopped
1 Jalapeno Pepper Diced
About 1 and ½ cups of chopped Kale (100g)
1 Medium Sweet Pepper chopped small
1 15oz can of black beans drained and rinsed
1 tbsp Chili Powder
1 tbsp dried Cumin
Healthy Pinch of Kosher Salt
Instructions
Heat a large skillet over medium-high heat, spray with non-stick spray and brown the turkey with onion.
Dice the Jalapeno and add it to the browning meat. Leave in the seeds and ribs if you'd like a bit more heat.
Chop the kale small. I used the technique I showed in this video.
Add the chopped kale to the skillet with a pinch of salt and stir all together.
Add in the diced pepper, black beans and spices. Cook for a few more minutes allowing all the flavors to merge and the pepper to soften just a little bit.
Lower to a simmer to keep warm until ready to use.
Notes
This recipe is very forgiving. Use what you have on hand! 

If you notice the meat starting to dry out, add a tablespoon or 2 of salsa. Moistens things right up!

As for the nutritional information, this recipe makes about 5 cups, which is enough to serve about 20 tacos. I'll post using a 1 cup as a serving size to keep it easy.
Courses Dinner
Cuisine Mexican, Any
Nutrition Facts
Serving Size 1 cup
Amount Per Serving

Calories 200

% Daily Value

Total Fat 2 g

3%

Total Carbohydrates 19 g

6%

Dietary Fiber 6 g

24%

Sugars 3 g

Protein 28 g

56%
* Percent Daily Values are based on a 2,000 calorie diet. Your daily values may be higher or lower depending on your calorie needs.
We used our Kale, Turkey and Black Bean Taco Filling four different ways for dinner and I made a fun leftover dish
1. The Husband Classic Tacos on Soft Shells.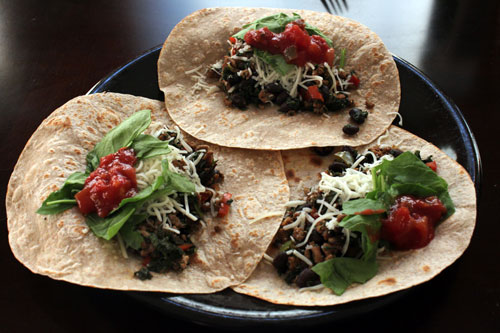 He likes them with just a little salsa, cheese, and lettuce. Although I make him use spinach instead. 😉
2. The Little Guy's Quesadilla
I started making quesadillas on taco night when he was little because they stayed together easier. Now they are one of his favorites. I always add some mashed avocado and chopped spinach in there too!
3. My Taco Lettuce wraps.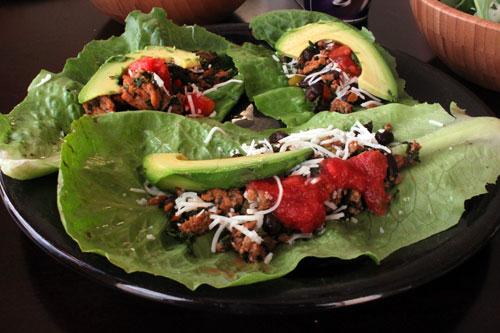 When I have a nice head of lettuce, I'll use the leaves instead of shells. It saves me a few calories, so I don't feel guilty piling on the cheese and avocado. 🙂
4. Little Beans deconstructed.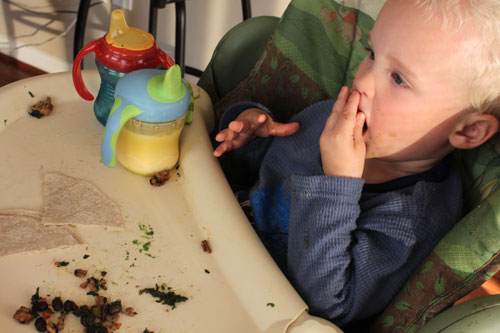 I give Little Bean a little of everything on his plate (taco shell, avocado, filling, cheese), and he happily has a smorgasbord of finger food.
5. Leftovers tossed with sautéed cabbage
The next day for a warm lunch, I tossed some shredded cabbage in a skillet with taco meat and cooked until the leaves wilted. Topped with a bit of salsa, it made a fabulous lunch!