I whipped one of these up the other day with a few ounces of leftover turkey meat and I immediately fell in love. The honey mixed in the burger cooked on the outdoor grill created this fantastic burnt sweetness. The mustard adds a bit of tang and the oatmeal keeps it super moist.
I made another batch yesterday, this time using more meat and making more then one portion. I cooked the whole batch on the grill and froze the leftovers for my lunches like I do with the Southwestern Turkey Burgers.
The husband and the toddler both refused to even try a bite. Again.. cool with me! I want the lunches! 🙂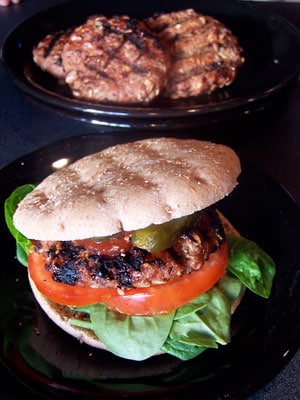 12oz lean ground turkey
1 egg white
1 cup (80g) old Fashioned Oats
3 tbsp (63g) honey
3 tbsp country style mustard (the kind with the whole seeds)
2 tbsp worcestershire sauce
Combine all ingredients and form into 5 patties about 4 ounces each. The mixture will be moist.
Cook on a preheated grill on medium-high for about 5 minutes a side. Serve on your fav whole wheat bun with all the fixin's. 🙂 I used a sandwich thin, baby spinach, tomatoes, ketchup, black pepper and sweet pickles.
Approx Nutritional Information per serving
Servings
Amt per Serving
5
1 Patty (no bun or fixin's)
Calories
Fat
Fiber
WWPs
185
2g
2g
old: 4
new: 5
Sugar
Sat Fat
Carbs
Protein
11g
0g
23g
20g