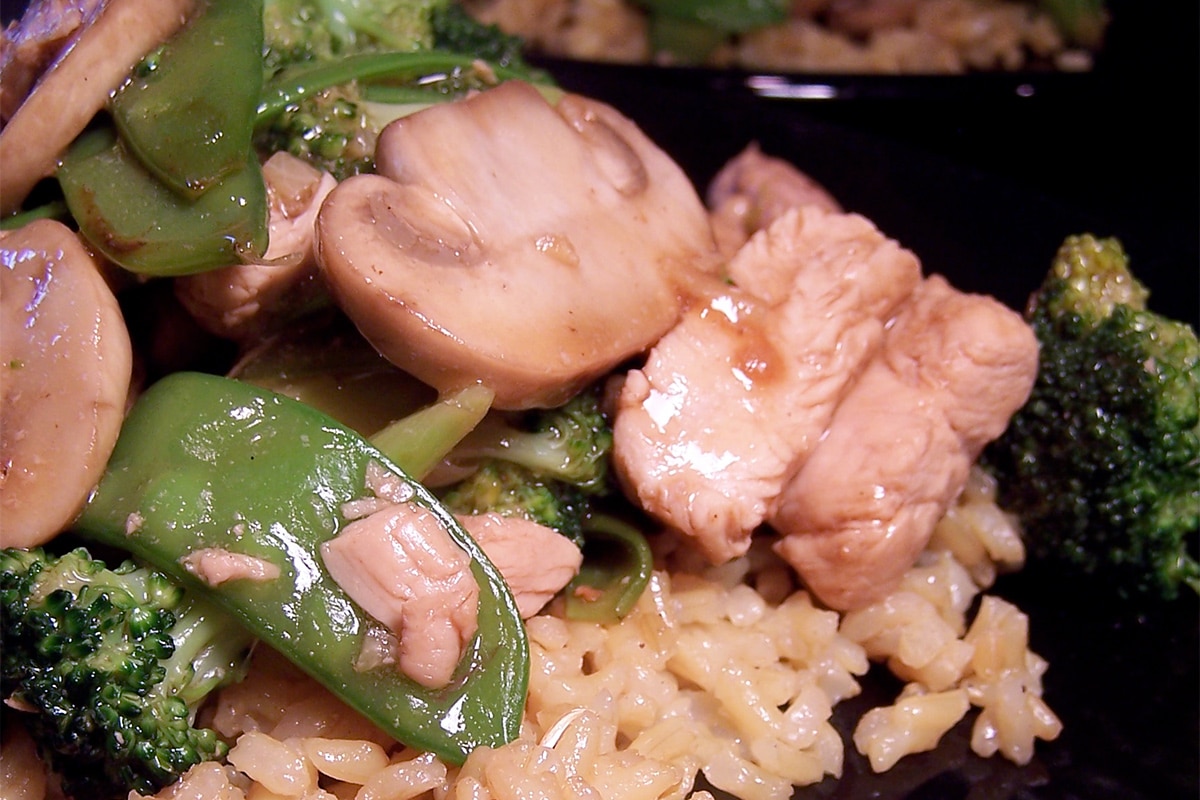 I guess you can call this a stir-fry but I don't have a wok and I really steam the veggies so I'm not really sure what to call it!
I bought some fresh ginger this weekend, it was my first time. Normally I make stir-fry meals with ground ginger and that works out great but I wanted to try something new. I'm glad I did! The fresh ginger has such an awesome smell and it's much easier to work with then I thought. Just a simply peel the skin off slice and dice like you would garlic.
The dish ended up with a very mild flavor and a light sauce. The husband gave an unsolicited "It's good" and the toddler gobbled up hordes of chicken and broccoli. He even at the mushrooms after telling me he "doesn't like 'shrooms".
Ingredients
½ pound (8oz) boneless chicken breast cut into small pieces
1 inch of a ginger root diced small
3 cloves of garlic diced small
2 tablespoon soy sauce
1 tablespoon rice vinegar
1 tablespoon honey
About 3 cups of fresh broccoli florets (267g)
About 2 cups snow peas (125g)
About 2 cups mushrooms slices (140g)
½ cup of water (separated)
1 tablespoon cornstarch
non-stick cooking spray
Instructions
Put the chicken, ginger, garlic, soy sauce, vinegar and honey in a bowl and let marinate while preparing the veggies.
Heat a large skillet over high heat and spray with non-stick cooking spray. Add the chicken and marinade. Cook for a few minutes until chicken is brown.
Add 2 oz of the water (⅛ cup) to the skillet, and top with veggies. Lower to medium high, cover, allowing the veggies to steam. Stir occasionally but recover, cooking for a about 5 minutes.
Mix the cornstarch and remaining 2oz water.
Once the broccoli is just tender, uncover. Power the cornstarch water mixture on top. Stir and the sauce will immediately begin thickening. Continue to stir for 1 minute. Turn off heat and serve over your favorite brown rice.
Here is a shot of the ginger root and the toddler. He turned his head at the last second and I didn't have the patience to take another. :~)
I'm going to count this as 2 LARGE servings. We split it between the three of us. Nutritional Information does not include the rice.
📖 Recipe
Ginger Garlic Chicken with Vegetables
Brighten up your dinner table with this colorful ginger garlic chicken with vegetables dish. Full of savory flavors, it's the perfect weeknight meal!
Ingredients
½

pound

8oz boneless chicken breast cut into small pieces

1

inch

of a ginger root diced small

3

cloves

of garlic diced small

2

tablespoon

soy sauce

1

tablespoon

rice vinegar

1

tablespoon

honey

About 3 cups of fresh broccoli florets

267g

About 2 cups snow peas

125g

About 2 cups mushrooms slices

140g

½

cup

of water

separated

1

tablespoon

cornstarch

non-stick cooking spray
Instructions
Put the chicken, ginger, garlic, soy sauce, vinegar and honey in a bowl and let marinate while preparing the veggies.

½ pound 8oz boneless chicken breast cut into small pieces,

1 inch of a ginger root diced small,

3 cloves of garlic diced small,

2 tablespoon soy sauce,

1 tablespoon rice vinegar,

1 tablespoon honey

Heat a large skillet over high heat and spray with non-stick cooking spray. Add the chicken and marinade. Cook for a few minutes until chicken is brown.

Add 2 oz of the water (⅛ cup) to the skillet, and top with veggies. Lower to medium high, cover, allowing the veggies to steam. Stir occasionally but recover, cooking for a about 5 minutes.

About 2 cups snow peas,

About 2 cups mushrooms slices,

½ cup of water

Mix the cornstarch and remaining 2oz water.

Once the broccoli is just tender, uncover. Power the cornstarch water mixture on top. Stir and the sauce will immediately begin thickening. Continue to stir for 1 minute. Turn off heat and serve over your favorite brown rice.

About 3 cups of fresh broccoli florets
Nutrition
Calories:
307
kcal
Carbohydrates:
35
g
Protein:
36
g
Fat:
4
g
Saturated Fat:
1
g
Polyunsaturated Fat:
1
g
Monounsaturated Fat:
1
g
Trans Fat:
0.01
g
Cholesterol:
73
mg
Sodium:
1193
mg
Potassium:
1429
mg
Fiber:
7
g
Sugar:
17
g
Vitamin A:
1950
IU
Vitamin C:
186
mg
Calcium:
128
mg
Iron:
5
mg