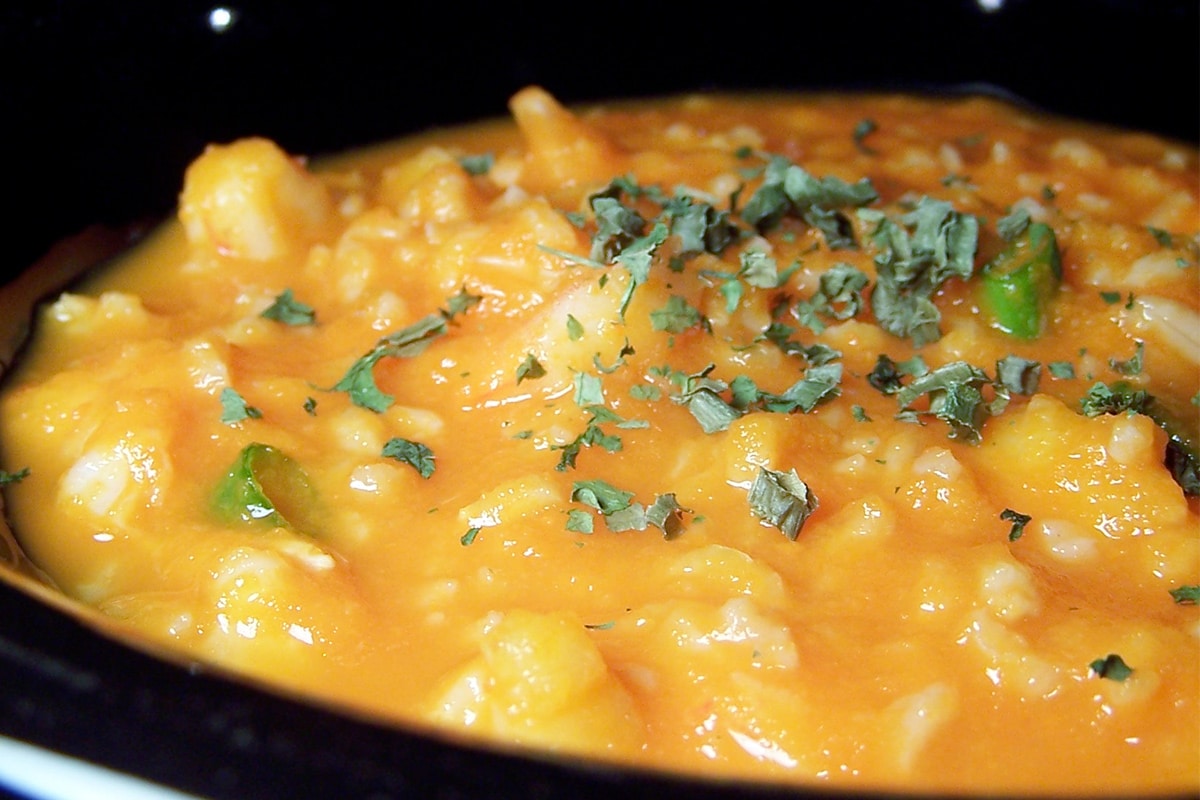 Much like my Winter Squash Soup with Roasted Seeds, this dish was inspired by a soup I got for lunch a few weeks ago. Consequently I was with the same friend. I think we need to have lunch together more often!
The soup that I ordered was a carrot puree soup with ginger, crab meat, shrimp and sugar snap peas, I think, now I can't remember. My version only uses shrimp (I finally killed the bag!) and I thought green onions would add a nice flavor.
As for taste testers. Well, and this is a quite a bruise to the ego, neither the husband NOR the toddler would even try it! I got a "looks like puke" comment and that was it. Oh well, as I have said a million times before, "more for me!" (plus I couldn't really argue with them).
Ingredients
1 bag of carrots (16oz) peeled and chopped
1- 1.5 inches of fresh ginger root chopped
3 cup of your favorite chicken or veggie broth
~1 cup water
2 cups cooked brown rice (I used the instant 90 second microwave kind)
6 oz cooked shrimp chopped
2 green onions chopped
dried parsley for garnish
Instructions
Over high heat, bring the broth, carrots and ginger to a boil. Continue to boil for about 10 minutes. Lower to a simmer and cook until carrots are tender, about 30 minutes.
Puree the cooked carrot mixture, either using a hand blender or transferring to a stand alone blender. Return the puree to the pot.
Add 1 cup water (more if too thick), cooked rice, cooked shrimp and green onion. Bring back up to a boil then serve!
I really like this soup warm or at room temperature. Here's a shot of my carrots and ginger. I loved the light coming through my window. :~)
📖 Recipe
Ginger Carrot Soup with Shrimp and Rice
This ginger carrot soup with shrimp and rice is a perfect meal for any season. It's healthy, delicious, and easy to prepare. Give it a try tonight!
Ingredients
1

bag of carrots

16oz peeled and chopped

1- 1.5

inches

of fresh ginger root chopped

3

cup

of your favorite chicken or veggie broth

~1 cup water

2

cups

cooked brown rice

I used the instant 90 second microwave kind

6

oz

cooked shrimp chopped

2

green onions chopped

dried parsley for garnish
Instructions
Over high heat, bring the broth, carrots and ginger to a boil. Continue to boil for about 10 minutes. Lower to a simmer and cook until carrots are tender, about 30 minutes.

1 bag of carrots,

1- 1.5 inches of fresh ginger root chopped,

3 cup of your favorite chicken or veggie broth

Puree the cooked carrot mixture, either using a hand blender or transferring to a stand alone blender. Return the puree to the pot.

Add 1 cup water (more if too thick), cooked rice, cooked shrimp and green onion. Bring back up to a boil then serve!

~1 cup water,

2 cups cooked brown rice,

6 oz cooked shrimp chopped,

2 green onions chopped,

dried parsley for garnish
Nutrition
Calories:
130
kcal
Carbohydrates:
22
g
Protein:
9
g
Fat:
1
g
Saturated Fat:
0.2
g
Polyunsaturated Fat:
0.3
g
Monounsaturated Fat:
0.3
g
Trans Fat:
0.002
g
Cholesterol:
55
mg
Sodium:
612
mg
Potassium:
231
mg
Fiber:
2
g
Sugar:
1
g
Vitamin A:
1298
IU
Vitamin C:
15
mg
Calcium:
46
mg
Iron:
1
mg