THIS is what happens when I don't have to make the husband or the child happy with dinner. Here's the story... We have a TON of leftovers from a get together we had this weekend but nothing I really want to eat, again (fried chicken) so I decided to simply cook for me and let the boys fend for themselves.
It.was.WONDERFUL!
No dirty looks. No questions. No arguing. No dealing. I simply cooked what I wanted and enjoy a pretty, healthy, vegetable filled meal.
Is it sad that I like to cook for myself? I mean, I'd love a family that was more adventurous but since they aren't I look for opportunities like tonight to experiment. It makes me happy. 🙂
½ sweet onion diced
2 carrots diced
2 celery stalks (with leaves) diced
2 tsp curry powder
½ tsp turmeric (You can skip if you don't have it)
1 cup water
½ cup uncooked quinoa (84g)
About 2 cups baby spinach loosely chopped
2 bell peppers (I used yellow)
kosher salt
Preheat oven to 425 Degrees
Heat a pot medium pot over medium-high heat. Spray with non-stick cooking spray and saute the onion, carrots and celery with a pinch or two of salt. Continue cooking and stirring for a few minutes until the onion softens and look a little transparent.
Add the curry and turmeric. Stir to coat everything. Then add the water and quinoa. Bring to a boil then cover and lower to a simmer. Simmer for 10-15 minutes until all the liquid is absorbed.
Meanwhile. Half the peppers longways and remove the seeds. Place in a casserole dish and sprinkle with a bit of salt.
When the quinoa is done, mix in the spinach. It should start to wilt immediately. Then stuff the peppers sprinkle with a little more salt and pop in the oven for about 10 minutes.
Here's a few more pics because they are so darn pretty!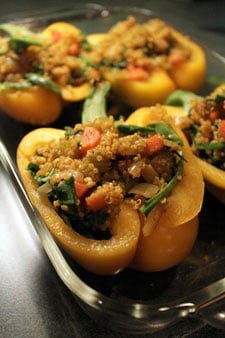 And even though the little guy didn't eat them he was fascinated by the photo taking. 🙂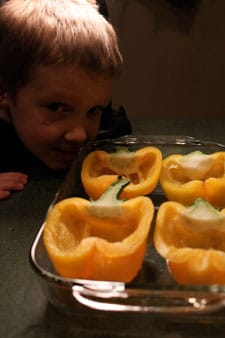 Approx Nutritional Information per serving
Servings
Amt per Serving
2
2 Stuffed Pepper Halves
Calories
Fat
Fiber
WWPs
20
3g
8g
old: 5
new: 6
Sugar
Sat Fat
Carbs
Protein
8g
0g
48g
9g