I came up with this breading idea awhile back. I have a weird fascination with breading things in other then traditional breadcrumbs. I'd rather use something whole grain or full of fiber like breakfast cereal!
The first time I tried it I was pleasantly surprised. The fish was done perfectly, not too dry and the breading was just crisp enough. Both the husband AND the toddler are HUGE fans. The toddler, of course, dips his in ketchup and I have to admit it's pretty good that way.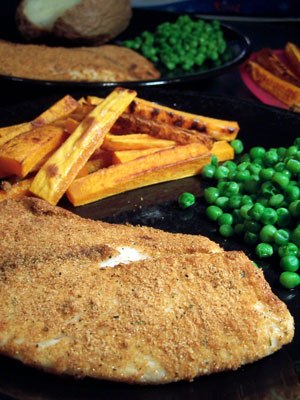 4-4oz Tilapia fillets
½ cup (30g) Fiber One Cereal (or All Bran)
¼ cup (20g) Parmesan Cheese
½ tsp onion powder
½ tsp garlic powder
1 tsp Italian Seasoning
Salt & Pepper
Non-stick cooking spray
Preheat the broiler
Place the cereal, parmesan cheese, and spices, in a blender or food processor to make the breading.
Season the fish with salt & pepper. Dip the fillets in breading to coat. The fish is normally moist enough for the breading to stick without the use of egg. Of course, you could dip it if you like.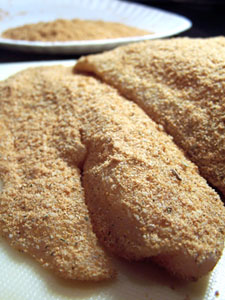 Spray a cookie sheet lined with aluminum foil with non-stick cooking spray, Place fillets on sheet and spray tops with non-stick cooking spray.
Broil the fish 2 racks from the top for about 3-4 minutes a side.
The picture above shows how much of the breading I had leftover. I think you can squeeze about 2 more with the breading. Well, at leasat I can but I am REALLY good at stretching things. ;~)
Approx Nutritional Information per serving
Servings
Amt per Serving
4
1 breaded 4 oz fillet
Calories
Fat
Fiber
WWPs
144
5g
4g
old: 3
new: 4
Sugar
Sat Fat
Carbs
Protein
0g
2g
7g
23g