I TOTALLY forgot about this idea! I made it up weeks ago and didn't think about it again until last night when I was craving something sweet. Using an egg roll wrapper (I was planning on won ton but they were all out) a handful of chocolate chips and some healthy peanut or almond butter you get crispy, chewy, chocolaty treat in minutes!
I had a few taste testers for this one. I happen to make them when the in-laws were in town. They were fans although, the husband, of course, wasn't impressed. The toddler? He'll never refuse anything dessert-y. If there's chocolate he's pretty happy, just like Momma. 🙂
I'm writing up the idea to make 2 servings of 2 Sticks each. You could of course double or triple. I also kept the amount of peanut butter to a minimum, just using a light smear. If you aren't watching calories as closely you may want to bump it up a tiny-bit.
These would be easy to make ahead for a party or play-date and throw in the oven for a warm dessert.
2 egg roll wrappers (normally in produce section)
1 tbsp peanut or almond butter
1 tbsp chocolate chip
Preheat oven 400 degrees.
Cut the wrappers in half so you have 4 rectangles.
Smear each rectangle with peanut butter.
Line chips (around 6) evenly spaces along one edge of the wrapper.
Roll, folding over the chips.
Seal the end by rubbing a bit of water on the edge.
Place each roll on a aluminum lined cookie sheet sprayed with non-stick spray. Bake for 10 minutes.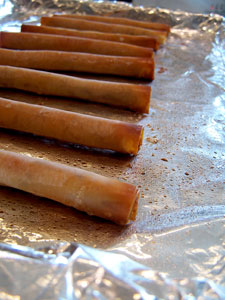 The outside will get browned, the inside will stay chewy and the chocolate will melt. Sprinkle with a bit of powdered sugar or stevia for presentation. 🙂
Approx Nutritional Information per serving
Servings
Amt per Serving
2
2 Sticks
Calories
Fat
Fiber
WWPs
150
7g
1g
old: 3
new: 4
Sugar
Sat Fat
Carbs
Protein
4g
2g
18g
4g