I love working as a Community Leader at The Laughing Cow. It nudges me to experiment with their cheeses in fun and new ways!
Today I used it for a base in a quick salad dressing. It came out fantastic! And went perfectly with cucumber, tomatoes, and, of course, fresh basil from my garden!
Here's what I did.
Ingredients
1 The Laughing Cow Light Garlic & Herb Wedge
½ tablespoon red wine vinegar
½ tablespoon Balsamic vinegar
Pinch of Salt and Black Pepper
1 teaspoon Olive Oil
1 teaspoon Honey
About ½ Pint Grape Tomatoes Halved
About ½ Cucumber chopped
10 leaves of basil
Instructions
Mash The Laughing Cow Light Garlic & Herb Wedge with the vinegars, olive oil, and honey. This will be easier if the cheese is room temp, or you can squish it a bit in the packaging before adding to the bowl. Don't worry if it looks lumpy, just keep mixing as it will all incorporate.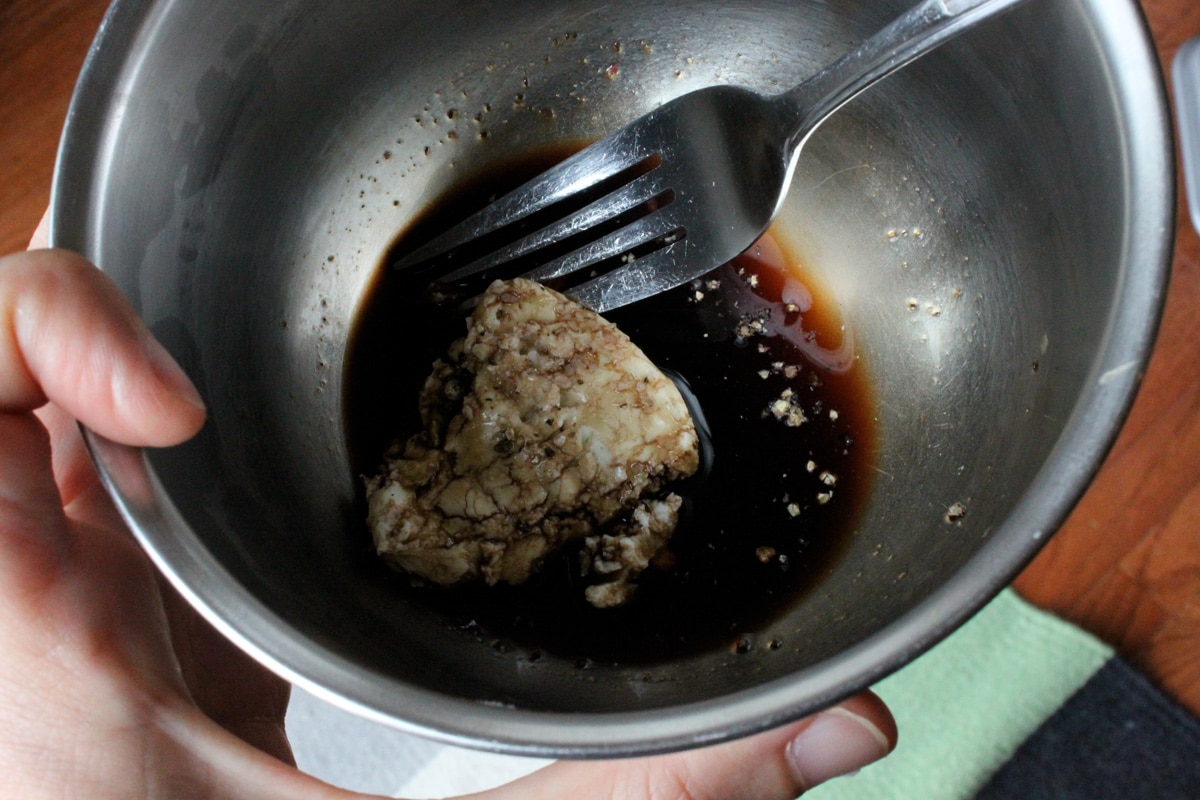 Add the tomatoes, cucumber, basil, and toss!
Here's a close up, I tried to get in there to show you the dressing.
Disclosure: I've partnered with The Laughing Cow. Click here for more info and click here to see all my ideas using the Laughing Cow!
Cheesy Balsamic Cucumber Tomato Salad
Add a twist to your classic salad recipe with this cheesy balsamic cucumber tomato salad. Follow our recipe and enjoy a burst of flavors in every bite!
Ingredients
1

The Laughing Cow Light Garlic & Herb Wedge

½

tablespoon

red wine vinegar

½

tablespoon

Balsamic vinegar

Pinch

of Salt and Black Pepper

1

teaspoon

Olive Oil

1

teaspoon

Honey

About ½ Pint Grape Tomatoes Halved

About ½ Cucumber chopped

10

leaves

of basil
Instructions
Mash The Laughing Cow Light Garlic & Herb Wedge with the vinegars, olive oil, and honey. This will be easier if the cheese is room temp, or you can squish it a bit in the packaging before adding to the bowl. Don't worry if it looks lumpy, just keep mixing as it will all incorporate.

1 The Laughing Cow Light Garlic & Herb Wedge,

½ tablespoon red wine vinegar,

½ tablespoon Balsamic vinegar,

Pinch of Salt and Black Pepper,

1 teaspoon Olive Oil,

1 teaspoon Honey

Add the tomatoes, cucumber, basil, and toss!

About ½ Pint Grape Tomatoes Halved,

About ½ Cucumber chopped,

10 leaves of basil
Nutrition
Calories:
90
kcal
Carbohydrates:
11
g
Protein:
1
g
Fat:
5
g
Saturated Fat:
1
g
Polyunsaturated Fat:
0.5
g
Monounsaturated Fat:
3
g
Cholesterol:
1
mg
Sodium:
52
mg
Potassium:
255
mg
Fiber:
1
g
Sugar:
9
g
Vitamin A:
453
IU
Vitamin C:
7
mg
Calcium:
41
mg
Iron:
1
mg