Last week I bought a few fresh beets just 'cause.
I like reacting to what's in season and on sale at the grocery store because it forces me to think outside the box a bit. And that's exactly what happened with these beets.
I was trying to figure out a fun lunch when I spied them in the produce drawer. I didn't want to roast them so the first thing that popped into my head was the mandoline. Maybe a fun salad with thinly sliced beets and feta?
Off to my trusty old friend Google image search. I typed in raw beet salad and noticed that most were made with grated beets.
Interesting.
I started to grate my beet but the result just didn't inspire in salad form. That's when the burger idea hit me.
Back to Google to search raw beet burger and voila!
Apparently I'm not as insane as I thought. Other people have done this!
I glanced at a few recipes but most seemed really complicated and had a lot of ingredients. So I went with my gut and just started adding things to the bowl.
The result was a super fun, beautiful burger! It was soft and still had that raw beet texture. The cumin I added totally complemented the sweetness and the black beans gave it some body. I ate one on a bun and one just with a fork.
Super fun and light and loaded with color. I will totally make these again!
Here's what I did...
Ingredients
1 large beet, grated (250g)
1 15oz can black beans, drained and rinsed
1 egg
½ cup old-fashioned oats (40g)
½ teaspoon kosher salt
1 teaspoon ground cumin
Instructions
Put the beets and beans in a large bowl.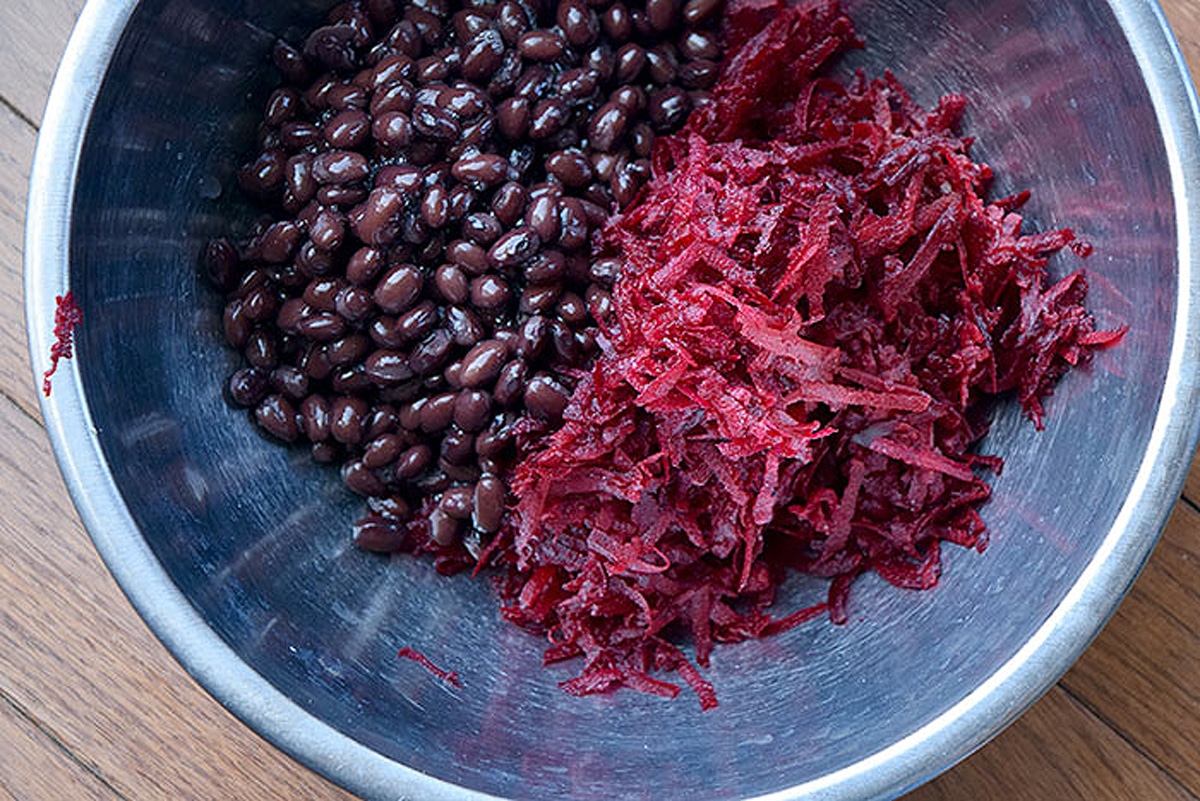 Using a potato masher (or your hands) smoosh the beans a bit.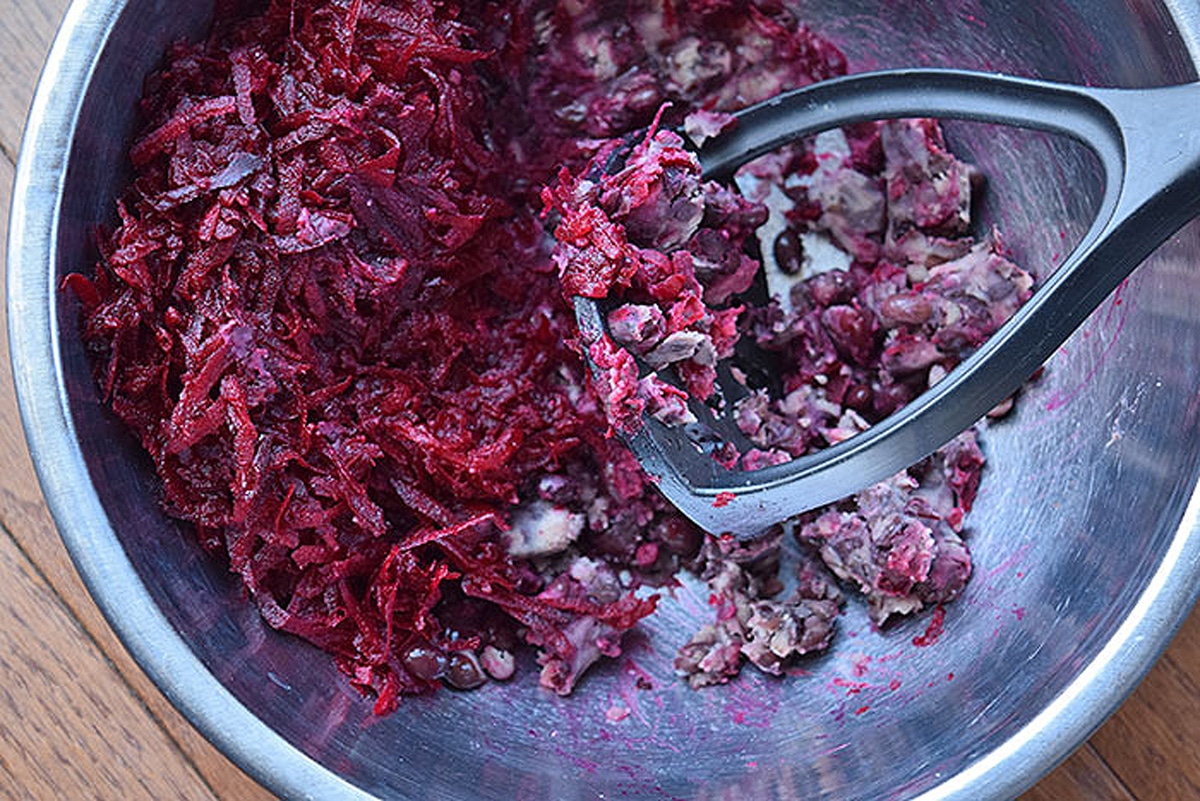 Add the egg, oats, salt, cumin and combine well.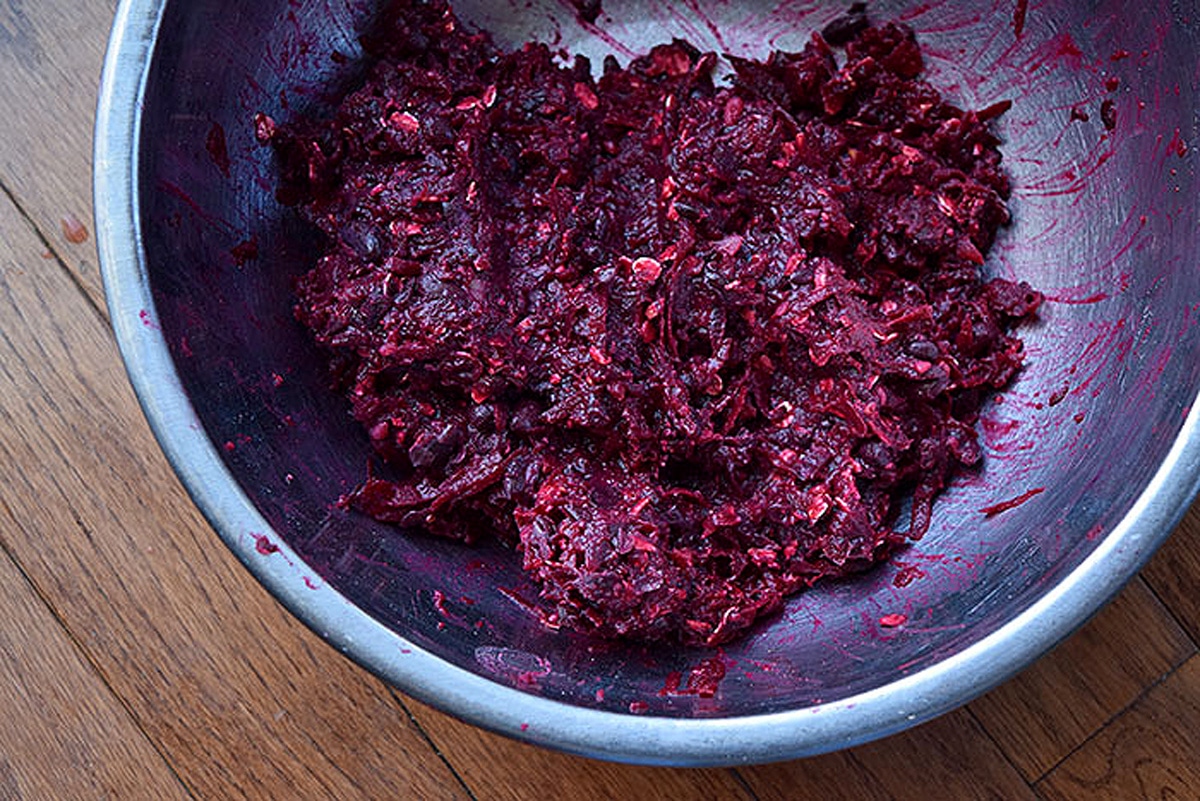 (I used my hands for this. It's not that bad. Just wash them immediately afterward.)
Form into 4 patties and pan fry them in a little olive oil or spray, around 4 minutes a side.
I served mine -- well, served to myself because there was no way this guy was going to try it ...
-- on a Flatout Fold It, on a bed of tomato and arugula. Then I topped it with a bit of feta and fresh cilantro. It was perfect!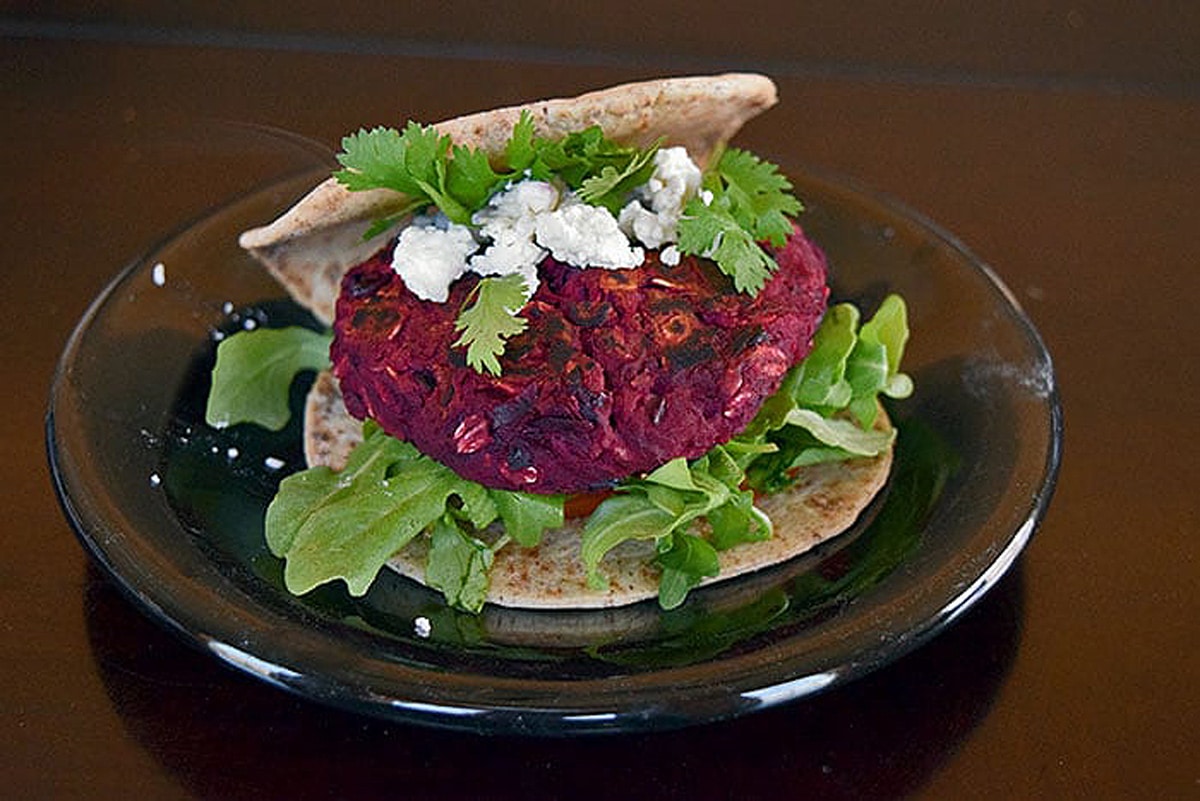 And really fun!
The best part? Each beet and bean burger patty is loaded with fiber and protein making it filling and light. Best combination ever.
📖 Recipe
Black Bean and Beet Burgers
These black bean and beet burgers are a delicious plant-based alternative to traditional burgers. The beets give them a beautiful color
Instructions
Put the beets and beans in a large bowl.

1 large beet,

1 15 oz can black beans

Using a potato masher (or your hands) smoosh the beans a bit.

Add the egg, oats, salt, cumin and combine well. (I used my hands for this. It's not that bad. Just wash them immediately afterward.)

1 egg,

½ cup old-fashioned oats,

½ teaspoon kosher salt,

1 teaspoon ground cumin

Form into 4 patties and pan fry them in a little olive oil or spray, around 4 minutes a side.

I served mine - well, served to myself because there was no way this guy was going to try it
Nutrition
Calories:
108
kcal
Carbohydrates:
19
g
Protein:
6
g
Fat:
1
g
Saturated Fat:
0.3
g
Polyunsaturated Fat:
0.4
g
Monounsaturated Fat:
0.4
g
Trans Fat:
0.003
g
Cholesterol:
23
mg
Sodium:
455
mg
Potassium:
361
mg
Fiber:
6
g
Sugar:
3
g
Vitamin A:
53
IU
Vitamin C:
4
mg
Calcium:
38
mg
Iron:
2
mg