I love using what I have to whip up something tasty, and being on Whole30 this month is really forcing me to push the envelope.
With all the college bowl games on New Year's weekend I wanted to make something fun, so I used an old favorite as inspiration: The Hot Wing.
I was stumped at first because I always add honey or some other sweetener to my sauce but this ended up great. And the almond butter really helped to make an indulgent texture that stuck to the meatballs.
Even The Husband approved!
Here's what I did...
1 lb ground chicken breast (ground turkey would work, too!)
⅔ cup ground flax
1 tbsp olive oil
2 tbsp almond butter
1 tbsp apple cider vinegar
1 tsp sesame oil
2 tbsp tomato paste
1 tsp red pepper flakes
Combine the chicken and flax with your hands. It will be very sticky. I always find ground chicken annoyingly sticky but it was on sales so I went with it.
In a large nonstick skillet over medium-high, heat the oil. Form the chicken mixture into small balls (around 15) and add them to the skillet.
Turn the meatballs to seal on 2-3 sides as they brown. (I wish I took a pic of this but my hands were just too messy! )
Once the meatballs are set, lower the temperature to medium-low and cover so they begin to cook through.
While the meatballs are cooking, whisk together the almond butter, vinegar, sesame oil, tomato paste, and red pepper flakes. It will be on the thick side. A splash or two of water is fine to add to loosen it up.
Pour the sauce over the meatballs and roll around to coat. You can continue to cook for a minute or two but the sauce will thicken even more.
Pour the meatballs into a bowl and top with additional red pepper flakes to taste.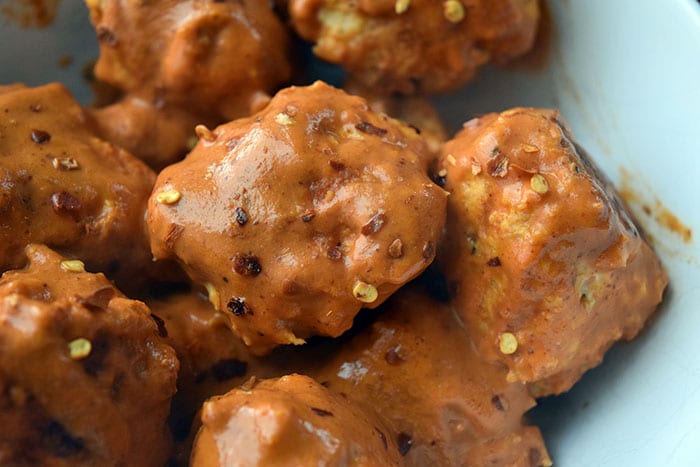 I had to stop myself from eating the whole bowl. I really enjoyed these!
Approx Nutritional Information per serving
Servings
Amt per Serving
3
~5 meatballs
Calories
Fat
Fiber
WWPs
400
23g
14g
old: 9
new: 10
Sugar
Sat Fat
Carbs
Protein
1g
5g
21g
32g