These Whole Wheat Chocolate Chip Cookies are the result of weeks of testing during the quarantine. I was not testing the "perfect" chocolate chip cookie recipe ever, but my family's favorite one.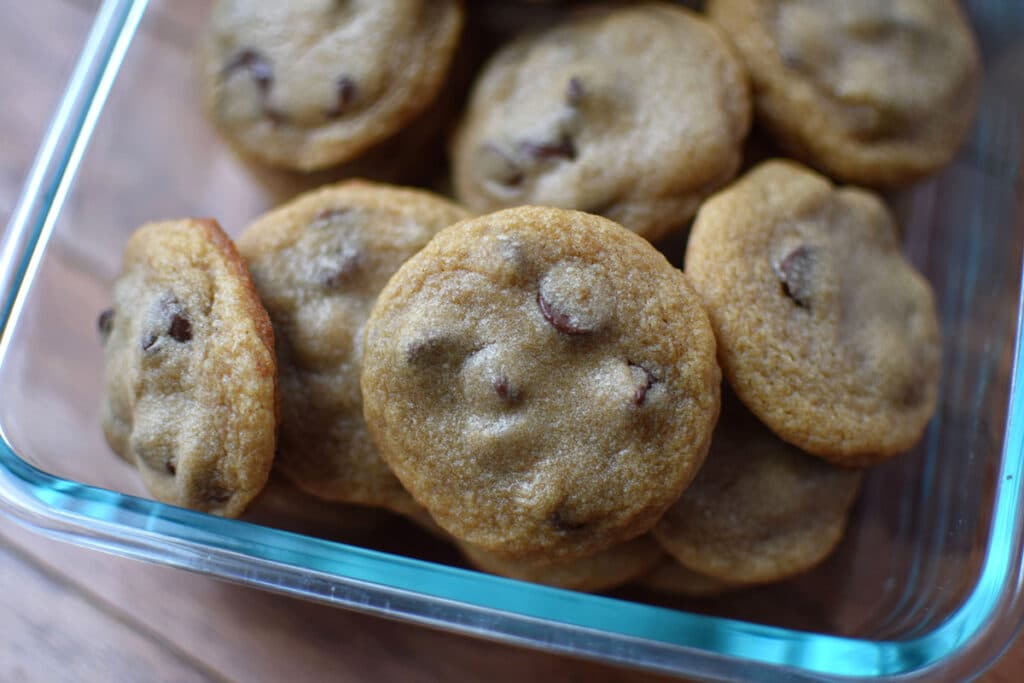 Over the past three weeks, I have tried to blog so many times but been unable to muster the energy. I don't know if it's exhaustion or what? My motivation seems to cycle. Some days I'm on top of everything and feel great! Other days I can barely get out of bed, and it scares me.
I guess it's not that unusual, but the quarantine seems to magnify everything, especially my emotions.
Working on the blog has felt heavy for some reason. So, instead, I turned to all the food-related subreddits I could find. It helped fill a void I've been having. It just took me about two weeks to get the nerve to stop lurking and post. I'm u/GreenLiteBite over there if you are a user.
Anyway, I've also been struggling with feeling "off-brand" here on GreenLiteBites, which is ridiculous because my brand has always been, well, me, just sharing my adventures in the kitchen. Those adventures, however, have always had an undertone of "light" or "healthy," and right now, I'm way more into fun and indulgent. I mean, I'm even sharing cocktails now!
That said, if you are reading this, you probably have been following along for a while and have seen my cooking evolution. If you happen to be new here or just passing by, well then, you just want to see a cookie recipe, so I'll get to the point.
I have made more chocolate chip cookies in the last two months than I have in my entire life.
First, let me say, I am not a baker. I am a cook.
What I like about cooking is the organic and forgiving nature of it. I can cook from the heart, adding spices, tasting, adjusting, and enjoying the process with no recipe or real measurements. It's more instinct to me than anything.
Baking, on the other hand, is chemistry. It's science. The formula and ratio of the ingredients in a baking recipe are far more critical. I find the exacting-nature of it stressful, which is the opposite of why I cook and how I feel when cooking.
Why Whole Wheat Chocolate Chip Cookies?
Well, these chocolate chip cookies gave me something to focus my attention on for the past six weeks. I started with a base recipe from Betty Crocker and then started adjusting. The first thing I always do with any baking recipe if I want to experiment is to replace the all-purpose flour with white whole wheat flour. It may be silly, but I haven't bought all-purpose flour in decades at this point. Mostly because I don't bake often enough, and if I'm going to use flour, well, then why not use a whole grain variety?
So I see how using the whole wheat flour affects the recipe as is, and then I start making adjustments to the other ingredients to make up for those changes. My approach, though, again, isn't the most scientific. I just kept making tweaks until I like the results.
Well, in this case, until the family liked the results because this is about the only thing I have ever baked (or cooked that matter) that my whole family agreed on.
All three boys love these cookies, and their feedback helped inform my changes as I kept experimenting.
So, if you like a chewy, more dense chocolate chip cookie, this may be a good recipe for you. They come out ooey-gooey from the oven (in that almost not quite done indulgent way) and then cool to a nice soft texture.
📖 Recipe
Whole Wheat Chocolate Chip Cookies
This Whole Wheat Chocolate Chip Cookie Recipe results in soft, chewy, dense-in-a-good-way cookies. 
Instructions
Preheat the oven to 375 degrees.

Beat the butter and sugar together until creamy.

2 sticks of salted butter,

142 g light brown sugar,

142 g dark brown sugar

Add the egg and vanilla and beat until incorporated.

1 egg,

1 teaspoon vanilla

Add the flour and beat on low until the dough forms. Mix in chocolate chip my hand.

300 g whole wheat flour,

10 oz chocolate chips

Roll dough into 1oz balls and bake for 8 minutes.

Let rest on the cookie sheet for 2-3 minutes before transferring to wax paper to cool completely.
Notes
We decided on 10oz of chocolate chips which is not quite the whole bag. The whole bag is a little too much for us. 
I do not use baking soda as the whole wheat flour already reduces cookie spread and the kids didn't like it when the cookies were too "puffy". So, I removed the leavening agent.
I only buy salted butter which is why I used salted butter. If you want you can use unsalted butter and then add back the salt. 
Nutrition
Serving:
1
cookie
Calories:
145
kcal
Carbohydrates:
19
g
Protein:
1
g
Fat:
7
g
Fiber:
1
g
Sugar:
13
g