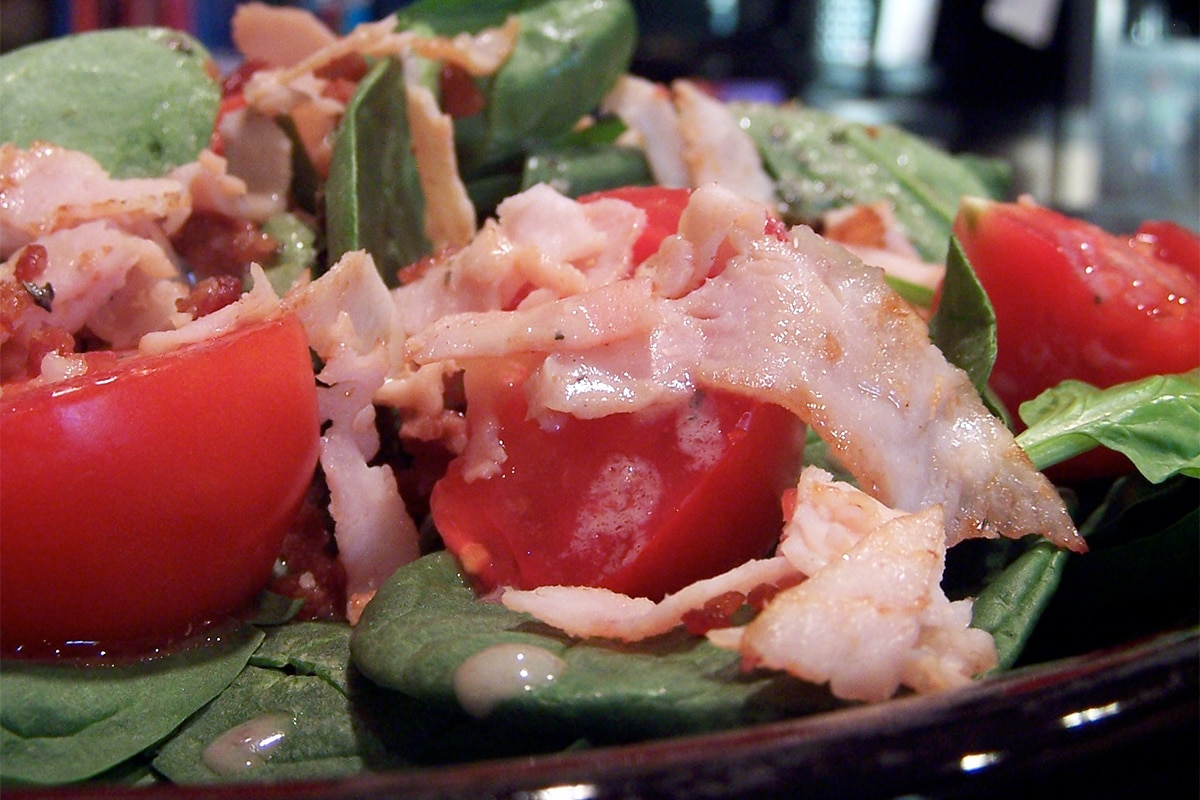 I bought some shaved turkey breast deli meat last week. You know, the thin sliced pre-packaged kind. I'm not quite sure why, the husband and toddler are both ham people and there is no way I'm going to eat this package of deli meat before it goes bad.
To make it worse it's more chipped then sliced and I hate that on my sandwiches (I'm really starting to show you my food quirks, aren't.) So what do I do with it?
Well... use it for my tastiest, simplest salad yet!
OK, so I'm talking it up a bit but is all seriousness I enjoyed EVERY bite of this salad and I can't wait to make it again. I love it when a simple idea taste so good!
Warm Turkey Club Salad
Ingredients
2-3 cups of your favorite greens (I used baby spinach leaves)
1 large tomato cut in chunks
~ 6 small slices lean deli turkey meat (51g)
1 tablespoon real bacon bits
2 tablespoon Sweet Dried Herb Dressing (recipe below)
non-stick cooking spray
Instructions
Pile the greens on a plate and top with the tomato.
Roll and cut the turkey meat (or in my case, chop it).
Spray a small nonstick skillet with non-stick cooking spray. Warm the turkey and bacon bits over medium high heat until warm and the turkey just starts to get brown on the edges.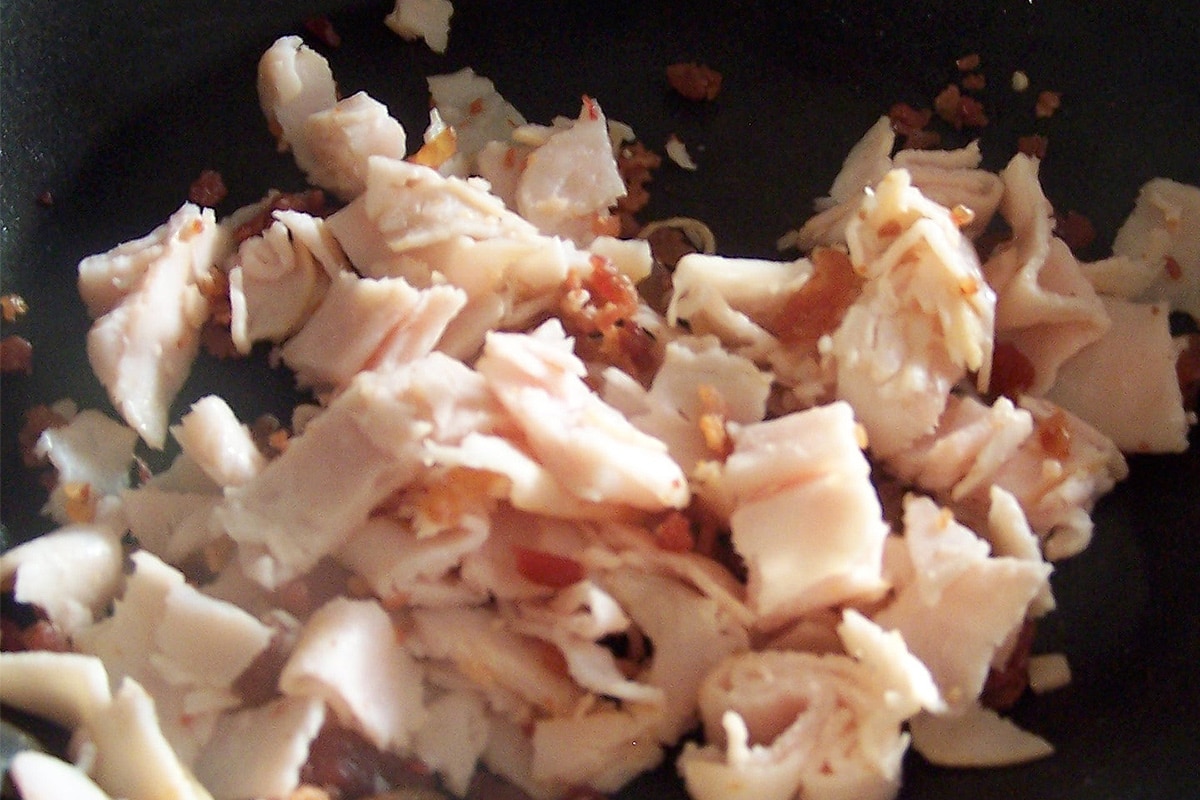 Top the greens with the warm turkey and bacon. Drizzle with dressing. Enjoy!
Sweet Dried Herb Dressing
Note: Makes 3 servings
Ingredients
2 tablespoon unflavored non-fat yogurt
1 tablespoon honey (21g)
1 tablespoon red wine vinegar
1 tablespoon apple cider vinegar
1 teaspoon olive oil
1 teaspoon dried parsley
¼ teaspoon each garlic powder, onion powder, mustard powder, dried basil, dried chives
Pinch of Kosher Salt & Pepper
Instructions
Whisk all ingredients together and let sit for a few minutes before using.
The dressing makes about 7 tbsp, I'm counting 2 tablespoon as a serving. Each serving has about 45 calories, 2g of fat.
📖 Recipe
Warm Turkey Club Salad with Sweet Dried Herb Dressing
Try this delicious warm turkey club salad for a satisfying and nutritious meal. The homemade sweet dried herb dressing is sure to please your taste buds.
Ingredients
Warm Turkey Club Salad
2-3

cups

of your favorite greens

I used baby spinach leaves

1

large tomato cut in chunks

~ 6 small slices lean deli turkey meat

51g

1

tablespoon

real bacon bits

2

tablespoon

Sweet Dried Herb Dressing

recipe below

non-stick cooking spray
Sweet Dried Herb Dressing
Instructions
Warm Turkey Club Salad
Pile the greens on a plate and top with the tomato.

2-3 cups of your favorite greens,

1 large tomato cut in chunks

Roll and cut the turkey meat (or in my case, chop it).

~ 6 small slices lean deli turkey meat

Spray a small nonstick skillet with non-stick cooking spray. Warm the turkey and bacon bits over medium high heat until warm and the turkey just starts to get brown on the edges.

Top the greens with the warm turkey and bacon. Drizzle with dressing. Enjoy!

1 tablespoon real bacon bits
Sweet Dried Herb Dressing
Whisk all ingredients together and let sit for a few minutes before using.

2 tablespoon Sweet Dried Herb Dressing,

2 tablespoon unflavored non-fat yogurt,

1 tablespoon honey,

1 tablespoon red wine vinegar,

1 tablespoon apple cider vinegar,

1 teaspoon olive oil,

1 teaspoon dried parsley,

¼ teaspoon each garlic powder,

Pinch of Kosher Salt & Pepper
Nutrition
Calories:
77
kcal
Carbohydrates:
11
g
Protein:
3
g
Fat:
3
g
Saturated Fat:
1
g
Polyunsaturated Fat:
0.3
g
Monounsaturated Fat:
1
g
Cholesterol:
6
mg
Sodium:
91
mg
Potassium:
247
mg
Fiber:
2
g
Sugar:
8
g
Vitamin A:
924
IU
Vitamin C:
16
mg
Calcium:
78
mg
Iron:
4
mg