Last night was my night to host the couples Date-Night-In dinner party. Usually, it's just us and another couple but after I shared my menu idea another couple and my mom decided to join us.  I ended up cooking for seven. Plus The 14-Year-Old and my niece crashed the party to steal some food.
The menu I pulled together is perfect for a summer party.  Most of the cooking happens outside, and all the side dishes could be made ahead. I'll tell the rest of the story through the food. I'm proud of this one.
Crab Nachos to Start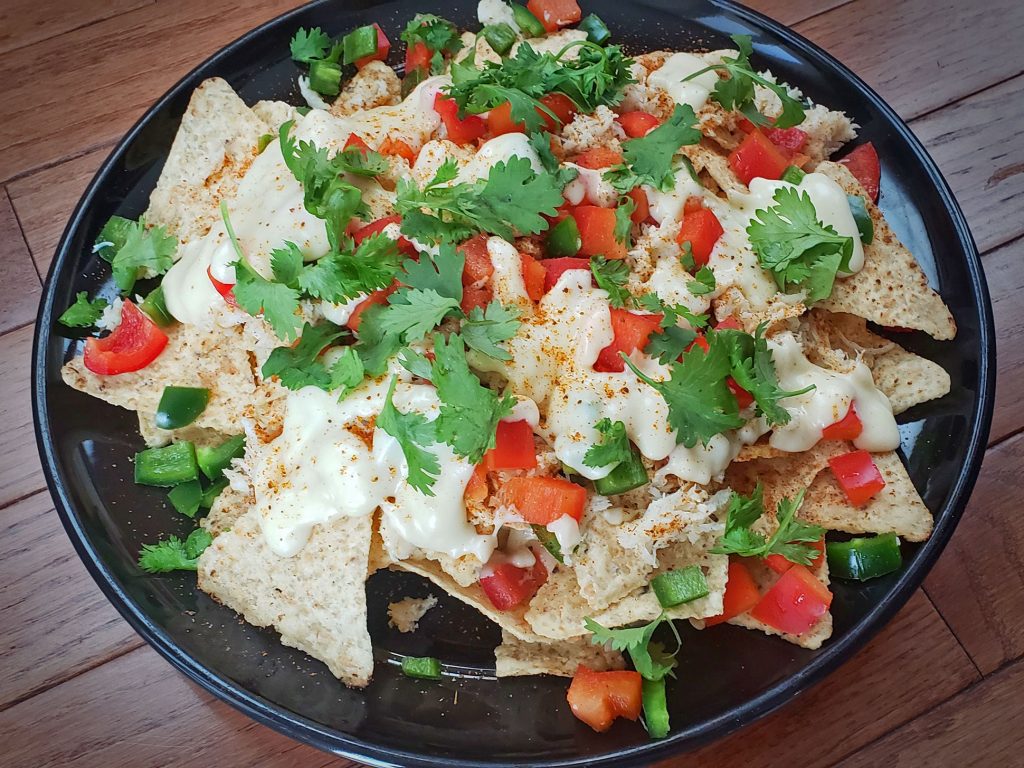 First I made a cheese sauce by melting butter and mixing it with flour to make a roux. Then I added milk, cream cheese, sharp white cheddar, and a dash of cayenne.
To build the nachos, I did two layers of white corn chips, Old Bay, diced red pepper, diced jalapenos, and the white cheddar cheese sauce. Fresh cilantro went on top to finish them off.
Now, I originally planned on also including diced avocado, but I totally forgot. It would have been an excellent addition, but they were still delicious without them. We devoured two platefuls in minutes! It was a great starter.
Boozy Egg Creams for The Evening's Cocktail
This is my own creation, and The Husband and I are obsessed. It's based on the Egg Creams my mom would make me when I was a kid. Her recipe was milk, chocolate syrup, and seltzer water. It sounds gross if you've never had one, but it's an oddly refreshing drink.
My adult version uses:
1 shot Irish Cream
½ shot vanilla vodka
½ shot chocolate liquor
Black Cherry Seltzer (about a half a can - more or less to taste)
Pour all the ingredients over ice, stir and garnish with a Maraschino Cherry and a sprinkle of the juice.
This drink is a great way to enjoy Irish Cream in the summer and pairs well with spicy foods. I loved it with the nachos.
Dry and Wet Ribs for the Main Course
Confession time: I have never made a rack of ribs on the grill.
Well, now there is no going back. These came out FANTASTIC! Everyone thought so as well, and I know they weren't just being nice because they gone. Devoured. Not one rib to spare.
I started them the night before by patting them dry and covering them with Trader Joe's BBQ Rub. Then I wrapped them in aluminum foil and put them in the fridge.
Yesterday I pulled them out and placed them on the grill around 1 p.m., five hours before I planned on serving dinner.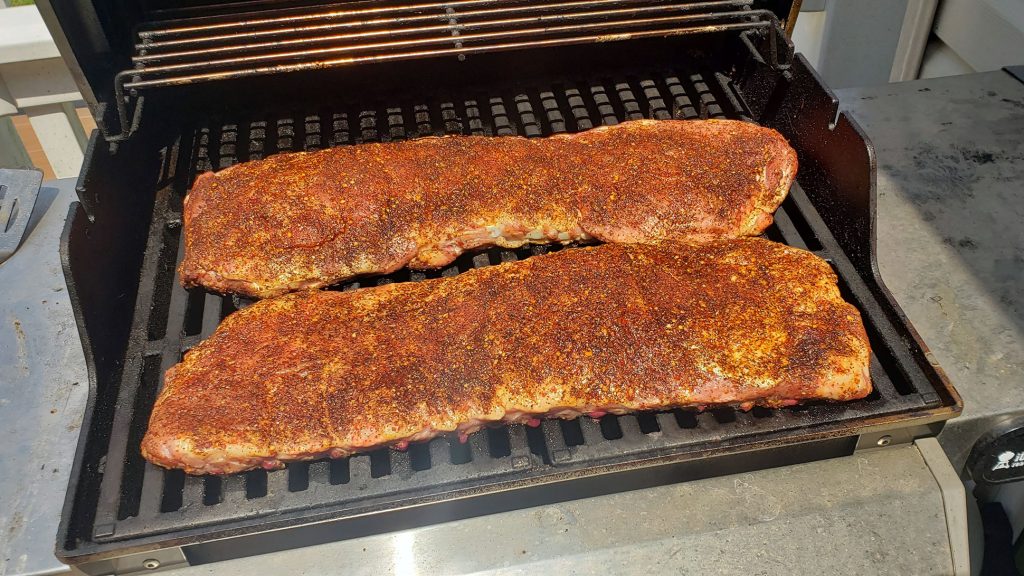 I cooked them bone side down, over indirect heat for 4 hours. After snapping the photo, I turned the ribs and placed them on one side of the grill, shutting it off while leaving the other side on low. It kept the temperature between 225 and 275. About every 30 minutes or so I'd go out and rotate them. Other than that they were hands off.
After 4 hours, I brought them in.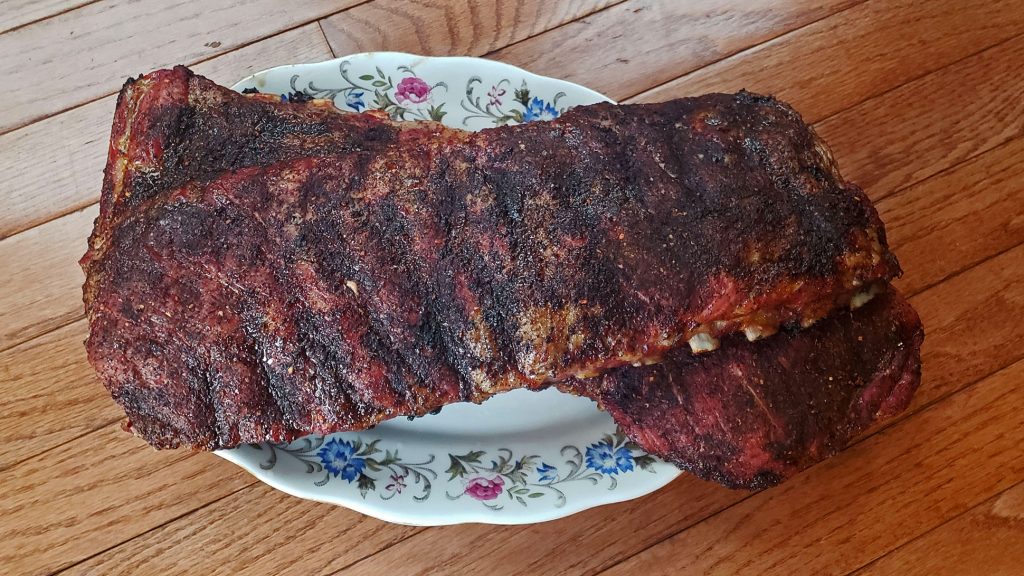 They got to rest a bit while I was preparing other things.
About 45-minutes before I was ready to serve them, I slathered one in BBQ sauce and put them both back on the grill meat-side down over medium heat.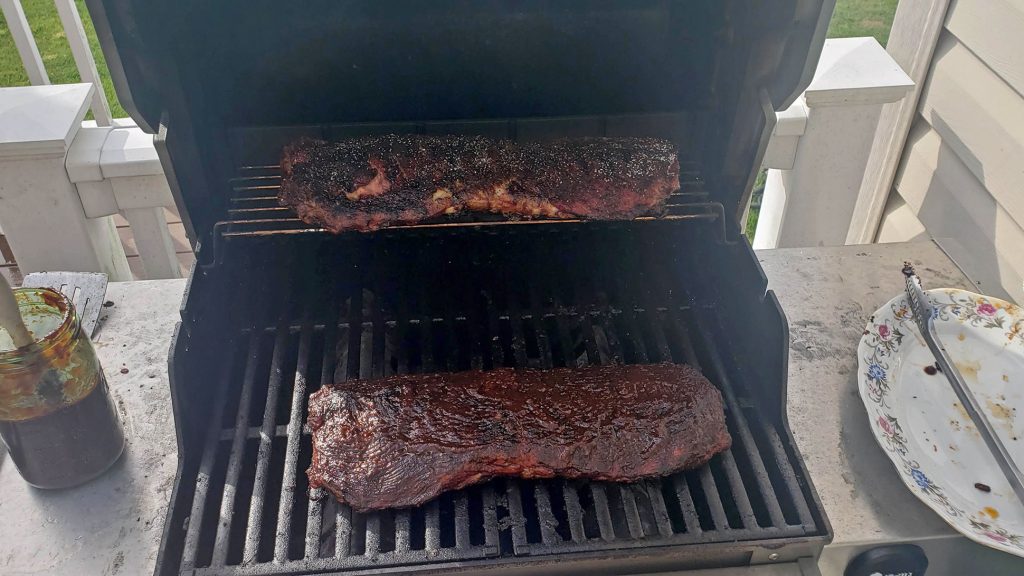 I added a touch of salt to the dry rubbed rack and moved him to the top of the grill after about 5 minutes. For the wet rack, I did three layers of BBQ sauce flipping about every 3-4 minutes.
I pulled them off the grill and let them rest for a few minutes before cutting them.  Then I wrapped the rib platters in aluminum foil and a towel to stay warm before serving.
The Rest of the Spread
I probably should have started this post with the beans. I slow cooked these babies for nearly two days!
I started with dried navy beans that I soaked overnight. Then I put them in the crockpot with pureed tomatoes, bacon, sweet onion, molasses, maple syrup, cumin, Worcestershire sauce, apple cider vinegar, chipotle peppers, and a giant meaty beef soup bone.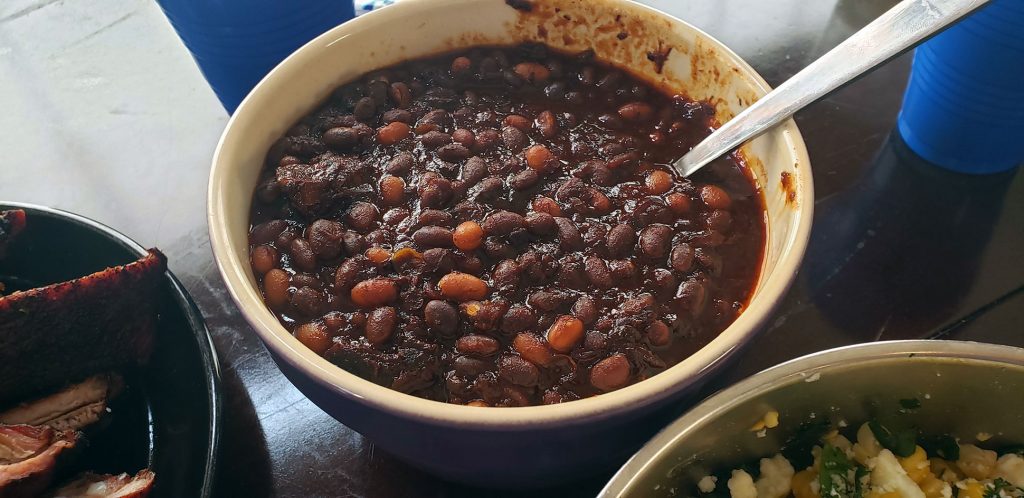 All I'll say is, I may never buy Bush's again!
The next side was my favorite. I loosely followed this Charred Corn Salad recipe on Country Living except I used cherry peppers and made more than the recipe called for with ten ears of corn I par-cooked in the microwave before grilling.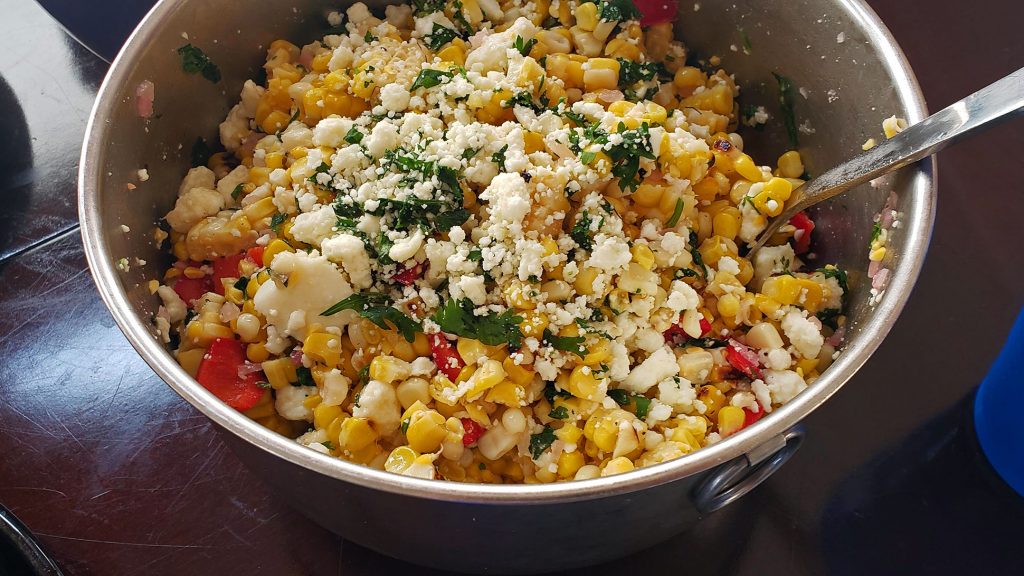 The final side was also a dish inspired by Country Living, Tangy Collard, and Cabbage Slaw. Except for this one, I modified more. Instead of green cabbage, I used red, and I added dried cherries and sunflower seeds. Next time I make it, I'd skip the bacon. It added nothing to the dish, in my opinion. I'd instead go vegetarian with this one.
I made both salads the night before but didn't add any cheese or seeds until the day of.
As for the entire table spread, it was The Husband's idea to use plastic for the place settings to go along with the whole outdoor BBQ theme. He hit the nail on the head.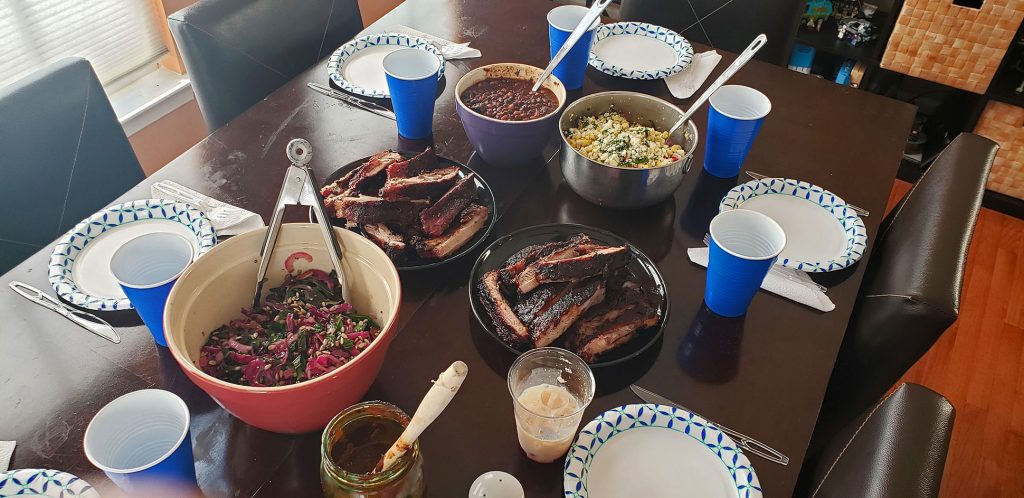 It also saved my ass because I barely have enough place settings for seven people.
Grilled Rum-Soaked Peaches with Cinnamon-Rum Ice Cream for Dessert
I'm not the best baker, so desserts aren't usually my thing but, I can't lie, I nailed this one.
Sticking with my summer grill theme, I decided to build something around peaches. At first, I was going to pair fresh grilled peaches with a homemade vanilla ice cream, but then I saw this recipe on Bon Appetit for Cinnamon-Rum Ice cream.
My dessert was born.
I made the ice cream a few days before the party following that recipe exactly. It could not have been more perfect.
The night before, I marinated the fresh peach halves in rum, brown sugar and cinnamon.
After dinner, I toasted sliced almonds in a skillet. Then I grilled the peaches to carmelize some of the sugars. I served a peach half with a scoop of ice cream topped with the toasted almonds.
It came out perfect, and exactly as I envisioned!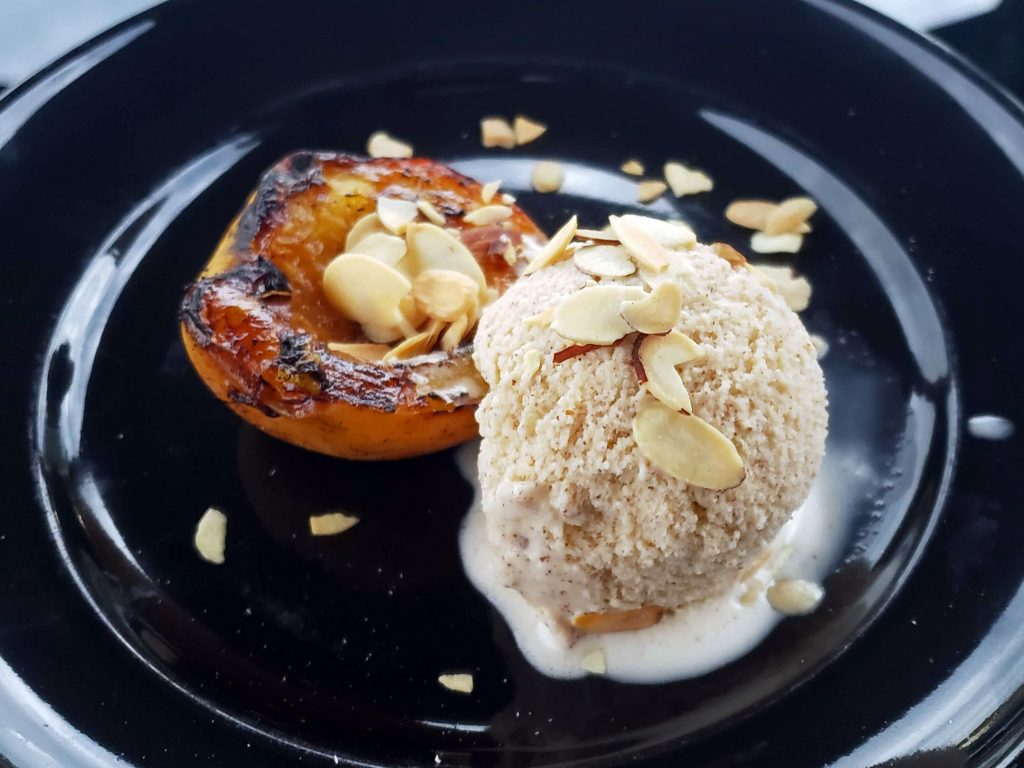 Dinner was so good, and everyone was having so much fun we didn't take any photos except this one attempt at a table selfie.
I'm going to count that as a success!