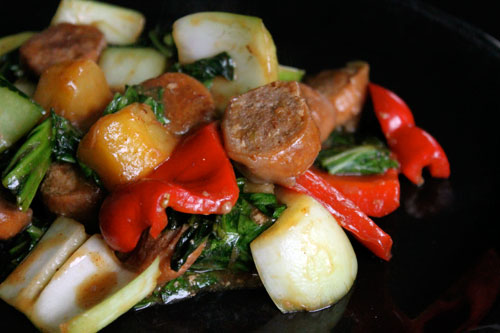 Recipe originally posted May 2012. Thanks to Natalie for requesting! 
We got a head of Bok Choy from our CSA and besides eating it raw (it's so crunchy and great with hummus) I decided to whip up a quick stir fry with things The Boys would eat without complaint, like sausage.
It worked, like a charm!
I recieved no complaints and a few compliments! The Little Guy (7 at the time) said, and I quote…
"I would consider this dinner good, not excellent because there are a few things I don't like, like the pineapple, but it's still good."
He cracks me up!
The Husband enjoyed it too. He's usually game for anything with sausage in it. Even turkey sausage as I slowly weaned him off the higher fatty stuff over the last few years.
Anyway, this is what I did. Hope it give you a few ideas.
Print
Sweet Sausage Stir Fry with Bok Choy and Pineapple
Yield 4 servings
Sweet Sausage Stir Fry with Bok Choy and Pineapple is a fun flavorful dish served great alone or over rice all for just over 300 calroies.
Ingredients
1 20oz Package of Sweet Turkey Sausage
1 head of Bok Choy
1 red bell pepper
½ cup pineapple juice from a can of pineapple
1 tbsp soy sauce
½ tsp ground ginger
½ tsp onion powder
1 tbsp corn starch
½ cup cut pineapple
Instructions
Cut the sausage in slices making small circles.
Brown the cut sausage in a large skillet.
While the sausage is cooking, chop the bok choy in large chunks. Separate the stem and leaves. We'll use both but at different times. Chop the red pepper.
Add the bok choy stems and Peppers to the skillet.
Toss everything and continue to cook while you make the sauce.
Whisk the pineapple juice, soy sauce, ginger, onion powder, and corn starch.
Add the chopped Bok Choy leaves, pineapple, and sauce to the skillet.
Stir everything together and bring to a boil. The sauce will immediately thicken. Just continue to toss until everything is coated. Then serve.
Notes
Cutting sausage is best-done freezing. Just pop the package in the microwave for 45 seconds defrosting enough to get a knife through the frozen links.
My favorite part of this meal was taking a bite with sausage, pineapple and bok choy all at once. It was the perfect combination of texture and flavor.
Courses Dinner
Cuisine Any
Nutrition Facts
Serving Size ¼ recipe
Amount Per Serving

Calories 310

% Daily Value

Total Fat 14 g

22%

Total Carbohydrates 19 g

6%

Dietary Fiber 3 g

12%

Sugars 10 g

Protein 29 g

58%
* Percent Daily Values are based on a 2,000 calorie diet. Your daily values may be higher or lower depending on your calorie needs.