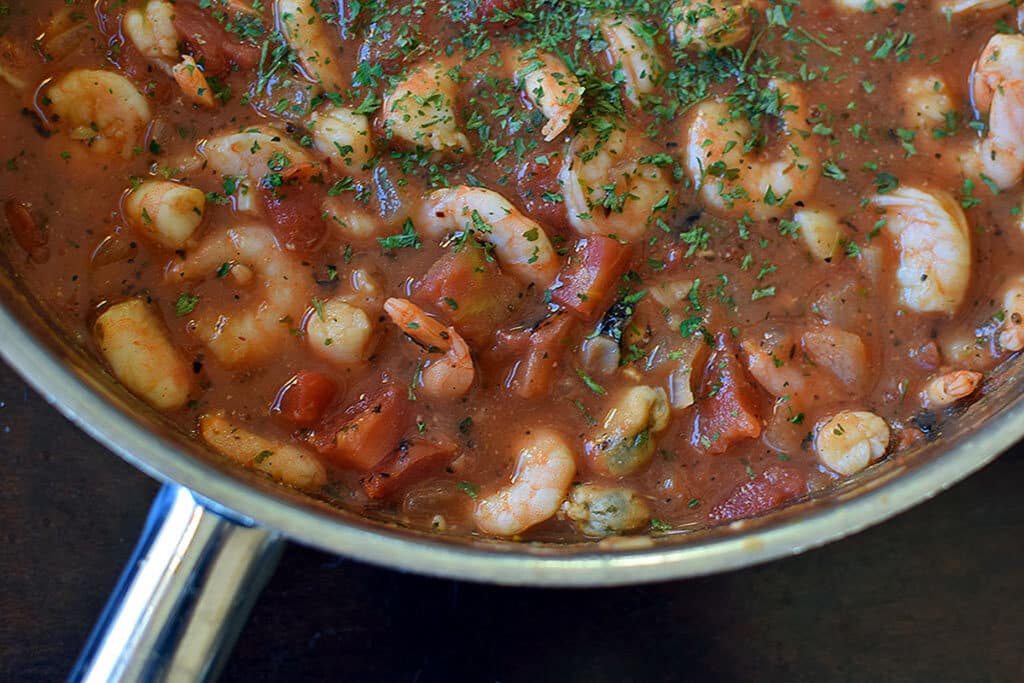 I'm always hesitant to claim a dish is a specific dish because quite frankly, I don't know enough about the said dish to know if that's what it is supposed to be, hence the "-ish."
Did that come out right?
Anyway, The Husband is obsessed with Shrimp Fra Diavlo from a local Italian place we eat at and now and then. So, when I found a bag of frozen mixed seafood on sale, I thought it would be fun to experiment with a version at home.
By the way, the mixed bag of seafood once defrosted, looked amazing!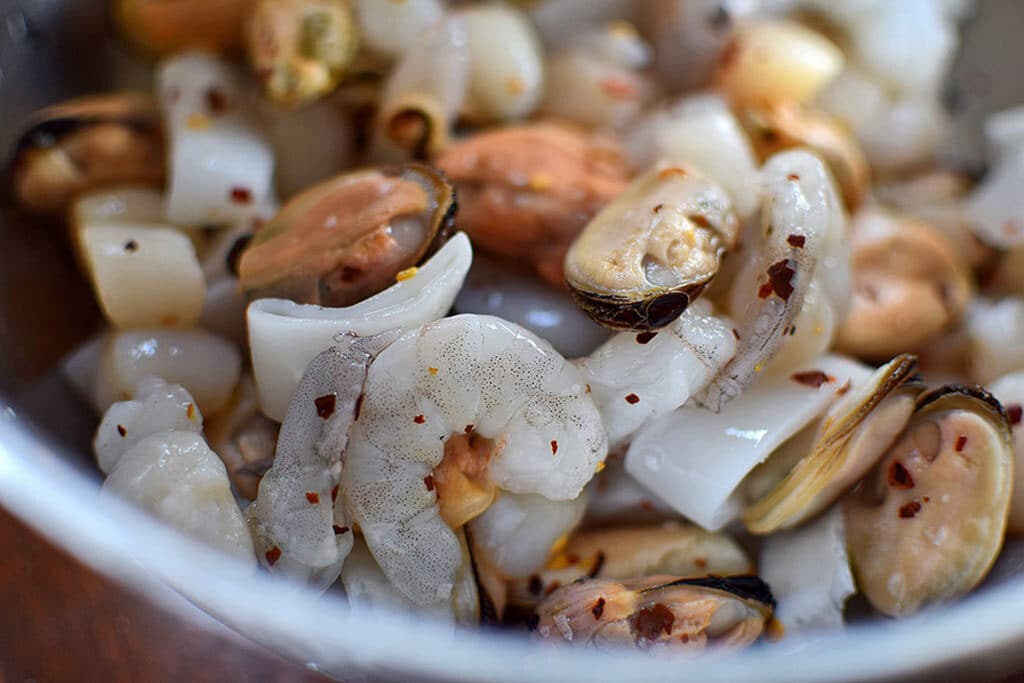 Sometimes I forget how fantastic seafood is to make at home. I'm going to try to incorporate more of it into our weekly meals. Especially, when I can serve a crowd pleaser like this!
My Seafood Fra Diavolo-ish came out fantastic. We had my Mom and niece over for dinner the night I made it, and all 6 of us devoured the entire batch.
I will be making this again, for sure. The only request I got from the boys was "bigger shrimp," so I may use just two pounds of larger shrimp next time.
📖 Recipe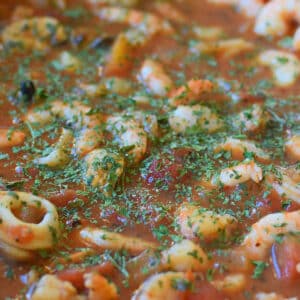 Seafood Fra Diavolo-ish
Seafood Fra Diavolo-ish is a simple, tomato-based seafood meal with a little red pepper kick. Eat it straight up, over pasta, rice, spaghetti squash, zoodles, whatever!  
Instructions
Toss the defrosted seafood with the red pepper flakes and a pinch of salt. Set aside.

1 teaspoon red pepper flakes,

kosher salt

Heat the olive oil in a large skillet over medium-high heat. Saute the seafood until just under done. The shrimp will just turn pink, about 2 minutes.

1 tablespoon olive oil,

2 lbs of raw frozen seafood

Once you remove the seafood, set aside. There should be some liquid left in the pan, if not add a swirl of olive oil. Saute the onion and garlic with a pinch of kosher salt and until the onion becomes translucent.

1 onion chopped,

4-5 cloves of garlic minced,

kosher salt

Once the onions are translucent, add the can of diced tomatoes, sauce, parsley, oregano, and basil. Bring to a light boil. Continue to cook, uncovered allowing the sauce the thicken a bit, about 5 minutes.

1 15 oz can of fire roasted diced tomatoes,

1 8 oz can of tomato sauce,

1 tablespoon dried parsley leaves,

1 teaspoon dried oregano,

1 teaspoon dried basil

Add the seafood to the pan and simmer for 10 minutes allowing all the flavors to merge.

Eat it straight up, over pasta, rice, spaghetti squash, zoodles, whatever!
Notes
Can't find a seafood mix, go with just shrimp or just scallops. Any combo would work for this! 
1 teaspoon of red pepper flakes was just enough heat to taste it but not turn off the kids, but my kids are older now (8 and 13), so you may want to reduce for little ones or increase for yourself! 
No fresh ingredients? Swap the onion and garlic for dried minced onion, onion powder, and garlic powder. It will still be yummy! 
As noted in the recipe, serve this over anything you like. Nutritional info is just for the seafood with sauce. 
I'm listing this as four good sized portions. We were able to stretch for 6 with two kids and a pound and a half of linguini. 
Nutrition
Serving:
1
/4 of the recipe
Calories:
280
kcal
Carbohydrates:
21
g
Protein:
33
g
Fat:
7
g
Fiber:
3
g
Sugar:
8
g