Recipe repost for Joy who said she was so sad she didn't have this one printed out. Hey Joy! I found it! 🙂
Originally posted in October 2011.
I made this TWO weeks ago and forgot to post it. Ok, that's a lie. I had to psych myself up to sit down and get it all out of my head. I knew it was going to be a long one!
This was a total winner of a dish. We ate it two nights in a row, and I had it for lunch twice. Now that's getting your money's worth out of a crockpot meal!
Both Husband and child were fans too. I purposely made it mild so it would be a family pleaser. I even ended up pureeing some for Little Bean. Just a few nibbles. Enough to give him a taste.
The idea hit me when I simply did not want to bother with dinner, but I knew if I didn't get something going we'd end up eating out AGAIN. Lately, we've been trying to avoid that for more than one reason, but mostly financially.
Instead, around 2:30 PM I pulled out the crockpot and threw a bunch of stuff in it. Who knew I'd end up inventing a family favorite. Well, sort of, I'll explain when I get to how I used the chicken. First, let me tell you how I made it.
📖 Recipe
Sante Fe Style Chicken
Sante Fe Style Chicken is a versatile, easy slow cooker meal with tons of flavor. Make a batch and enjoy it all week! 
Ingredients
1 10

oz

can of Healthy Request Cream of Chicken Soup

+¼ can of water

1 15

oz

can of Black Beans

drained and rinsed

1 15

oz

can of diced tomatoes

with green chilies would up the flavors/spice aspect

½

cup

frozen corn

Optional

I didn't have any on hand 1 green bell pepper diced

1

tablespoon

chili powder

1

tablespoon

dried cumin

1

tablespoon

onion powder

pinch

of kosher salt

2

large boneless frozen chicken breasts

total mine were over 2 lbs
Instructions
Mix all ingredients in the crockpot.

1 10 oz can of Healthy Request Cream of Chicken Soup,

1 15 oz can of Black Beans,

1 15 oz can of diced tomatoes,

½ cup frozen corn,

Optional,

1 tablespoon chili powder,

1 tablespoon dried cumin,

1 tablespoon onion powder,

pinch of kosher salt,

2 large boneless frozen chicken breasts

Stir and add the frozen chicken.

Cook on high for 3-4 hours or low for about 6.

Remove the chicken and shred.

Add the chicken back into the crockpot.

Continue to cook for a little while to let the flavors merge with the shredded chicken or eat right away.
Nutrition
Serving:
1
cup
Calories:
280
kcal
Carbohydrates:
22
g
Protein:
40
g
Fat:
3
g
Fiber:
4
g
Sugar:
1
g
Here are a few fun ways to use this versatile recipe!
Use 1. Chicken Enchiladas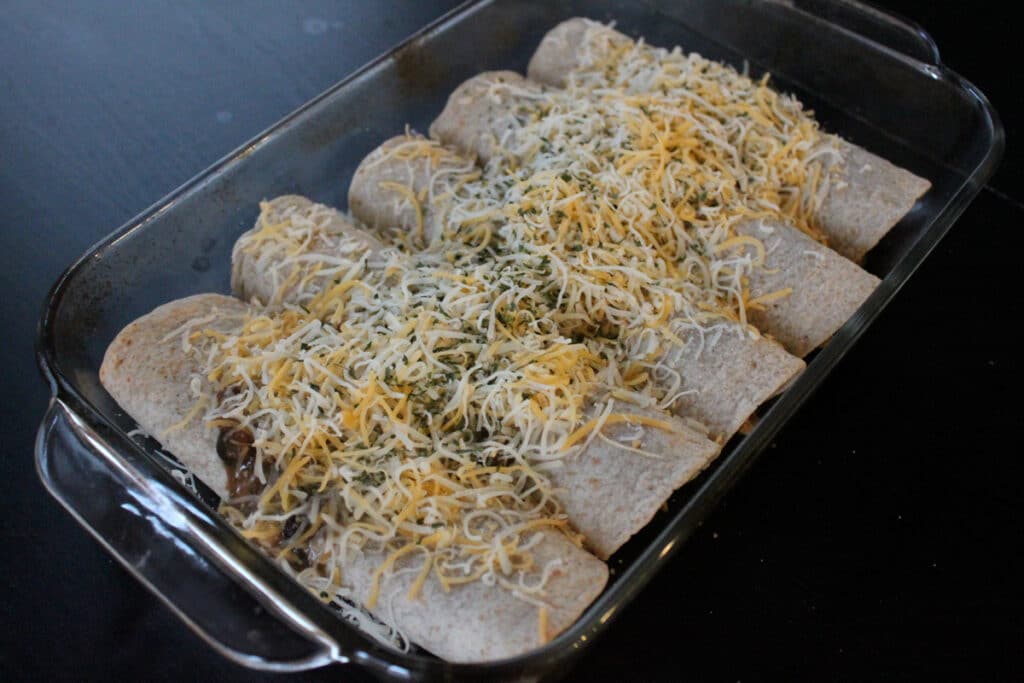 I am SO glad I took a chance and made these. I didn't think the husband would go for them, but he loved it! Here's what I did.
2 cups of the Sante Fe Style Chicken from the Slow Cooker above
5 of your favorite low carb/cal tortillas
2 oz fancy shredded Mexican cheese blend
dried cilantro
Preheat the oven to 400 degrees.
Lay out a tortilla and fill with a scoop of the chicken/bean mixture leaving as much of the liquid as you can. Roll and place in a casserole dish sprayed with a bit of non-stick spray.
Repeat for all tortillas.
Pour the remaining liquid from the 2 cups of Sante Fe Style Chicken on top of the rolled tortillas. Top with cheese and a bit of dried cilantro.
Bake about 20 minutes.
As I said, a big hit with the Husband and of course, I LOVED IT. I wasn't ready to try them on Little Guy, so I did make him something else. I'm not usually a fan of this approach, but he still ate the base of the meal just in a kid-friendly form. May I present…
Use 2. Sante Fe Chicken Quesadillas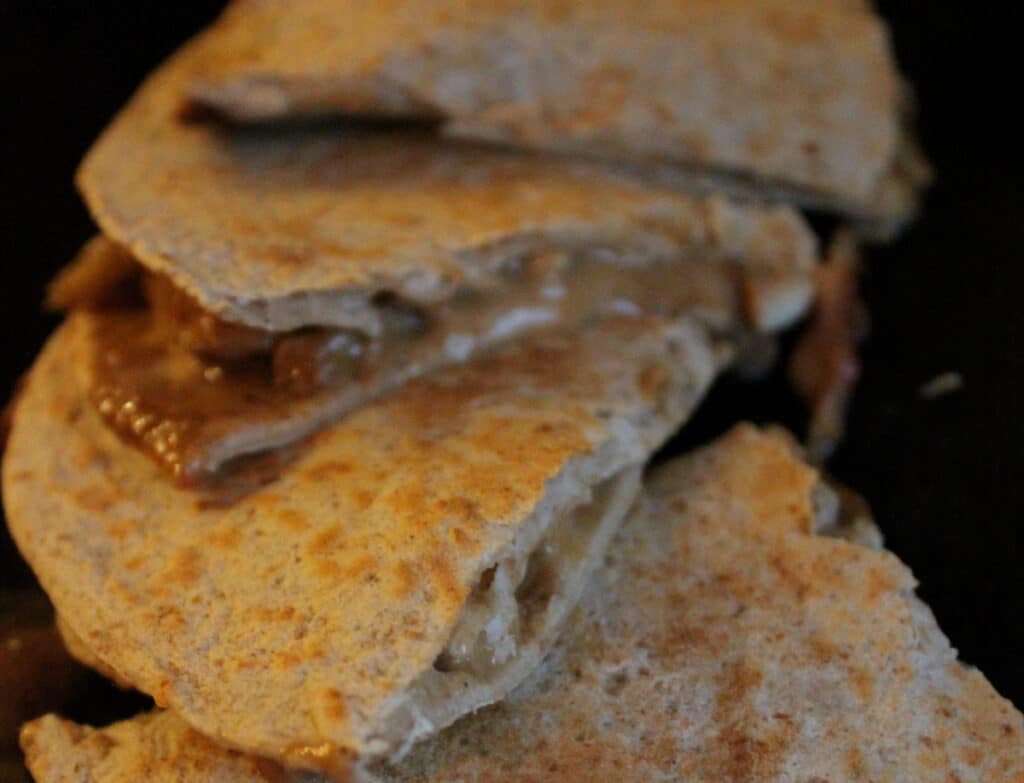 Using two tortillas, I put some of the Sante Fe Chicken minus most of the liquid, some cheese, and even some chopped baby spinach and made him a quesadilla.
He ate the WHOLE thing.
Use 3. Sante Fe Chicken over Rice
This is how I would have served it for dinner initially if I married anyone who remotely liked food, but honestly, if I would make it like this NO one in my house would eat it except me, which sucks because it's my favorite type of meal.
Use 4. Sante Fe Chicken Stuffed Peppers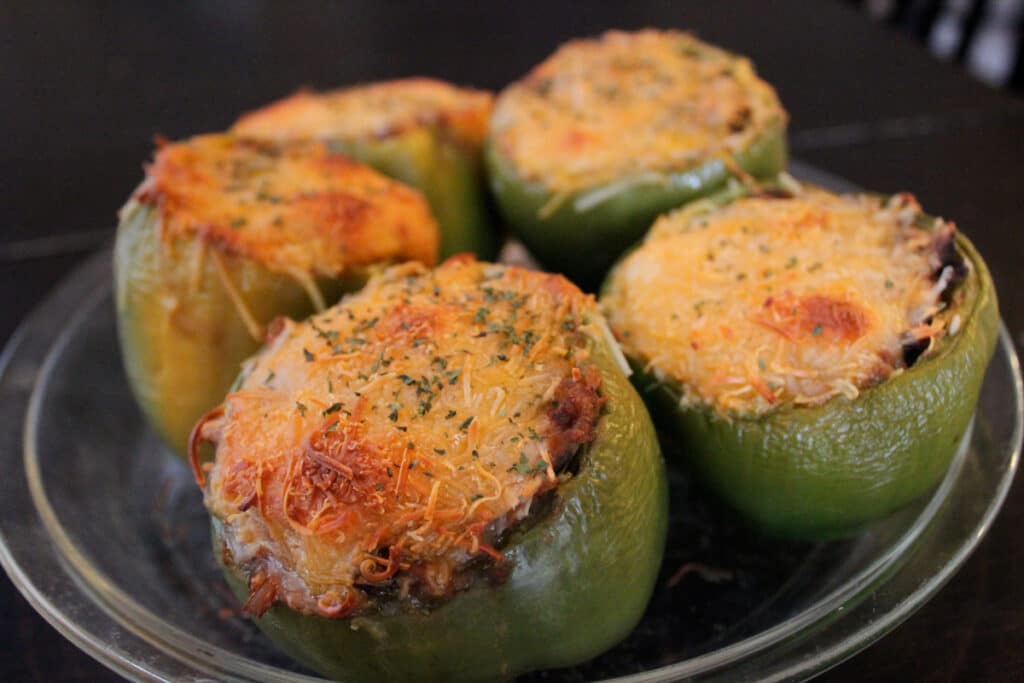 I decided to give this a try with the leftovers to see how the family would react. I mixed about 2 cups of the Sante Fe Chicken with 2 cups of brown rice then stuffed five bell peppers and topped with cheese.
I baked for about 30 minutes until the peppers were just softening.
The husband ate two but said he preferred the enchiladas. After some convincing that what was IN the peppers was the same stuff IN the quesadilla, Little Guy ate one too!
Use 5. Sante Fe Chicken over a bed of Baby Spinach
After all that I had about 1 cup left and no rice. So for lunch, I decided to take a bunch of baby spinach, top it with the chicken, and pop it in the microwave. It was delish! Unfortunately, I forgot to take a picture!
Overall this idea was a pleasant surprise. It was the first time in a long time I was able to make a one-pot meal the whole family enjoyed. I could eat stuff like this every day!