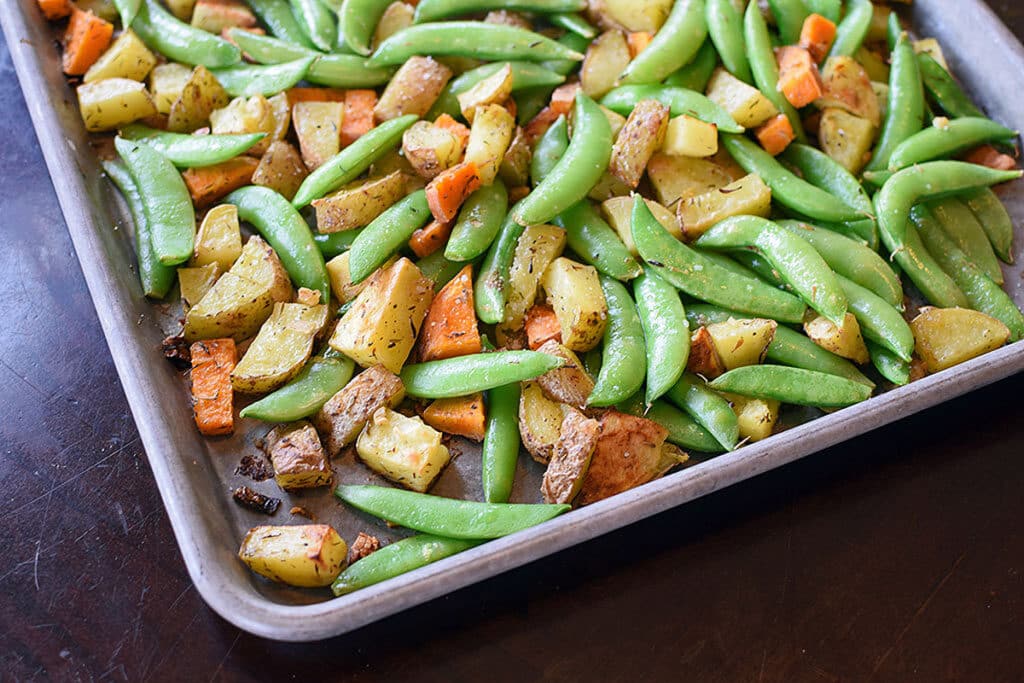 Dude! I finally got a chance to cook this week, and I made the best side dish ever! And, thanks to daylight savings time, I have enough natural light to take better photos! YAY!
Anyway, the family did a fantastic job meal planning this week. We rejoined Hello Fresh. Long story short (if you are in the GLB FB group you know the whole story), their recipes help give the 13-Year-Old (And The Husband) more confidence in the kitchen with little or no involvement from me.
I, on the other hand, can't be confined by their recipes! (I kid, but not really) So, I came up with my meal plan for Wednesday and Thursday.
Wednesday was Pork and Broccoli over Rice and Quinoa (no time to document) and last night was Grilled Salmon with Roasted Potatoes and Snap Peas. I decided to have a little fun with the side dish and make the Roasted Potatoes and Snap Peas all one one cookie sheet.
Since no one in the family likes sweet potatoes but me, I also decided to mix potato types. This way, I figured, they'd get a few bites of sweet potatoes in and I could slowly transition to more sweet potato forward dishes in the future. (Raising non-peaky eaters is all about exposure, in my opinion.)
Overall, the whole meal came out fantastic, but! I could have eaten the entire sheet pan of potatoes and snap peas all by myself easily!
Here's what I did...
📖 Recipe
Roasted Potatoes and Snap Peas with Garlic and Lemon
Roasted Potatoes and Snap Peas with Garlic and Lemon is a one-sheet side dish that can accompany just about any protein - fish, steak, chicken, whatever! 
Instructions
Preheat the oven to 425 degrees.

Toss the cubed potatoes with the shallot, garlic, olive oil, thyme, salt, and pepper.

5-6 Yukon Gold potatoes cut into cubes,

1 shallot minced,

5 garlic cloves minced,

1 tablespoon olive oil,

1 teaspoon dried thyme,

½ teaspoon kosher salt,

black pepper

Spread the potatoes a nice, large cookie sheet and roast for 15-20 tossing once during cooking.

1 sweet potato cut into cubes

Remove the potatoes and add the sugar snap peas. Squeeze the juice from the lemon on top. Toss everything together and spread it back out on the cookie sheet. Sprinkle with a bit more salt.

1 lb raw sugar snap peas,

1 lemon

Roast for 5-10 more minutes until the snap peas soften a bit.

Serve!
Notes
Note: This makes a LOT! But I like to eat a lot, so I'm counting ¼ of the recipe as a serving. You can, of course, cut that back if you are counting carbs/macros. I'd estimate ¼ of the sheet to be about 2 cups. 
I served this with grilled salmon and it was a nice combo. To grill, I just brushed the tops with oil, garlic, and thyme so the flavor matched the potatoes and snap peas. You could do the same with any fish or chicken! 
I don't usually use shallot but I'm finding them a fun and easy way to add flavor. If you aren't a fan, any onion would work or skip altogether. There is enough flavor with the garlic, thyme, and lemon too. 
Remember, have fun! It's only food. 🙂
Nutrition
Serving:
1
/4 of the recipe
Calories:
200
kcal
Carbohydrates:
37
g
Protein:
6
g
Fiber:
5
g
Sugar:
6
g